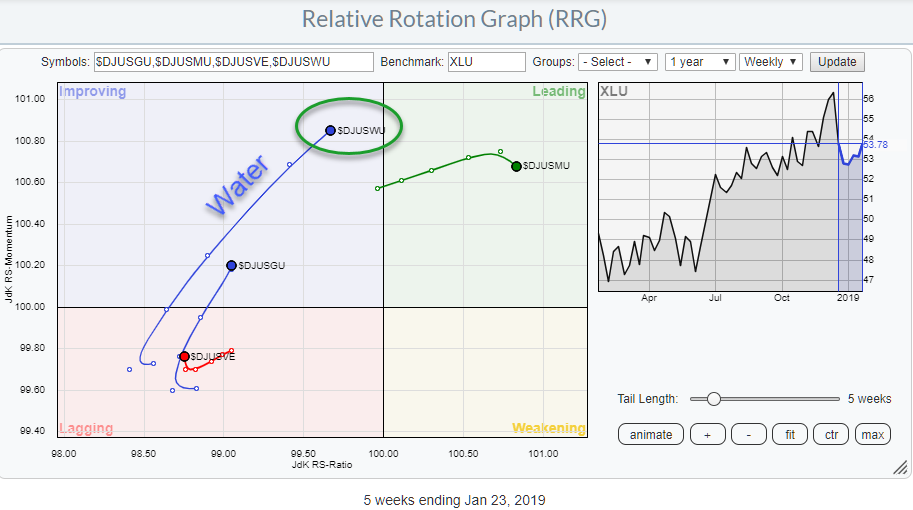 One of the pages that I often visit on Stockcharts.com is the sector summary. It gives a tabular overview of the price changes that occurred over a certain period (you can choose).
From that page, it is possible to open a Relative Rotation Graph that breaks the sector down into industries. This enables you to look inside the sector at the industry level and see which industries are driving or dragging the performance of the sector.
---
To do that, simply click on the RRG icon (the four squares) at the end of the line. An RRG will open up, holding the industries in that sector against the $SPX index. I prefer to change the benchmark to the specific sector to get a better relative view of the relative performance of each industry against its sector.
Doing that for the Utilities sector gives the RRG at the top of the article.
It can easily be seen that the Multi utilities index has been the driving force for the sector over the past months but that it is starting to roll over now, potentially going into a temporary correction. By the way, multi-utilities are still the strongest industry in this sector but it seems to need a pause.
The water industry ($DJUSWU) looks ready to take over the leading role in this sector now, or at least join the multi-utilities industry inside the leading quadrant very soon. The long tail and the strong RRG-heading suggest that further improvement against XLU lies ahead in coming weeks.
Here is the chart of the DJ US industry with its relative strength against the Utilities sector.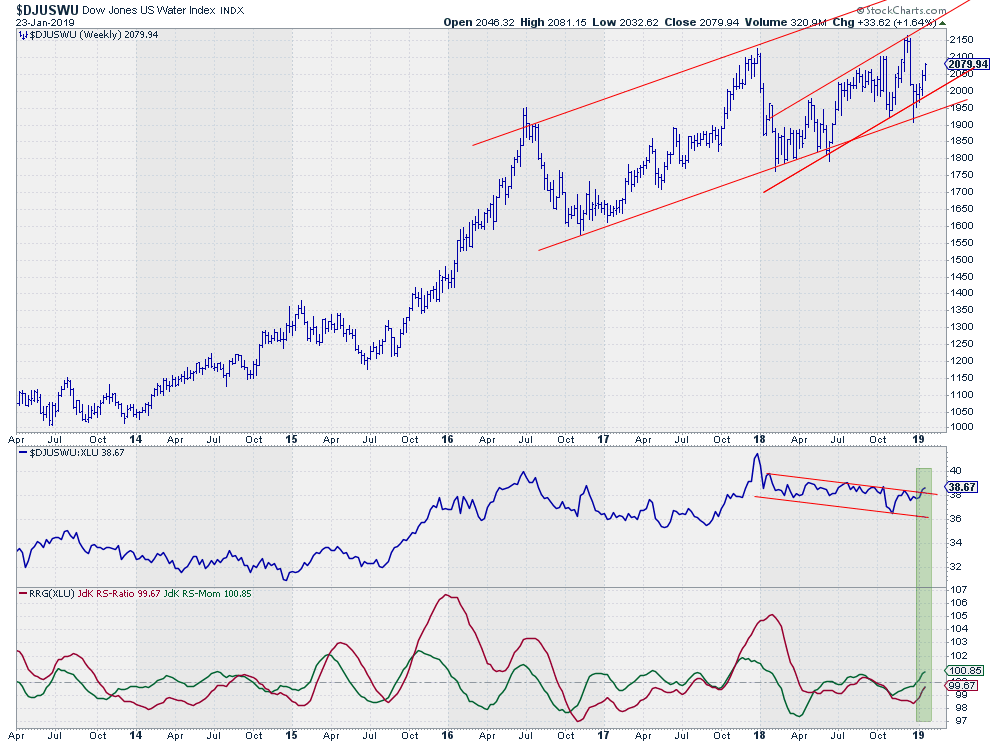 The improvement that was picked up on the RRG is caused by the two RRG-Lines rising at the same time with Jdk RS-Momentum already above 100 and raw-RS breaking out of the downward sloping channel.
---
My regular blog is the RRG blog If you would like to receive a notification when a new article is published there, simply "Subscribe" with your email address using the form below.
Julius de Kempenaer | RRG Research
RRG, Relative Rotation Graphs, JdK RS-Ratio, and JdK RS-Momentum are registered TradeMarks ®; of RRG Research
Follow RRG Research on social media:
Feedback, comments or questions are welcome at Juliusdk@stockcharts.com. I cannot promise to respond to each and every message but I will certainly read them and where reasonably possible use the feedback and comments or answer questions.
If you want to discuss RRG with me on SCAN, please use my handle Julius_RRG so that I will get a notification.