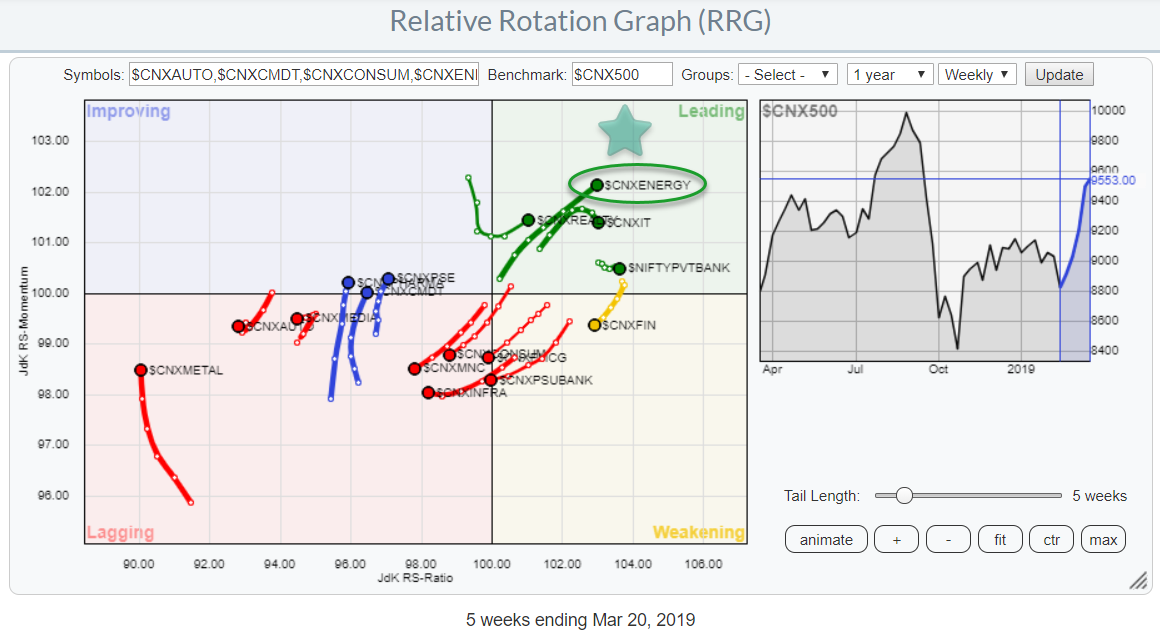 The list of pre-defined groups in the RRG-menu has been expanded with the universe covering Indian sectors against the Nifty 500 index as the benchmark. Very recently also the universe of individual stocks making up the Sensex 30 index was added. With the Nifty 50 group already on the list, we now have three universes covering the Indian market.
The Relative Rotation Graph above shows the rotation for these sectors.
The one that stands out for me is the Energy sector ($CNXENERGY). The sector is inside the leading quadrant and traveling at a strong RRG-Heading powered by a relatively long tail compared to the other sectors in this group.
---
Reason enough to have a closer look at the chart of this sector.
NIFTY Energy Index - $CNXENERGY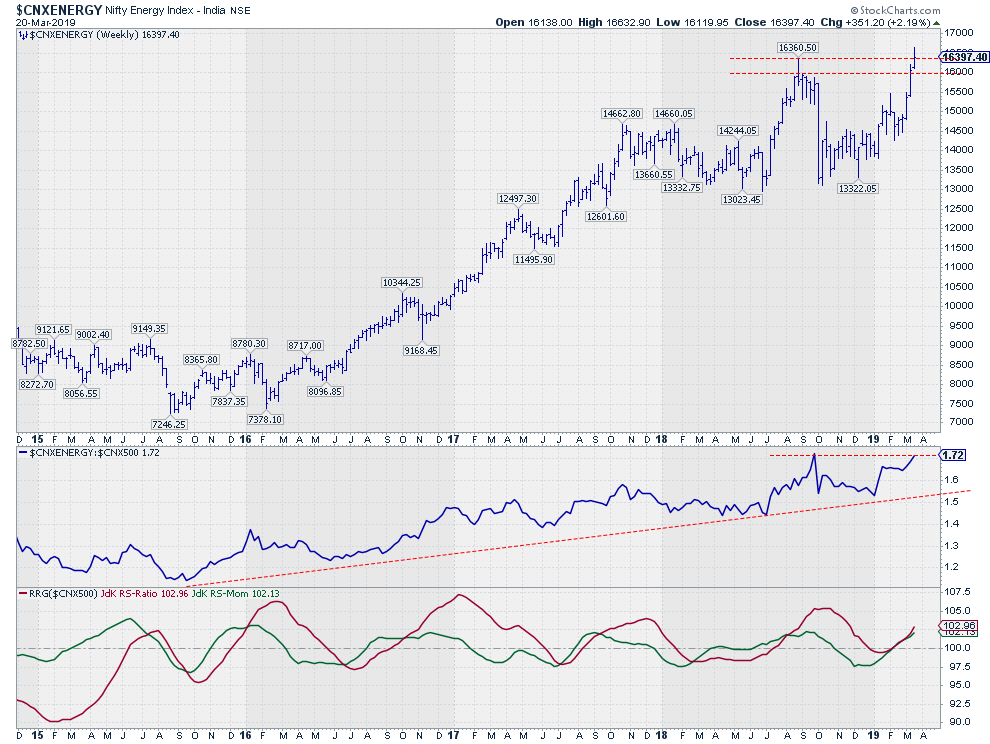 The most important part of the chart above, IMHO, is the relative line against the Nifty 500 index. This relationship shows a gradually rising trend since 2015 in a regular series of higher highs and higher lows.
The RRG-Lines, underneath the relative line, show the oscillation of the relative trend versus the Nifty 500. Predominantly above the 100-level (indicates uptrend) with a few short stints through lagging (both RRG-Lines < 100).
Since the start of this year, the Energy sector started to move higher again on a relative basis, causing the RRG-Lines to rise simultaneously and push the sector into the leading quadrant.
The relative line is on the verge of breaking above its previous high which, if it happens, will very likely add new fuel to the relative rally.
The strong development on the price chart is supporting the positive relative rotation.
$CNXENERGY is breaking to new highs. The ultimate high was 16.360 in August 2018 but a more reliable level of resistance, IMHO, was the cluster of highs near 16.000 around that time in August. Both levels are now broken upwardly, but we have to realize that the chart above is a weekly chart which means that we cannot call the break to new highs until we have a Friday close above that 16.360 level.
Unless we get a seriously strong reversal tomorrow (Friday 3/23), the Energy sector in India seems poised for further outperformance.
---
My regular blog is the RRG blog If you would like to receive a notification when a new article is published there, simply "Subscribe" with your email address using the form below.
Julius de Kempenaer | RRG Research
RRG, Relative Rotation Graphs, JdK RS-Ratio, and JdK RS-Momentum are registered TradeMarks ®; of RRG Research
Follow RRG Research on social media:
Feedback, comments or questions are welcome at Juliusdk@stockcharts.com. I cannot promise to respond to each and every message but I will certainly read them and where reasonably possible use the feedback and comments or answer questions.
If you want to discuss RRG with me on SCAN, please use my handle Julius_RRG so that I will get a notification.