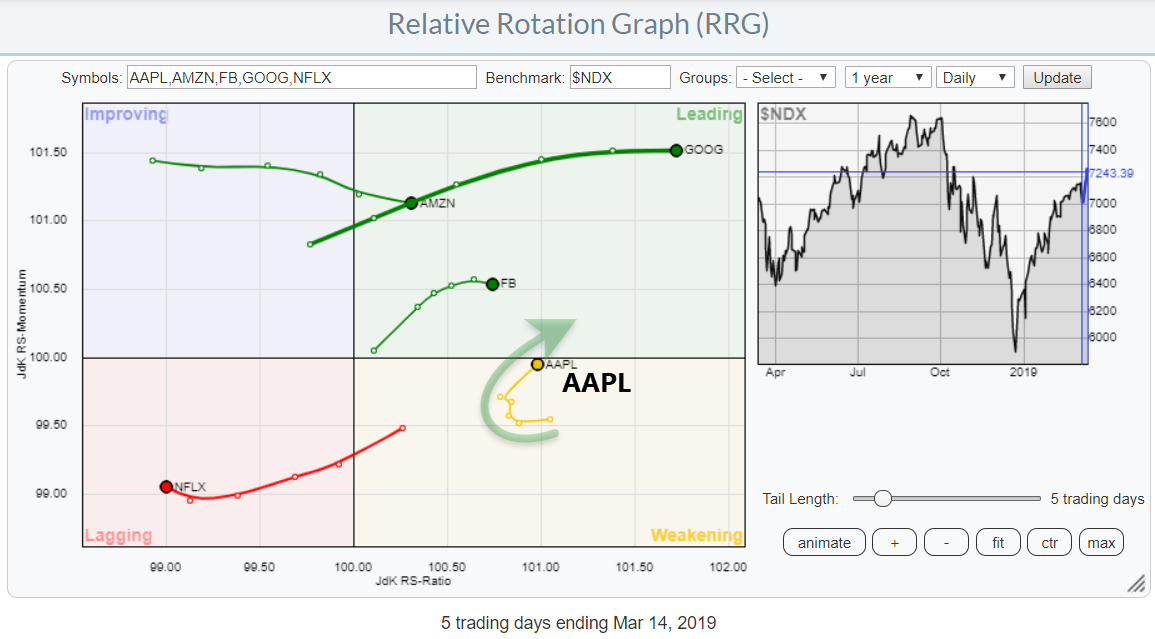 The Relative Rotation Graph shows the FAANG stocks against $NDX on a daily basis. The strong move of GOOG is evident and tracks the recent break of resistance.
Out of these five stocks, four are at the right-hand side of the graph, indicating a relative uptrend against the Nasdaq 100 index.
---
NFLX is the only one on the left and inside the lagging quadrant, moving deeper into it at an RRG-Heading of almost 270 degrees suggesting that this is the stock to avoid in this universe.
AMZN is entering the leading quadrant but at a heading that has already rotated beyond 90 degrees which means that the relative uptrend has already started to lose power.
FB rotated into the leading quadrant a few days ago but has trouble breaking overhead resistance on both the price- and relative charts which causes the stock to roll over and lose relative power.
Of all five stocks in the FAANG universe, there is now only one that is rotating at a strong RRG-Heading, between 0-90 degrees.
Apple Inc. - AAPL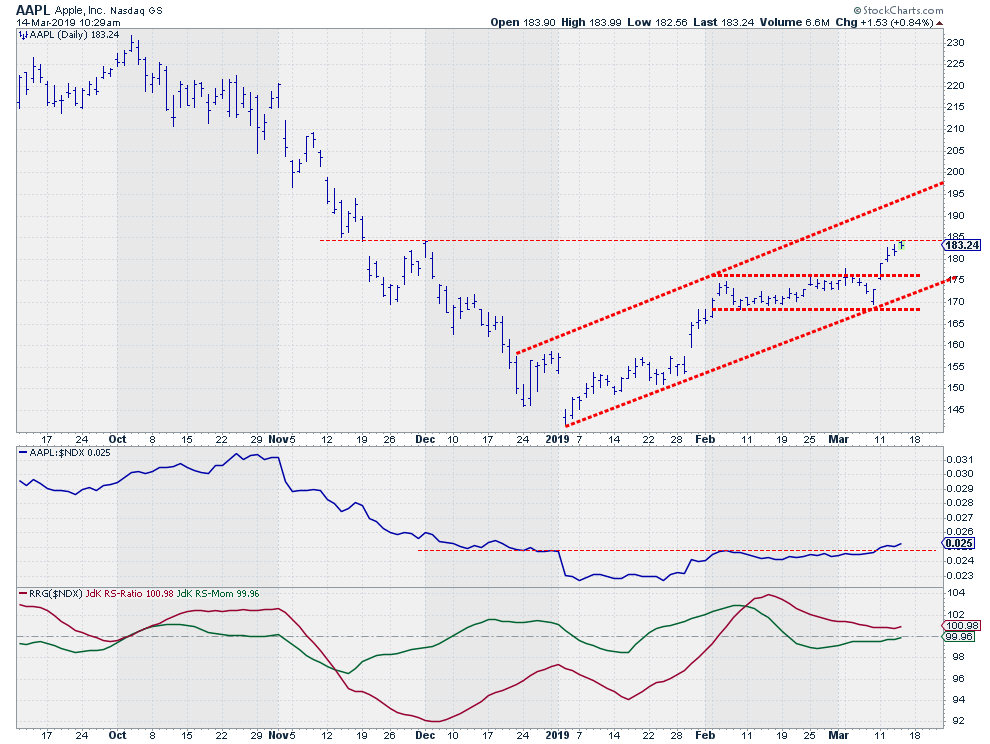 After having spent February inside a narrow trading range, AAPL jumped higher and confirmed that the rhythm of higher highs and higher lows that emerged out of the low that was set at the start of the new year is still in play.
The next challenge for AAPL is the overhead resistance at $185 where the stock is currently trading. A break higher will very likely ignite a further rally which can go as far as $195 where the rising resistance line resides that marks the upper boundary of the channel.
Additional strength for this stock lies in the fact that there is enough room to the downside to breathe without breaking the current positive structure.
The relative perspective, finally, also adds a positive note as the raw RS-Line is breaking above horizontal resistance which pushes the RS-Momentum line back above 100 and AAPL back into the leading quadrant.
---
My regular blog is the RRG blog If you would like to receive a notification when a new article is published there, simply "Subscribe" with your email address using the form below.
Julius de Kempenaer | RRG Research
RRG, Relative Rotation Graphs, JdK RS-Ratio, and JdK RS-Momentum are registered TradeMarks ®; of RRG Research
Follow RRG Research on social media:
Feedback, comments or questions are welcome at Juliusdk@stockcharts.com. I cannot promise to respond to each and every message but I will certainly read them and where reasonably possible use the feedback and comments or answer questions.
If you want to discuss RRG with me on SCAN, please use my handle Julius_RRG so that I will get a notification.