Seagate Technology was one of the weakest tech stocks in 2018 as it fell around 40% from the April high to the October low. Things appear to be turning about here in 2019 as stock finds its footing and triggers two breakouts.
The chart below shows STX with two lows in the 36 area and a double bottom pattern in play. The peaks between the lows mark resistance (red zone) and the stock broke out with a surge in late February.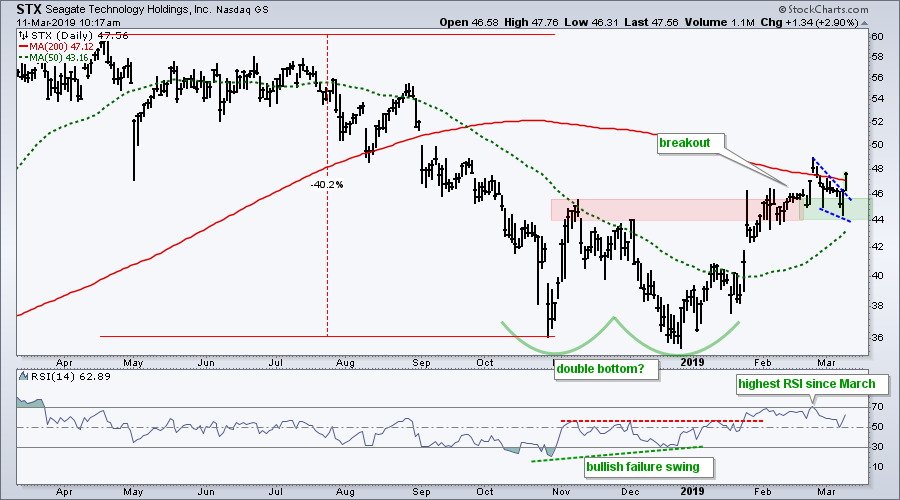 The broken resistance zone in the 44-46 area turned into support, and held. Notice how STX fell back to this zone after the breakout with a small falling wedge. The stock held support here with a nice reversal day on Friday and follow through on Monday.
The indicator window shows RSI moving above 70 for the first time since March 2018. There is also a bullish failure swing in play. Notice how RSI held above 30 on the December dip and broke out in late January.
Overall, it looks like STX is reversing its downtrend. Broken resistance turns support and I would consider this breakout valid as long as 44 holds.
---
Correction Mode and Targets
Small-Caps Extend Lower (plus SPY and QQQ)
90% Down Days for Finance and Healthcare
Some Key Industry Group ETFs Fail at 200-day SMA
Bonds ETFs Remain in Bullish Consolidations
Scanning for Outliers (gains/losses)
---
- Arthur Hill, CMT
Senior Technical Analyst, StockCharts.com
Book: Define the Trend and Trade the Trend
Twitter: Follow @ArthurHill
---