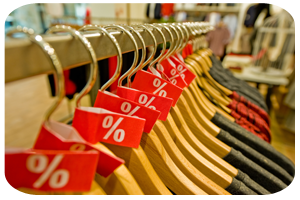 Ross Stores (ROST) recently bounced off its rising 200-day SMA with a bullish candlestick pattern and short-term RSI broke to its highest level of the month. It looks like the short-term pullback is ending and the bigger uptrend is resuming.
ROST plunged in November-December with a sharp decline below the 200-day SMA. This plunged caused the 200-day to flatten in December, but it never really turned down. ROST quickly rebounded in January with a move back above the 200-day and the 200-day is back on the rise.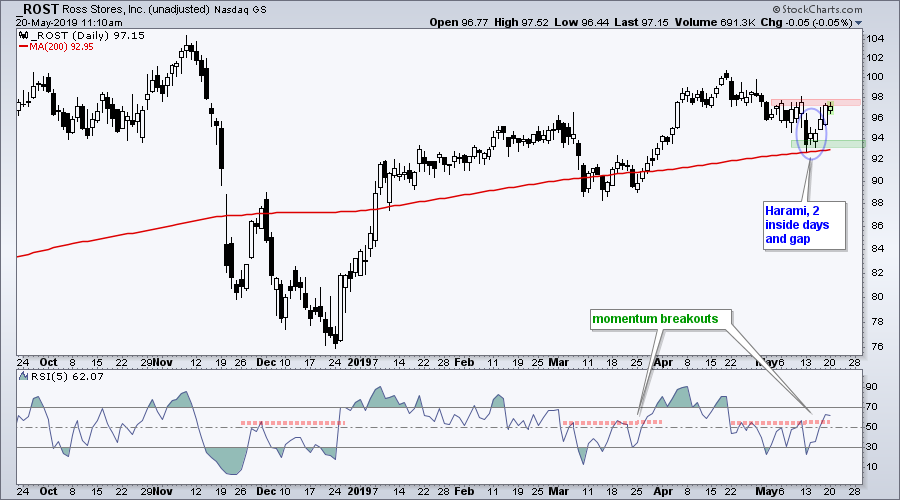 Short-term, the stock edged lower from late April to mid May with a decline back to the 200-day. A harami formed in mid May and there were also two inside days. These signaled indecision after a sharp decline as the stock suddenly firmed. ROST then gapped up and bounced the last three days. Last week's lows and the rising 200-day mark the first support level to watch for a failure.
The indicator window shows 5-day RSI for a short-term momentum perspective. RSI dipped below 30 twice in May and then broke above its prior highs last week. This represents a momentum breakout of sorts.
---
On Trend on Youtube (Thursday, 16-May)
Oversold Bounces Underway (SPY and Sector SPDRs)
Focus on SOXX and Semiconductor Stocks
Treasury Yields Continue to Fall (TLT and IEF Rise)
Stocks to Watch: FIVS, MSFT, TMUS, WDAY
---
Arthur Hill, CMT
Senior Technical Analyst, StockCharts.com
Author, Define the Trend and Trade the Trend
---
Want to stay up to date with the latest market insights from Arthur?
– Follow @ArthurHill on Twitter
– Subscribe to Art's Charts
– Watch On Trend on StockCharts TV (Tuesdays / Thursdays at 10:30am ET)