FedEx announced that it has made a strategic decision to not renew the FedEx Express contract for Amazon's US domestic service. In the announcement, the press release mentioned that Amazon made up 1.3% of the total revenue for FDX. While the news sounds particularly rough, the FDX stock price traded up on the news an hour later. For technicians, the news ties in with a beautiful place on the charts. This is one of those time stamp moments.
The StockCharts Technical Ranking (SCTR) indicator compares price action across the large cap stocks. The SCTR is at the lowest position on the chart in the last 6 years. When this indicator is living in the bottom corner, it suggests the company stock is one of the weakest performers out there. With the price action performing worse than 95% of the large cap stocks, that's an issue. As a global brand, that can't be a comfortable place for the Board of Directors or senior management.
The relative strength in purple is at its lowest level in the six years shown on the chart, which means you are better off owning the SPY ETF. The full stochastic (full STO) is near the low levels reached during the December dump. A turn higher would show on this indicator first.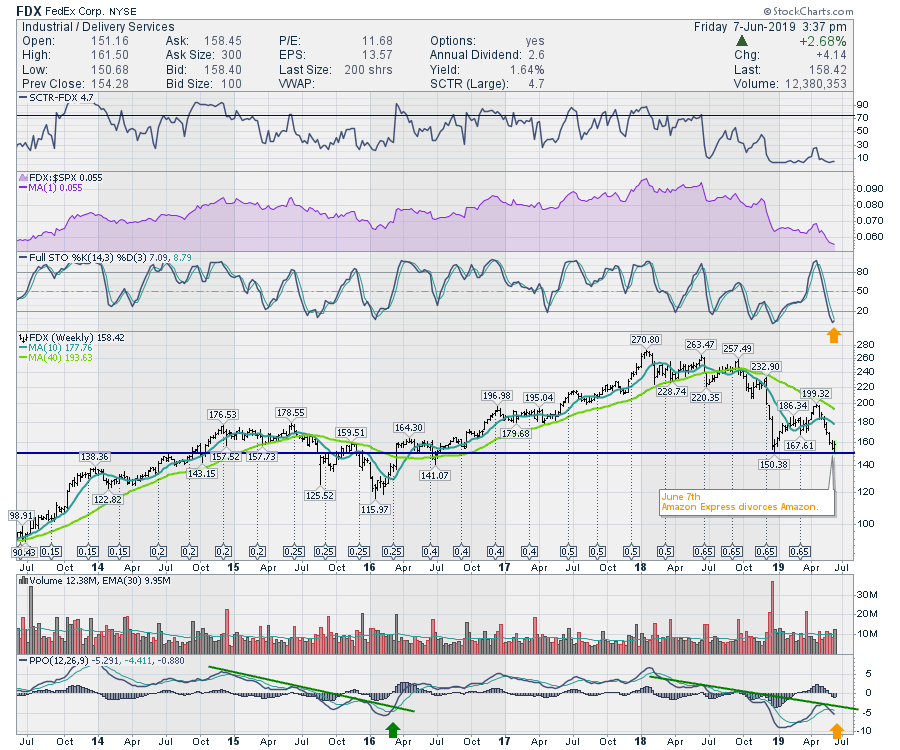 Reviewing the price action, the $150 level is in the center of the 2015- 2016 price action and is near a level that FDX first touched back in 2014. Price also tested the December 2018 low, getting within $0.30 of it. The volume is soaring, coming in near the highest of the year, with the exception of the March Quarterly Options Expiration.
One of the interesting trend lines on the chart is the momentum trend on the PPO. Looking back in 2016, there was a similar trend and, when that broke out, it was an excellent run marking the beginning of a two-year advance. Currently, the PPO is higher than the December 2018 low; a turn here would mark positive divergence. A higher low on the momentum indicator (PPO) as price makes a similar low is called a positive divergence.
While we don't know if the $150 level will hold, this looks like an excellent place to buy FDX, with a stop just under $150. Perhaps this margin improvement strategy by management can kick up the stock price. If the low at $150 holds, one could also expect margins to improve if the low-price, high-volume business of Amazon is removed. Perhaps all the bad news around Amazon building its own fleet is priced into the FedEx stock; now, FedEx will not be tied into the Amazon freight strategy. If true, that could well be the definition of a bottom.
Good trading,
Greg Schnell, CMT, MFTA
Senior Technical Analyst, StockCharts.com
Author, Stock Charts For Dummies
---
Want to stay on top of the market's latest intermarket signals?
– Follow @SchnellInvestor on Twitter
– Connect with Greg on LinkedIn
– Subscribe to The Canadian Technician