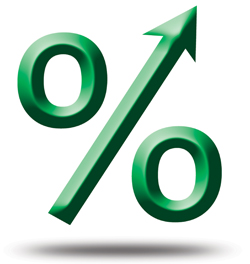 On a closing basis, only one sector hit a new high on Tuesday and that sector just happens to be the biggest sector in the S&P 500. According to SPDRs.com, the Technology SPDR (XLK) accounts for 21.63% of the S&P 500 and is by far the biggest sector. The Health Care SPDR (XLV) is second at 14.16% and the Financials SPDR (XLF) is third at 13.18%. The chart below shows XLK with a new closing high and the lower window shows XLK with a larger one year gain than SPY.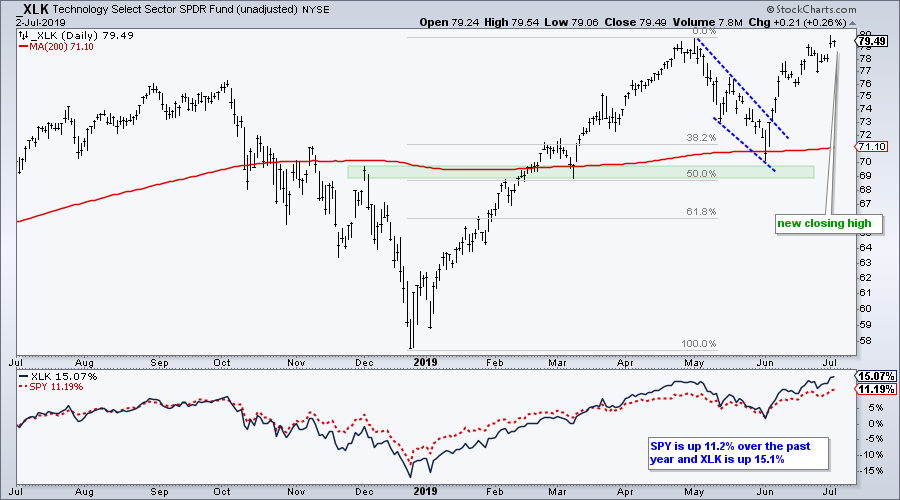 The Mobile Payments ETF (IPAY) is the strongest of the tech-related ETFs. While some might not consider it a "pure" tech-related ETF, most of its components can be found in the technology sector. American Express (AXP) is part of the finance sector, but Mastercard (MA), Visa (V) and Paypal (PYPL) are part of the technology sector.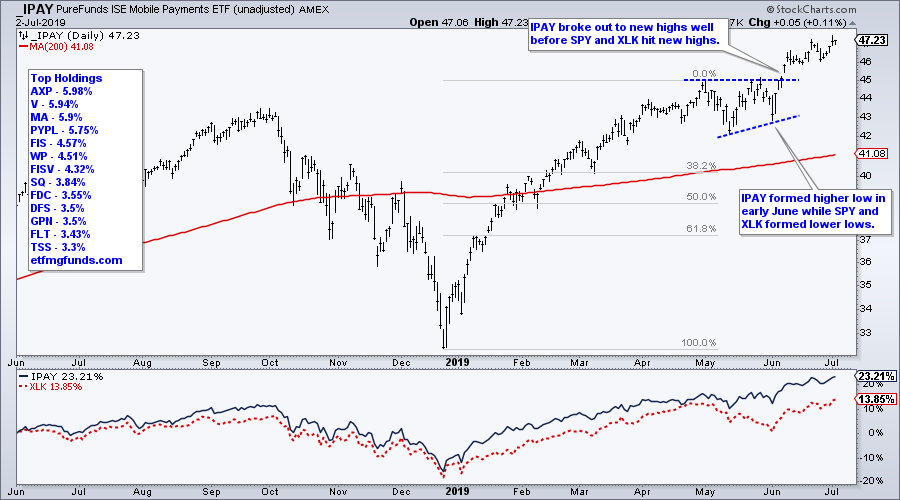 The chart above shows IPAY with a bullish chart divergence that preceded the June breakout. Keep this setup in mind for future reference. The market moved lower in June with SPY and XLK recording lower lows from mid May to early June. IPAY, in contrast, formed a higher low from mid May to early June. This higher low showed relative "chart" strength and represented a chart divergence. IPAY went on to break out and hit new highs in early June, well before SPY and XLK hit new highs. IPAY is clearly the strongest industry-group ETF within the strongest sector.
---
On Trend on YouTube (Tuesday, July 2nd)
Market Condition Matters
Cannabis Stocks Reach Reversal Alert Zones
Diving into the Cyber Security Group
Oil and XLE Hit Resistance Zones
Retail Stocks Still Suffering
---
Arthur Hill, CMT
Senior Technical Analyst, StockCharts.com
Book: Define the Trend and Trade the Trend
Paper: RSI for Trend-Following and Momentum Strategies
---
Want to stay up to date with the latest market insights from Arthur?
– Follow @ArthurHill on Twitter
– Subscribe to Art's Charts
– Watch On Trend on StockCharts TV (Tuesdays / Thursdays at 10:30am ET)