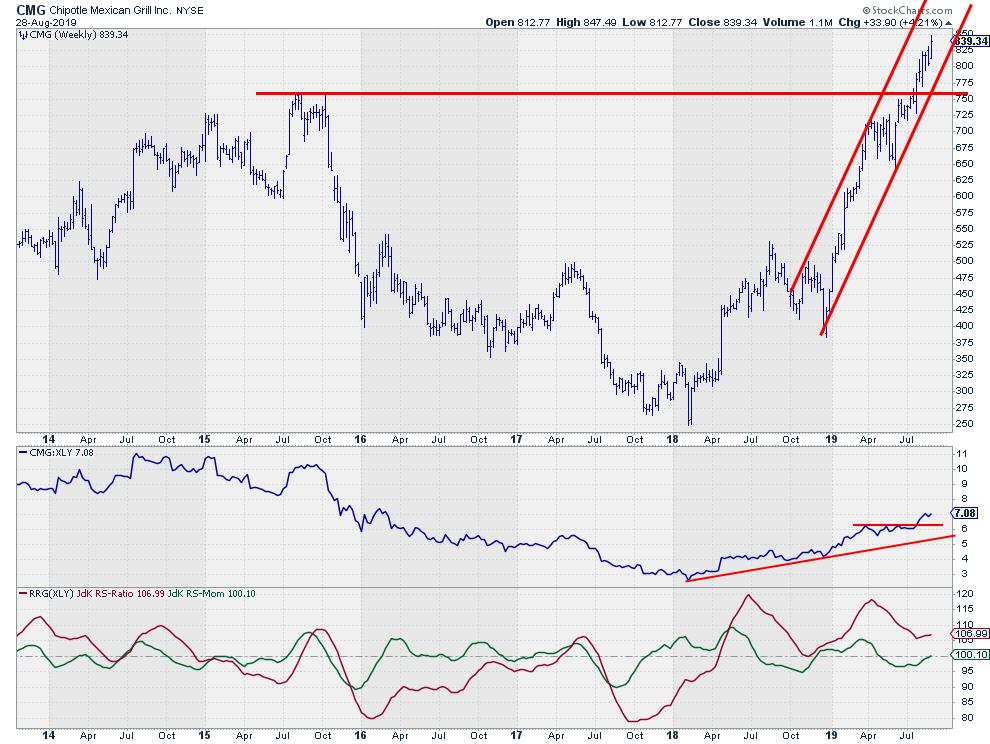 Looking at the daily Relative Rotation Graph for US sectors, we can see that Consumer Discretionary is inside the improving quadrant and about to cross over into leading at a strong RRG-Heading. For the near-term, this makes XLY a sector to keep an eye on.
In order to look for some trade ideas, I ran the RRG for the members of the Discretionary sector against XLY. I started at the weekly RRG for this universe in an attempt to look for some meaningful trends that may be underway, then switched to the daily version to double-check. I noticed two interesting rotations.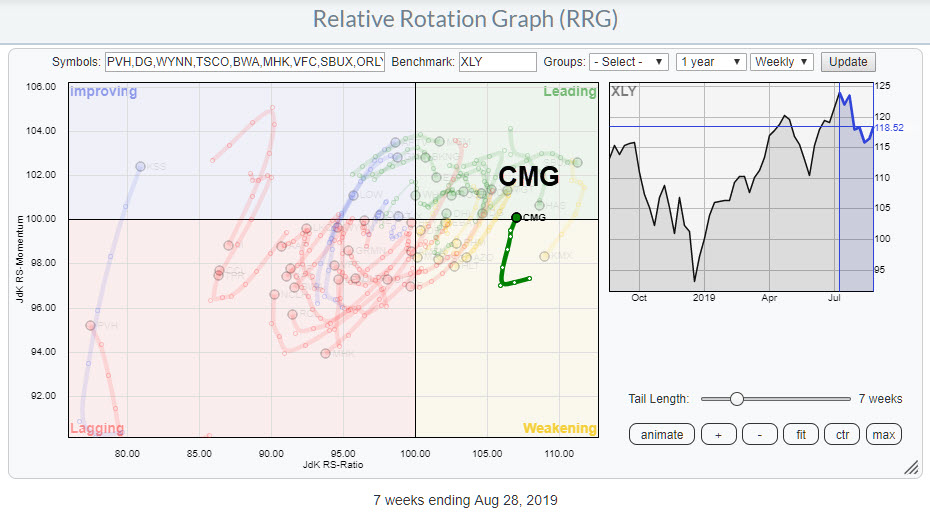 The above chart holds all members of the Discretionary sector and shows the rotation against XLY as the benchmark. The rotation for CMG is interesting, as it is returning into the leading quadrant from weakening. That is usually a positive situation, signaling that a 2nd (or 3rd etc) leg of an already existing relative uptrend is about to get underway.
This rotation also holds up on the daily RRG (simply change the periodicity next to the "Update" button on the chart), where CMG is inside weakening but starting to curl up and return to(wards) the leading quadrant.
The final check always is the price chart, in combination with relative strength, as shown on the chart at the top of this article.
A few weeks ago, CMG crushed the overhead barrier near $ 750 and continued its rally inside the rising channel. Around the same time, the RS-Line broke to new highs, which opened up the way for more relative upside.
All in all, things are looking good from both a price and a relative perspective.
If you are looking to offset some risk and are interested in a pair-trade, you may want to check out the rotation for M (Macy's Inc) on the RRG and then check the price chart for this stock.
---
My regular blog is the RRG Charts blog. If you would like to receive a notification when a new article is published there, simply "Subscribe" with your email address.
Julius de Kempenaer
Senior Technical Analyst, StockCharts.com
Creator, Relative Rotation Graphs
Founder, RRG Research
---
Want to stay up to date with the latest market insights from Julius?
– Follow @RRGResearch on Twitter
– Like RRG Research on Facebook
– Follow RRG Research on LinkedIn
– Subscribe to the RRG Charts blog on StockCharts
---
Feedback, comments or questions are welcome at Juliusdk@stockcharts.com. I cannot promise to respond to each and every message, but I will certainly read them and, where reasonably possible, use the feedback and comments or answer questions.
To discuss RRG with me on S.C.A.N., tag me using the handle Julius_RRG.
RRG, Relative Rotation Graphs, JdK RS-Ratio, and JdK RS-Momentum are registered trademarks of RRG Research.