Twitter has been in the news for all kinds of reasons; from controlling foreign influence to blocking political party messages, the company seems to have all kinds of public relations issues. Twitter is one of the most powerful tools in the world for politicians, as the ability to communicate directly without the filters of the press corps - for free - is of extreme value. Worldwide, the platform has become a direct communication medium and everyone who is on Twitter uses it to receive the news.
This week, the price of the stock made its own news. Twitter (TWTR) broke out to new 52-week highs and is now challenging the 2018 high.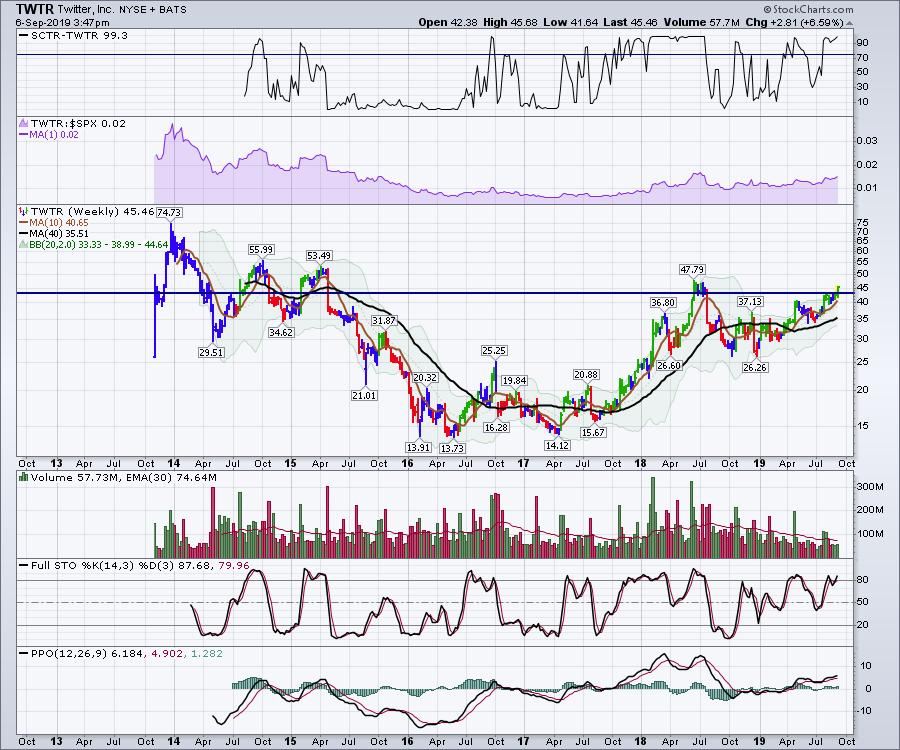 From a technical perspective, Twitter is now setting up what would appear to be a long term cup-and-handle base. While it is difficult to suggest this is a real cup-and-handle based on the fact it took five years to form, it is clearly bullish to see Twitter continuing to soar. The purple area chart suggests Twitter is hitting new one-year highs on relative strength compared to the $SPX. If TWTR can outperform the $SPX, that attracts more investors. The SCTR ranking on the top shows Twitter with a 99 ranking, meaning that price action is stronger than 99% of the large cap stocks.
On the bottom panel, the PPO continues to rise up, suggesting improving momentum.
The indicators for Twitter suggest it is positioned to go higher. As the stock tries to break through $48.00, investors should stay focused on the price action. If Twitter is unable to break out and hold above $48, investors should try to protect against a downside move that may shake them out of the stock. All that to say, watch closely as the price tries to take out the most recent high.