Ok, I'm being somewhat dramatic. I'm looking for several things. First of all, I'm quite bullish. It's hard to tell exactly how long this consolidation lasts, but I'm definitely nowhere near the camp that believes we're heading for a recession or bear market. On Monday, I'll be discussing my Q4 Market Outlook in a webinar for EarningsBeats.com members, but I'll give you a sneak preview on one topic worth talking about.
Transportation stocks ($TRAN).
I don't really follow any complicated formulas. Most of my work centers around common sense. The Dow Theory is just plain common sense. If we're truly in an uptrend, one that is likely to continue, transportation stocks should be breaking out. The stock market is the best leading economic indicator in my view. When the stock market is rising, it foreshadows a strong or strengthening economy. If our economy is strong or strengthening, it should be reflected in the prices of transportation stocks. Think about it. How long can economic growth last if the companies that deliver goods are not performing well?
The Dow Theory focuses on the companies that produce the goods (industrials) and the companies that ship the goods (transports). It doesn't get any simpler than that when evaluating the U.S. stock market. Are we producing and are we shipping? I think most technicians would agree that the stock market prices companies in anticipation of what's coming, not based on what's occurred in the rear view mirror. That's what's meant by a "leading economic indicator". So wouldn't it behoove us to look at transportation stocks for clues as to the future direction of the stock market?
Take a look at this chart: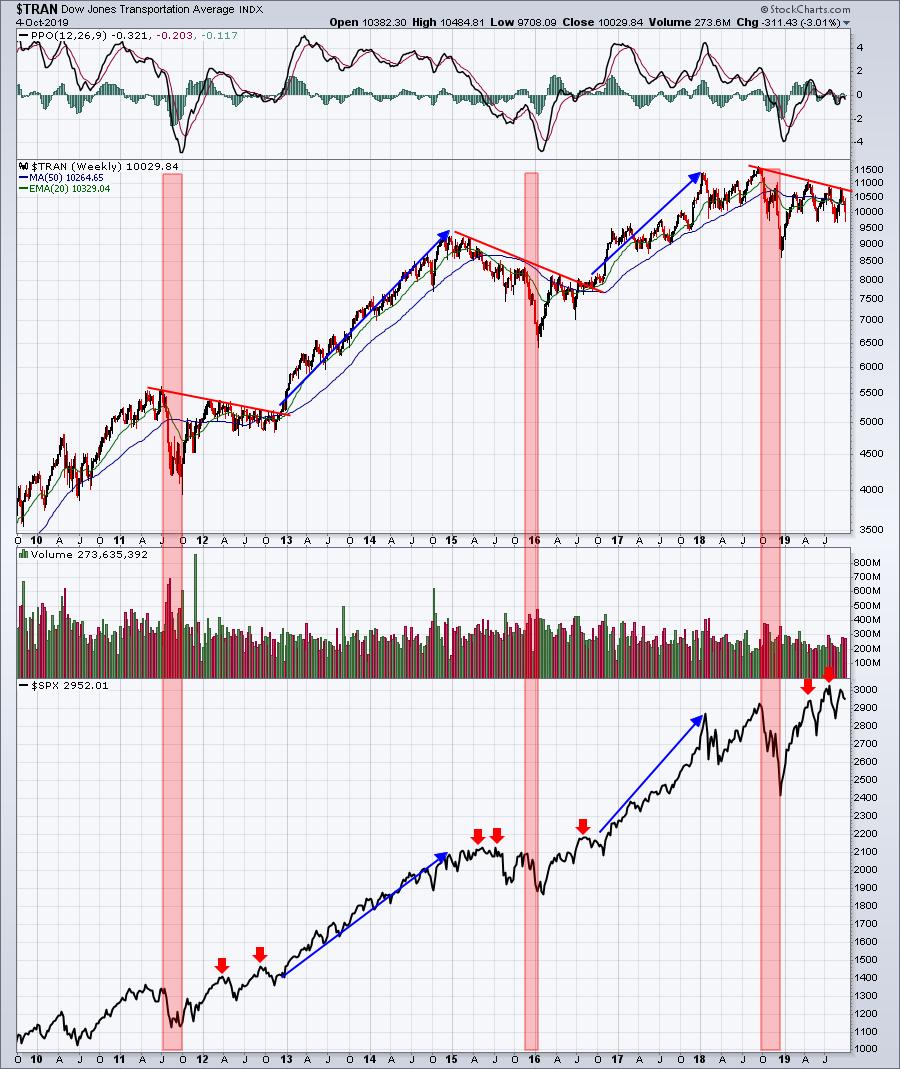 I think it's pretty clear. When transports are rolling, so too is the benchmark S&P 500 - and it's a rally you can count on. By contrast, check out those red arrows. Do you notice the similarities? Each time the S&P 500 attempts a breakout without the support of transports, it fails. Transports hold a BIG clue as we move forward.
But transports aren't the only signal to watch for. I'll be discussing several other "must sees" at my Q4 Market Outlook webinar on Monday, October 7th. It starts at 4:30pm EST and I'd love for you to join me. CLICK HERE for more information.
Happy trading!
Tom