Amazon.com Inc. (AMZN) has been struggling of late following a 12.5% drop from its peak in price during early July. As you can see in the chart below, the stock has been trading below its key 50-day moving average for the past 3 months. Tomorrow's release of third quarter earnings may provide the boost this stock needs to break back into an uptrend. In order for the stock to turn positive, we'd need to see a move back above this key 50-DMA on volume.
WEEKLY CHART OF AMAZON (AMZN)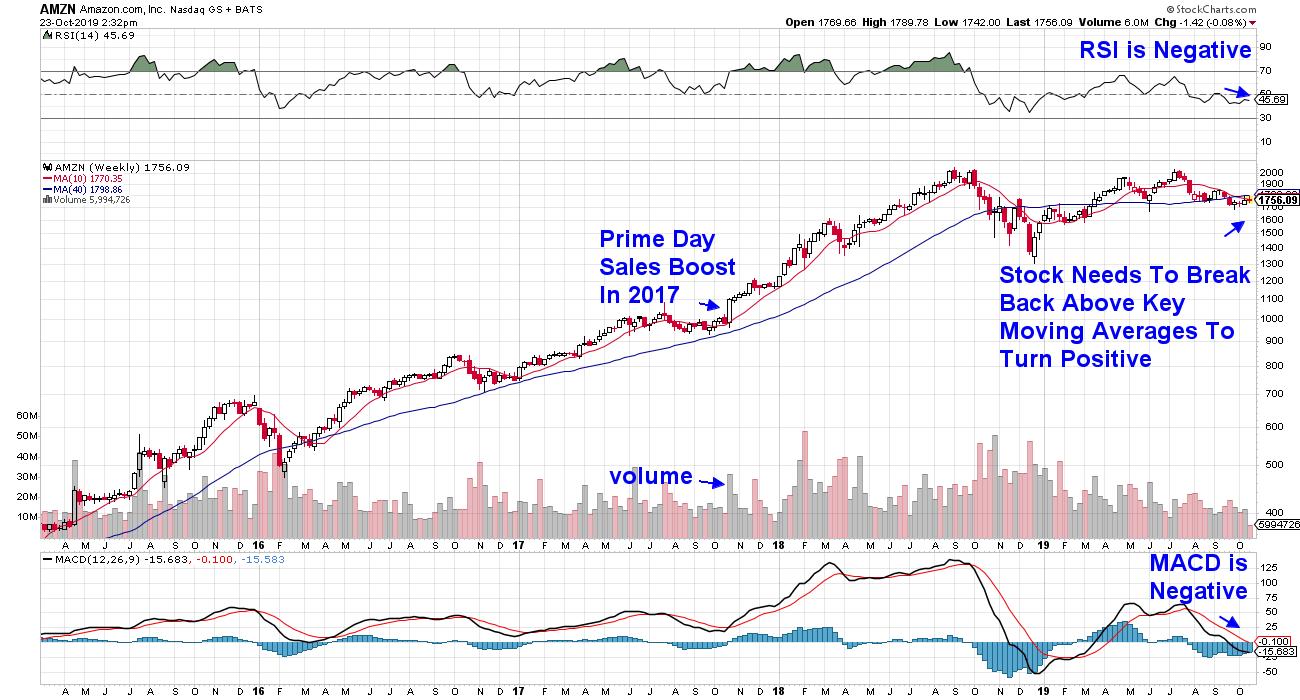 The stock's recent underperformance has been perplexing given Wall Street's unabashed love for the company. Out of 33 analysts polled recently, all but 1 rate AMZN as a buy, with an average price target that's close to 30% above its current price.
The company has 3 key drivers of growth that has top analysts excited. Their cloud computing unit is the primary focus for long-term profitability, while Amazon's dominant position in online retailing will continue to be the biggest boost to sales. Of note is the fact that this past July's Prime Day sales numbers will play into tomorrow's earnings report. For those of you not familiar, Prime Day is Amazon's "Christmas in July" sale where prices are slashed on many items. This year, the company reported record sales of $7.6 Billion over the 48-hour period.
To be fair, Amazon's chart has more work to do besides breaking back above its key 50 day moving average. Both the RSI and MACD are in negative territory and, while they look more constructive on a daily chart, a move into positive territory would be needed on the weekly chart as well to support a long-term uptrend.
For those who'd like to be alerted to stocks such as Amazon (AMZN) when they turn positive, take a look at my bi-weekly MEM Edge Report. You can trial this highly-regarded report for 4 weeks for a nominal fee by using this link.
Warmly,
Mary Ellen McGonagle,