Today's highlighted stock has already had an impressive rally over the last several months; however, it didn't make my screens until the stock's price went above my $5.00 threshold, which it hit today. Struggling department store operator Stage Stores (SSI) peaked in price back in 2013 as online retail competition pushed down sales and margins were crushed.
Management has turned things around over the past year, and last week's earnings report confirmed that the future is indeed bright as SSI converts their stores to a successful off-price business model. In fact, those stores that have been converted grew 3rd quarter sales by 40% while same-store sales overall increased 17.4%. The company guided higher for next year as their turnaround campaign picks up speed.
INTRADAY CHART FOR STAGE STORES, INC. (SSI)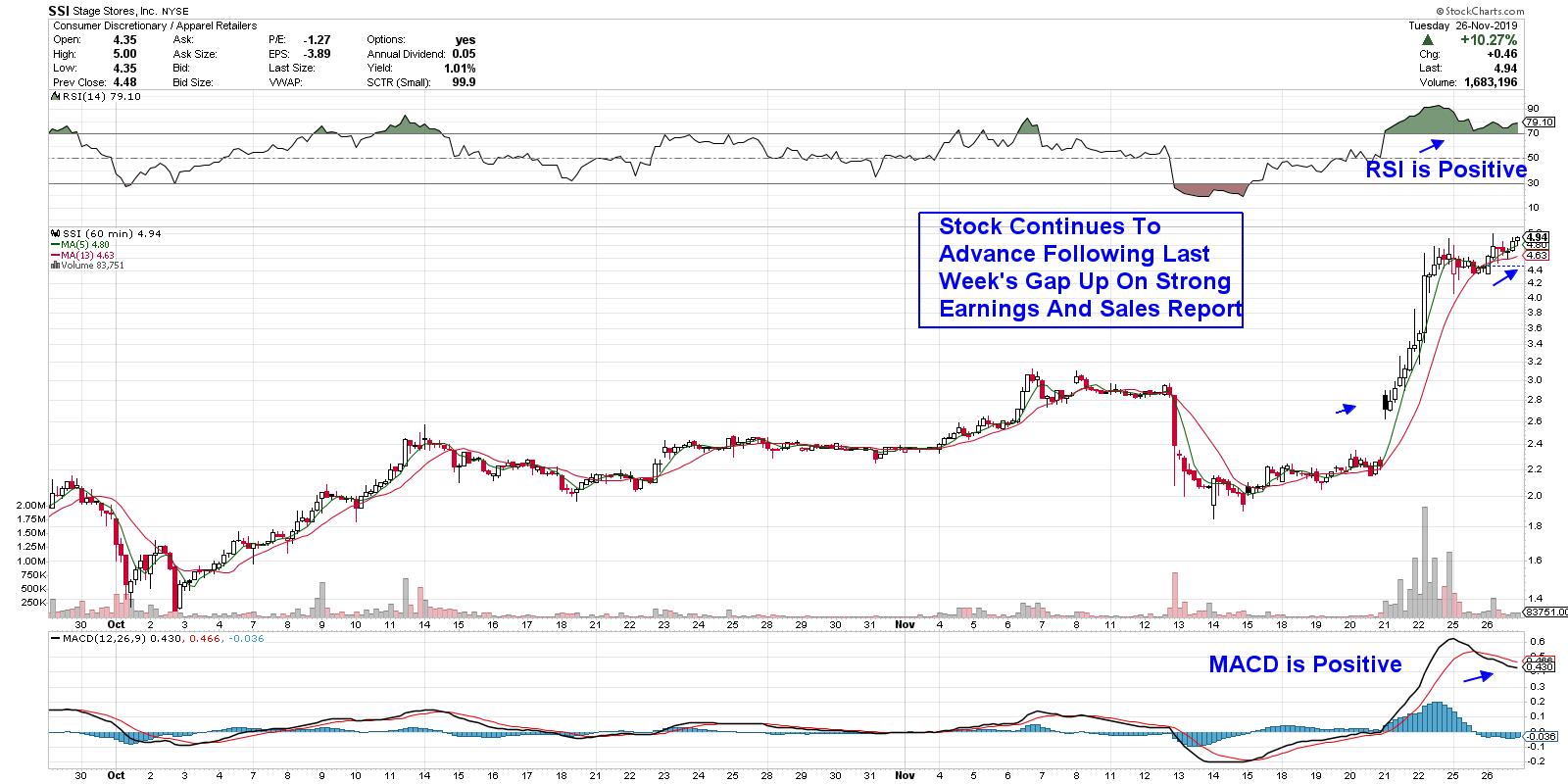 Above, you'll see the intraday (60 minute) chart that can be used as a guide for this fast mover. The stock gapped up following its strong 3rd quarter results; it has since continued to find support at its 5- and 8-hour moving averages. Analysts have a price target at $9.50, which is well above its current price, but near-term you'll want to make sure that SSI remains above these key mavs as the RSI is overbought and the MACD is trending sideways.
Stage Stores Inc. also hit my screen because it offers a yield, which is part of my exciting new product that's coming soon. For those who'd like to get on the waiting list for more information about my High Growth Dividend Newsletter, please use this link here.
And if you'd like to trial my already established MEM Edge Report, click here! Reviews have been great for this bi-weekly report that gets you in front of stocks rotating into leadership positions.
To your investing success!
Warmly,
Mary Ellen McGonagle,