The Russell 2000 Small Cap Index is on the move and, while these smaller stocks can provide outsized returns, there's also an inherent volatility that one needs to be aware of before venturing into this asset class.
DAILY CHART OF LIFEVANTAGE CORP. (LFVN)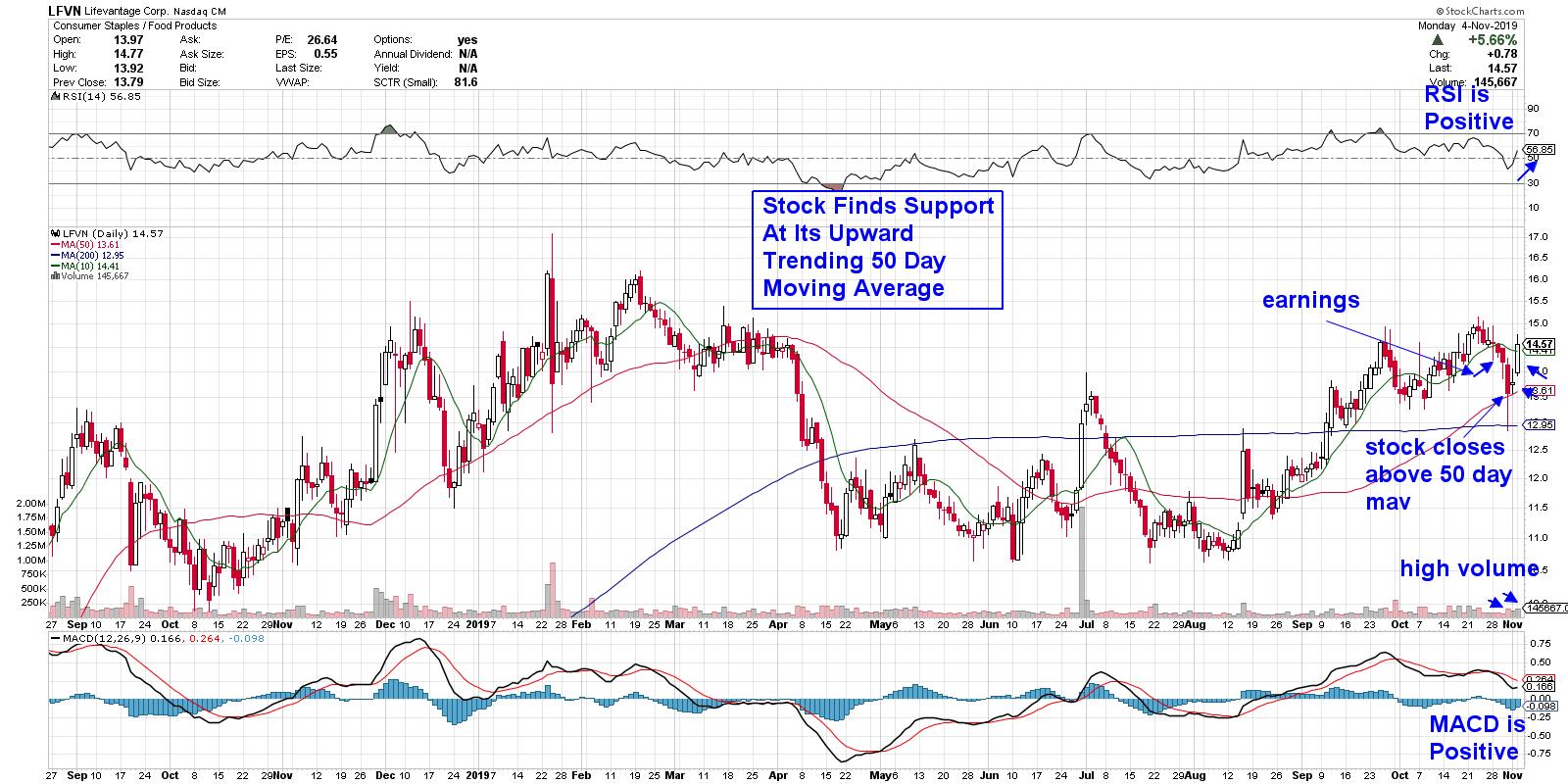 Let's take a look at LifeVantage Corporation (LFVN) - a $200 million company that reported earnings last week. Although the numbers were strong and management guided higher for 2020, the stock initially dropped on the news.
Selling on the on news is not uncommon; however, the lower liquidity of this smaller company caused a bigger impact, meaning the stock dropped 11% over a 2-day period. LFVN quickly rebounded, however, and gained 7% over the next 2 days of trading as buyers came in and pushed the stock into an uptrend.
While the RSI initially dipped below the neutral 50 line, the MACD remained positive. Most important, however, was the fact that the stock was supported after breaking below its 50-day moving average (red line). This bullish action occurred on above-average volume, which is a positive. Since then, LFVN has continued to see buying and, again, it was bullishly on volume. Today, the stock broke back above its 10-day moving average, with the RSI turning positive. All this points to further upside action.
While the price action in these smaller companies can be tumultuous, using technical analysis can help you weather the bigger swings that small-cap stocks will experience. Of course, a strong stomach would be another asset!
For those who'd like to receive detailed insights into sector strength and stocks poised to take advantage of that strength, take a look at my bi-weekly MEM Edge Report. You can take a 4-week trial at a nominal cost and, if you sign up for a trial today, you'll receive a bonus course on how to spot and trade sector rotation! You can use this link here.
Warmly,
Mary Ellen McGonagle,