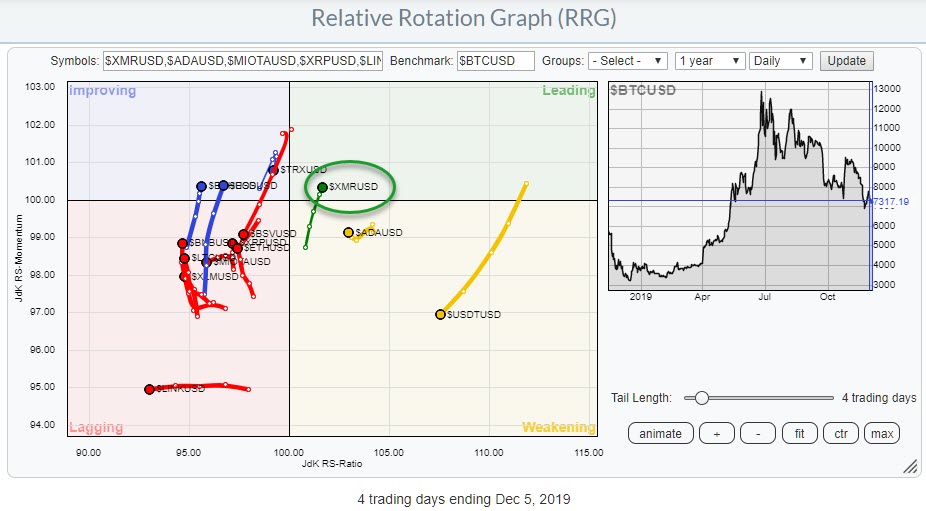 Daily RRG for Cryptocurrencies vs. BTC
This week is Crypto Week! Well, at least it is on StockCharts TV. Thus, I figured it would also be a good idea to once again bring to your attention to the fact that we can run RRG charts for cryptocurrencies as well.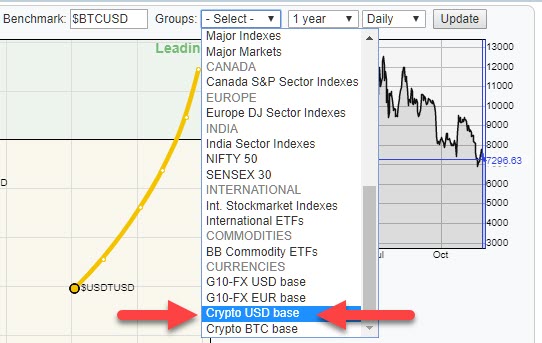 As a quick reminder, you can find two predefined universes for cryptocurrencies in the drop-down selection box on the RRG page.
At the bottom of the dropdown menu under the general header of "Currencies," you will find one universe that graphs all cryptocurrencies that we have available against the USD as the base/benchmark for the RRG.
The second universe is the same group of cryptocurrencies, but now with BTC (Bitcoin) as the benchmark. Once selected, you can change the time frame from weekly to Daily and vv as usual.
The RRG at the top of this article shows the selection of coins against BTC. The one that attracts my attention the most is XMR (Monero). This crypto is currently rotating from the weakening quadrant back into leading, suggesting that a second leg of the relative uptrend vs. BTC is now getting underway.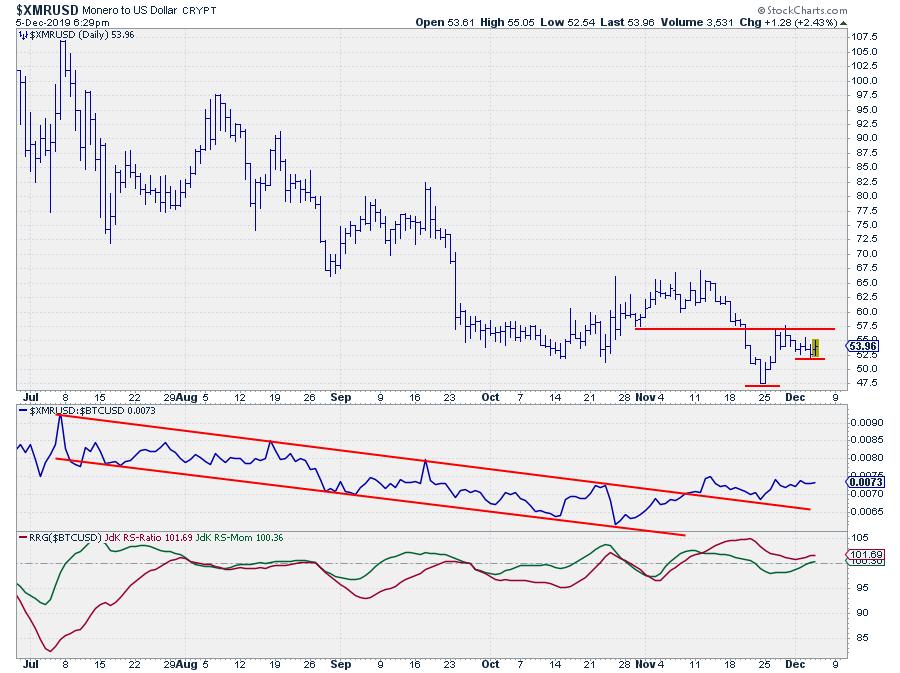 The chart above shows that Monero is still in a downtrend from a price perspective. The relative trend against Bitcoin, however, turned around in the first half of November, when the RS-line moved out of the falling channel end, before then testing this former resistance as support when forming the first higher low since months.
The RRG-Lines picked up that first relative move higher around the time of the breakout, when both the JdK RS-Ratio and the JdK RS-Momentum line crossed above 100, pushing Monero into the leading quadrant.
After a short rotation through weakening, this coin now seems ready to start a second leg of its relative uptrend vs. Bitcoin.
-- Julius
---
My regular blog is the RRG Charts blog. If you would like to receive a notification when a new article is published there, simply "Subscribe" with your email address.
Julius de Kempenaer
Senior Technical Analyst, StockCharts.com
Creator, Relative Rotation Graphs
Founder, RRG Research
---
Want to stay up to date with the latest market insights from Julius?
– Follow @RRGResearch on Twitter
– Like RRG Research on Facebook
– Follow RRG Research on LinkedIn
– Subscribe to the RRG Charts blog on StockCharts
---
Feedback, comments or questions are welcome at Juliusdk@stockcharts.com. I cannot promise to respond to each and every message, but I will certainly read them and, where reasonably possible, use the feedback and comments or answer questions.
To discuss RRG with me on S.C.A.N., tag me using the handle Julius_RRG.
RRG, Relative Rotation Graphs, JdK RS-Ratio, and JdK RS-Momentum are registered trademarks of RRG Research.