Merck (MRK) has been range-bound for a while. However, with all this bullish enthusiasm, there are a few names that are just breaking out now - and Merck is one of them, courtesy of the recent thrust in Healthcare.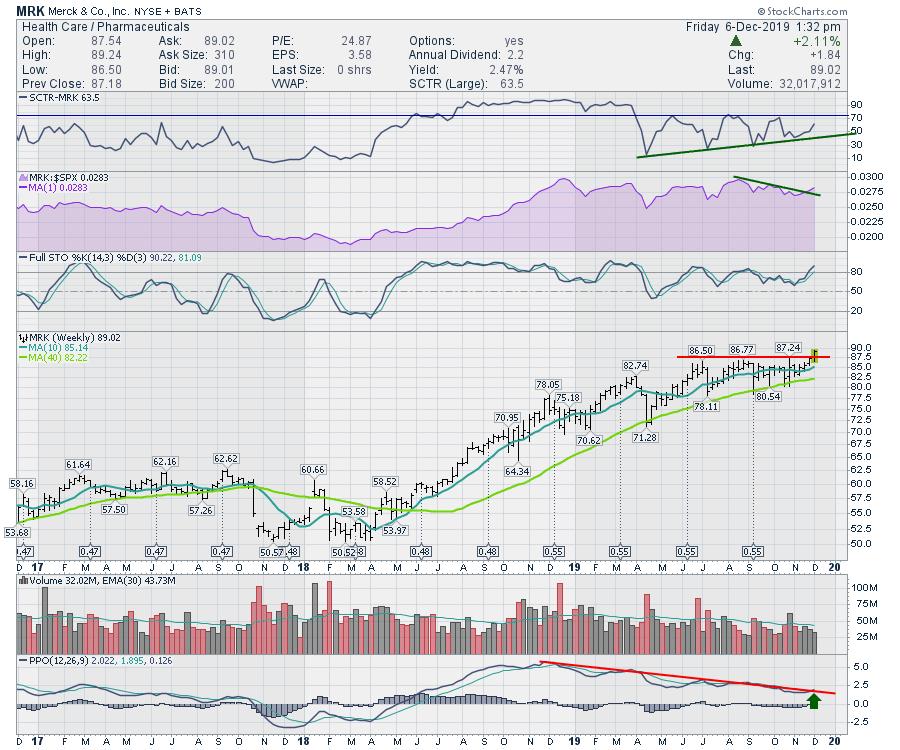 My favorite indicators are all starting to surge. The setup is there for Merck to just be starting another leg higher. The SCTR on the top is pushing higher and is making higher lows every pullback. We want to see this push above 75 and stay there for a while.
The relative strength (shown in purple) is starting to break a recent downtrend compared to the $SPX. Previously, the $SPX continued higher while the stock consolidated sideways. Now that the stock is breaking out, it is moving up faster than the $SPX.
Price is breaking out to new highs, so we'll need to keep watching over the next few weeks to see if it can keep going. Based on the indicators, though, the setup looks good.
The volume has been a little light, but lots of stocks currently have that feature. Looking at the PPO, I really like that it is breaking out above the downtrend in momentum. One question I have is due to the fact that Merck is more of a defensive stock. While the market consolidated sideways in 2018, Merck was a gunshot higher. In the banner year of 2019, Merck has been a sideways consolidation story. While it is up from the start of the year, the stock was at 82 in April and is only marginally higher at present. Is this a clue that we might need to be more defensive on the broader market?
My indicators are still very positive over the medium term, suggesting more upside ahead for the broader market. The good news is it currently looks like more upside for Merck as well. Members of GregSchnell.com received my newsletter over the weekend suggesting the market could be starting to pull back, with one of my short-term indicators only 39% bullish. The intermediate trend is still up! If you would like help spotting these timely setups in the market and are interested in becoming a member at GregSchnell.com, visit the private investors tab.
I'll be speaking at the Market Vision 20/20 conference on January 4th, 2020 with a host of other StockCharts analysts. For more information on the early bird special, follow this link: Market Vision 2020.