Many software stocks peaked in price late July as reduced corporate spending worries, coupled with high valuations, pushed these stocks down. The good news is, these formerly leading stocks are coming back into favor as growth prospects are high and the economic outlook has brightened.
Today, we're going to review Software stock Bandwidth Inc. (BAND) following today's announcement that they're among the first providers partnering with Google for Verified SMS. Businesses are now sending trillions of messages each year; Verified SMS aims to reduce fraud risk while improving response rates.
As you can see in the chart below, the positive news helped push this stock up above its 50-day moving average, which can often act as upside resistance. In addition, the RSI and MACD are both in positive territory while today's action bullishly occurred on volume.
While the stock is poised for further near-term upside, the next area of possible upside resistance is BAND's 200-day moving average, which is currently at $69.5. A break above that level would point to even further upside possibilities.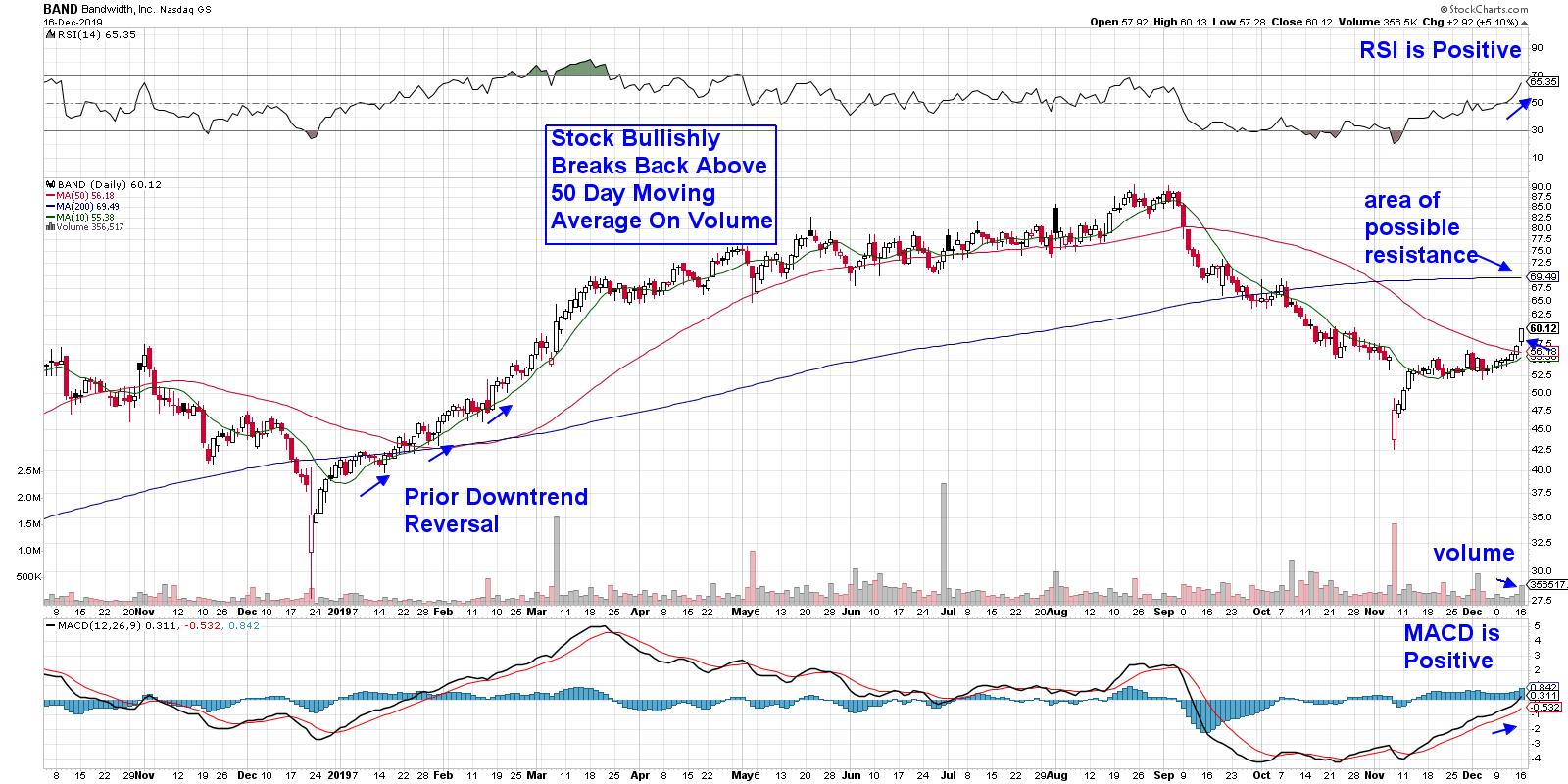 As you can see, I've highlighted the stock's prior downtrend reversal, which took place 12 months ago. Continued support at an upward trending 10-day moving average is one of the keys to the stock's continued uptrend, as is a positive RSI and MACD.
For those who'd like to trial my MEM Edge Report, which highlights high-quality growth stocks poised to outperform please click this link! This top performing newsletter also provides market insights and is delivered every Wednesday and Sunday.
Warmly,
Mary Ellen McGonagle,
Market Vision 2020 - Sign Up for Details
I am so excited to participate in "Market Vision 2020", an online financial conference on Saturday, January 4, 2020 to kick off the new year. Make sure you're subscribed to the Market Vision 2020 newsletter in order to receive the latest updates on the event (and save a lot of money if you decide to attend!). *Click Here* to subscribe to the free newsletter. There will be lots of giveaways and free educational events for everyone who follows along – don't be left out!