Before I get into this stock, there is a really important announcement below so read all the way to the end!
Skyworks is an outstanding looking chart this week. The stock is about to rip to all time highs it would appear. This is one of the stocks in the 5G space that could be a winner in 2020 based on the ramp of 5G. With the rate of change currently, it really looks like it is not only moving up but it is even accelerating while moving up.
Notice the SCTR ranking jumping to 99 which suggests it is literally one of the fastest moving stocks in the large cap space. The relative strength has suddenly surged to new 52-week highs attracting new institutional investors. The full stochastic on the weekly chart can stay above 80 for a long time. The PPO is absolutely running !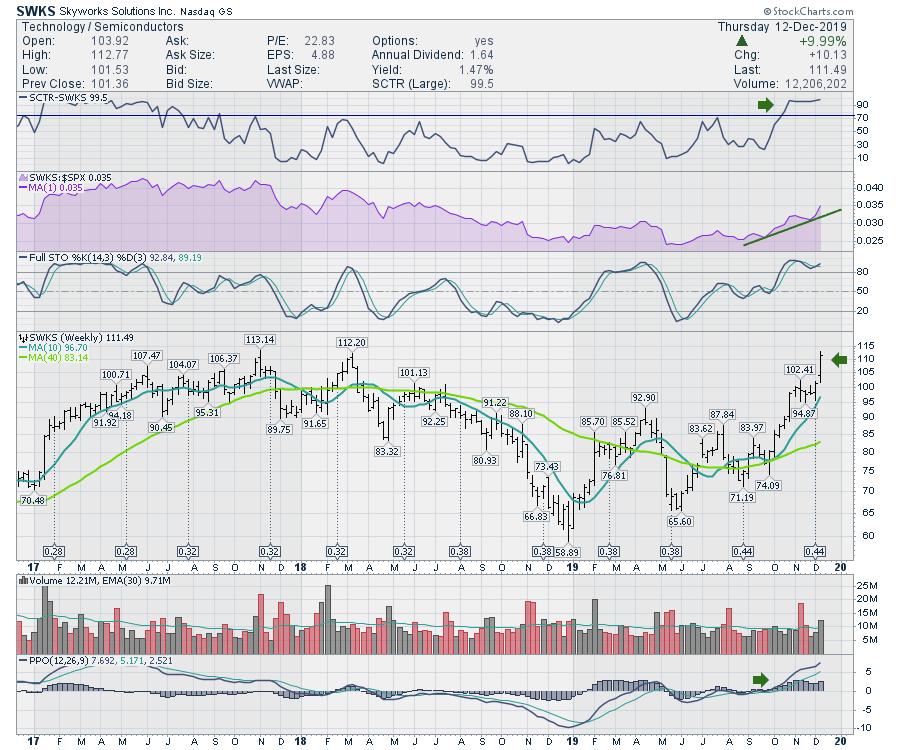 All signs on this chart point higher. As the stock moves through the previous highs, this should get even more interesting.
I will be doing 2 presentations Friday morning December 13th. One is the Market Buzz. The second is a free informational webinar with my good friend Tom Bowley at 11 AM ET. I'll be sharing one of my favorite scans and why I think it is so valuable. It would have found this breakout in Skyworks above! Click on this link at 11 AM ET and I will be live with Tom.