Last Friday, I wrote about the sharp uptick in many defense-related stocks following news of a deadly airstrike against Iran. (You can read that article here) Since then, fears of a retaliation by way of a cyberattack against the U.S. has sparked interest in another area of the markets -- Computer Software - Security. The Prime Cyber Security ETF (HACK) rose more than 1% following Iran's vows of retaliation, with many individual stocks trading even higher.
WEEKLY CHART OF CYBERARK SECURITY (CYBR)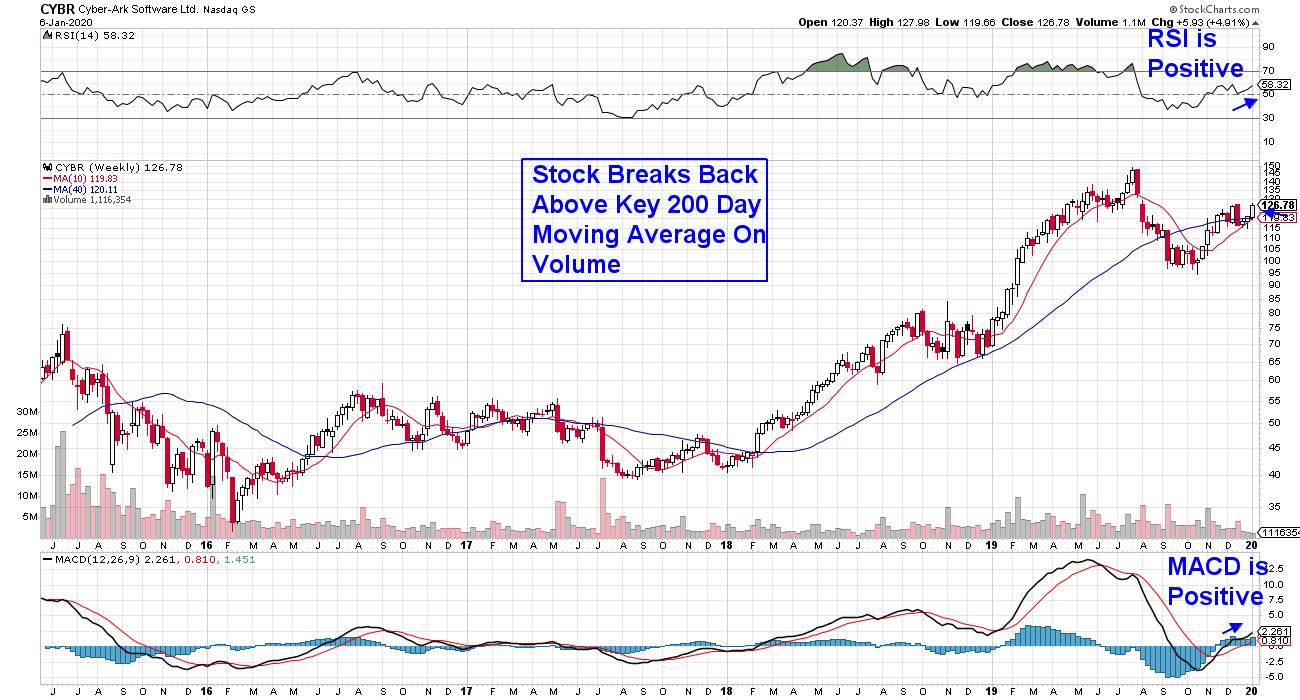 Cyberark (CYBR) is a software company that provides a cloud-based solution for organizations to safeguard and monitor their privileged accounts or those in senior positions. The stock peaked in price in late July, as did many enterprise software companies, as fears of reduced corporate spending drove these stocks down.
While Software stocks in other areas have been working their way back to prior highs, security-related names have been slower to recover. Recent tensions is the Mideast are expected to boost spending in this area; CYBR notably rose sharply on volume in response. In addition to breaking back above its 200-day moving average, today's move pushed the MACD into positive territory while the RSI is positive.
Look for the stock of this fast growing company to continue to form the right side of a base on its way to a possible breakout to new highs.
Other areas of the market are also moving quickly and, if you'd like to uncover stocks that are currently poised to trade higher, I urge you to trial my MEM Edge Report. Sign up today and you'll receive this past Sunday's report and today's Monday alert, featuring insights into the current market and hot new stock ideas.
"Your reports not only pay for themselves, they provide an education in how to pick stocks. I made enough from those 4 stocks to pay for 18 months subscription to your reports. Thank you!" F. Bailey [Testimonial]
Warmly,
Mary Ellen McGonagle,