Defense companies had a strong rally this week after a U.S. airstrike in Iraq killed a key Iranian military leader. While the big move was due to heightened risk fears, this mostly oversold group of stocks could easily trade much higher due to factors at play even prior to today's news.
The U.S. defense budget for this year has never been larger as the Trump administration has pushed forward on projects like denuclearization in N. Korea, a bitter trade war with China and now, as we're seeing, rising tensions in Iran. Wall Street analysts are expecting outperformance well into 2020.
While not all defense-related stocks will benefit from the Street's recent bullishness, here are 3 top picks that have strong growth prospects and attractive charts.
DAILY CHART OF LOCKHEED MARTIN (LMT)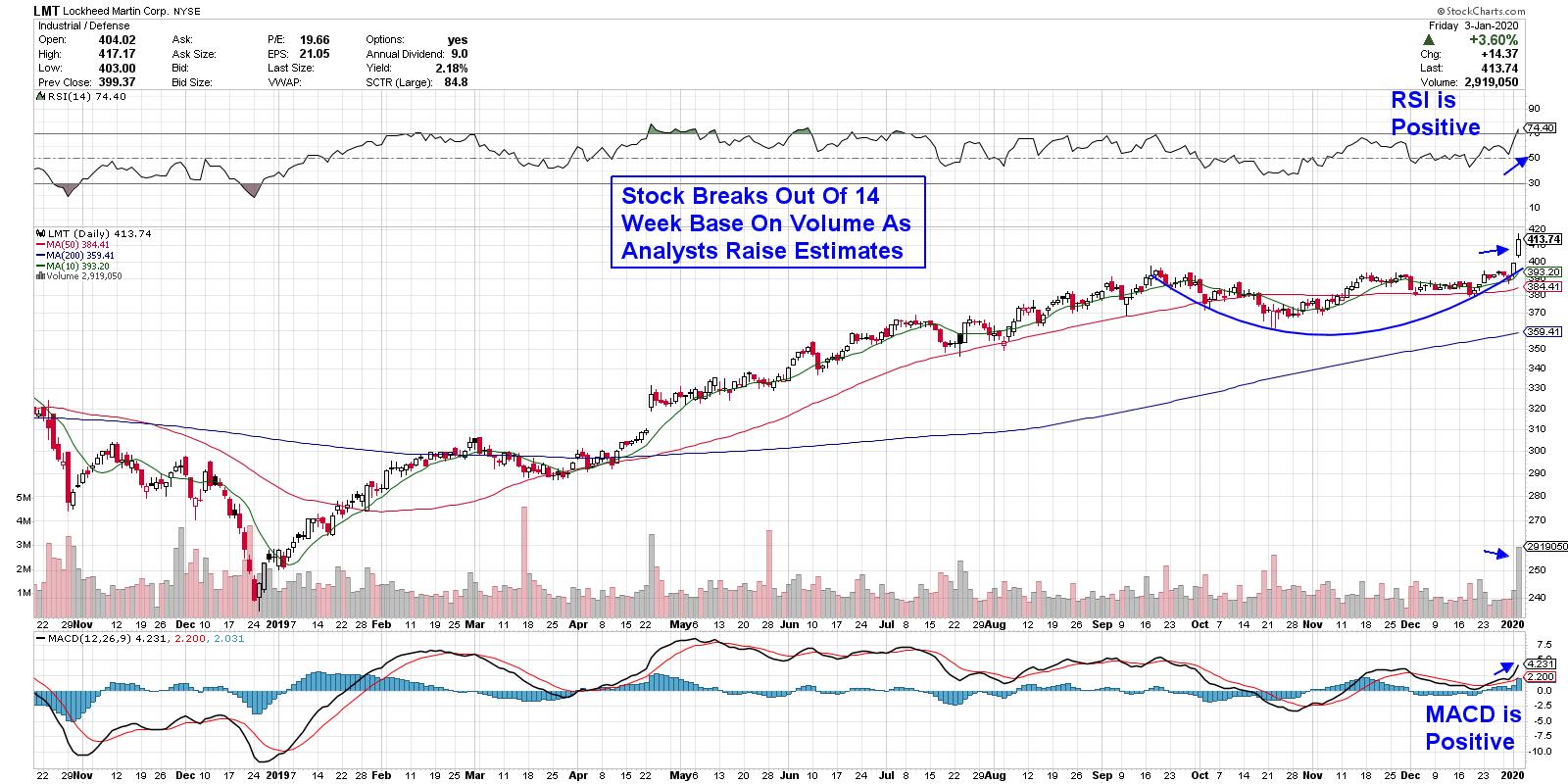 The top company in this group is Lockheed Martin (LMT), which has seen new order bookings that have substantially outpaced their peers. Last month, the Pentagon ordered $35 billion worth of the company's fifth generation stealth jet – the F35 - which helped push earnings estimates into the 25% range for this year.
The stock hit a new high today on very heavy volume following a breakout from a 3 ½ month base. While the MACD is positive, the RSI is a bit extended on both the daily and weekly chart. That said, the stock is in a confirmed uptrend and can be bought on any weakness as, longer term, I think it should trade much higher.
DAILY CHART OF NORTHROP GRUMMAN (NOC)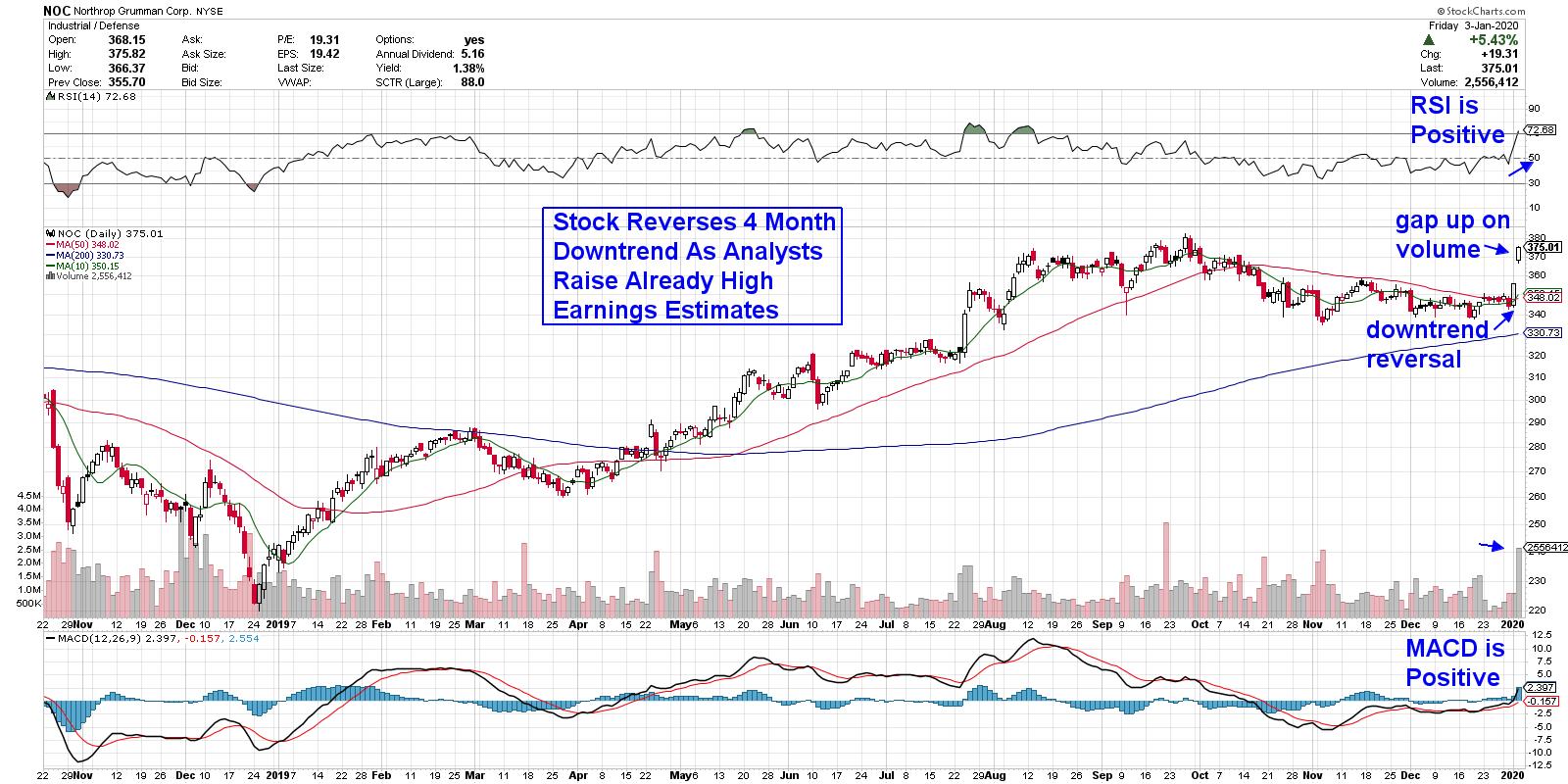 Northrup Grumman (NOC) is a major subcontractor on Lockheed's F-35. In addition, the company has big growth prospects surrounding their B-21 stealth bombers, as the Air Force plans to purchase 80 to 100 planes to replace outdated B-52s. While the price has not been disclosed, the order is expected to add up to $80 billion in revenues.
The stock peaked in price late September alongside many other defense-related names, as valuation concerns and a move back into select Technology stocks left these stocks behind. This week's action has reversed the downtrend in NOC as the stock has broken back above its key 50-day moving average on volume. With the MACD just now turning positive this week, look for NOC to trade higher following today's gap up on volume.
DAILY CHART OF L3HARRIS TECHNOLOGIES (LHX)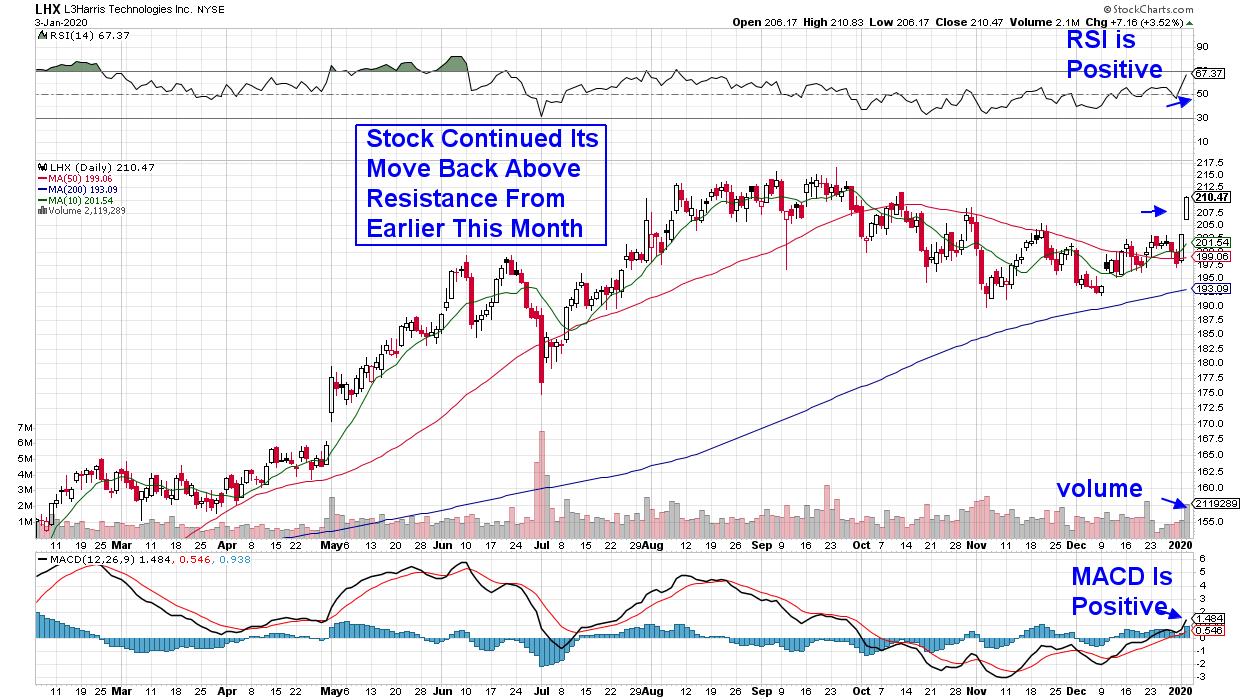 L3Harris Technologies (LHX) is the result of last year's merger between Harris Corp and L3 Technologies. The company is a producer of battlefield products such as sensors and satellite communications devices, as well as a supplier of a computer processor for LMT's F-35. Estimates call for 34% growth for 2020 as synergy from the recent merger takes hold.
LHX is another stock that's reversing a recent downtrend and, while the stock broke back above its key 50-day moving average earlier this month, this week's action has pushed the MACD into positive territory, which points to a shift into positive momentum. The RSI is also positive. I'd be a buyer on any pullback.
While this week's news-driven rally has shifted many defense related stocks into bullish positions, it's critical that those companies have strong growth prospects that will help propel them higher. If you'd like to be alerted to high-quality growth stocks in other areas of the market, I urge you to trial my MEM Edge Report. This bi-weekly report highlights stocks in groups that are poised to outperform the markets while providing entry and exit points as well.
Start the New Year out right with a trial subscription to this top performing newsletter for a nominal fee.
Warmly,
Mary Ellen McGonagle,