The S&P 500 has dropped 8.2% since hitting a new high in price just six days ago, and the heavy selling has pushed many individual stocks down even more.
That may be great news for those looking to purchase high quality stocks at a discount; however, there are 2 important criteria to consider before you wade back into the waters. The first is the need for the markets to be back in a confirmed uptrend. From my work, there are 3 major signals needed, the first being a price break back above the 50-day moving average for a broader market Index.
Once an uptrend has been confirmed, you'll want to be selective about where you put your money to work. Studies have shown that those non-defensive stocks that are better able to withstand the market's downward pressures during a correction are the ones that will go on to become the next cycle's leaders.
While it may be too early to find precise candidates, here's a well known stock that can be put on your watchlist, as it currently fits the criteria mentioned:
WEEKLY CHART OF HOME DEPOT (HD)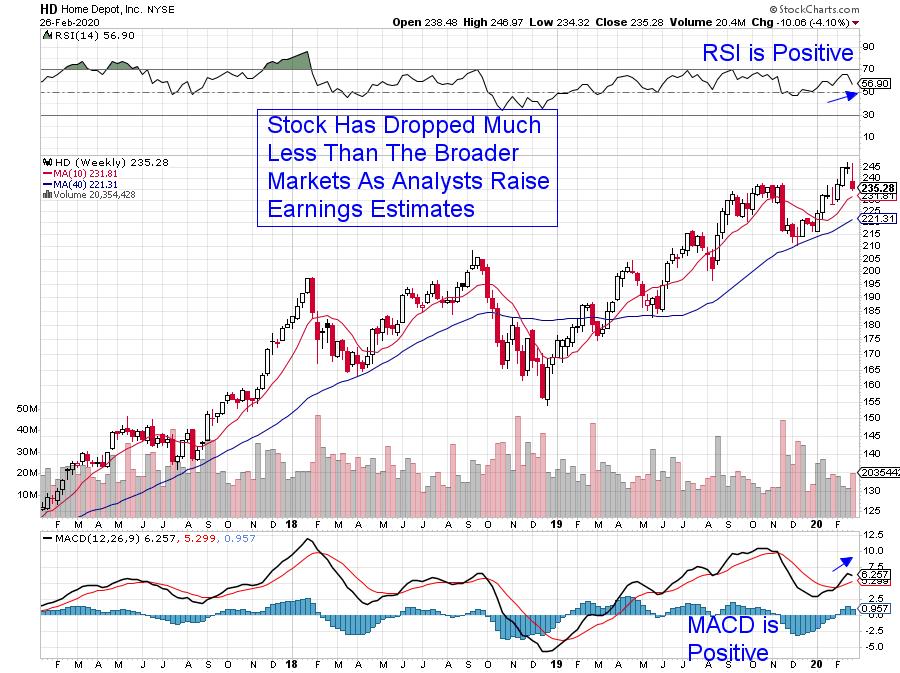 In addition to outperforming the markets to be a watchlist candidate, the stock needs to exhibit growth characteristics. Home Depot (HD) fits that category. The company reported earnings and sales after the close that were ahead of estimates as revenues from big ticket items were up double digits. The news has analysts raising estimates into 2021.
Having your watchlist prepared for when the markets turn positive again will make a huge difference in your ability to capitalize on the turnaround.
For those who'd like to be kept up to date on on my watchlist, as well as when its safe to put new money to work in the markets, I urge you to trial my biweekly MEM Edge Report for 4 weeks for a nominal fee. If you sign up now, you'll receive our detailed weekly report, along with 3 follow-up Market Alert reports that provide insights not seen anywhere else.
In the words one of my many happy subscribers: "Your guidance with entry and exit points in individual stocks as well as the broader markets has been invaluable. Thank you!" ~Barbara S
Warmly,
Mary Ellen McGonagle,