I'm personally trading stocks in very limited circumstances, mostly because you can't trust what you see from one hour to the next. While the bigger-picture downtrend remains in play, there's a lot of rotation taking place in stocks beneath the surface. For instance, as we began to roll over to the downside again last week on the S&P 500 ($SPX, -2.08% last week), previously trounced industries like mortgage REITs ($DJUSMR, -34.75%), recreational services ($DJUSRQ, -29.42%), mortgage finance ($DJUSMF, -23.85%), airlines ($DJUSAR, -22.83%), furnishings ($DJUSFH, -21.74%), hotels ($DJUSLG, -20.81%), home construction ($DJUSHB, -16.88%) and transportation services ($DJUSTS, -16.55%) all posted further sobering weekly declines.
STAY AWAY from these under-performers and even short them on bounces if that's your preference. From a long perspective, however, seek out relative strength and accumulation.
Would you like to know the Top 15 industry groups over the past month? I keep an industry group relative strength ChartList (ChartLists are a powerful organizational feature of a StockCharts.com membership) so that I can quickly identify where Wall Street's money is going. During periods of extreme volatility and massive rotation, I believe this is a critical step in planning your trading strategy. Here's that Top 15 list in terms of one month relative performance: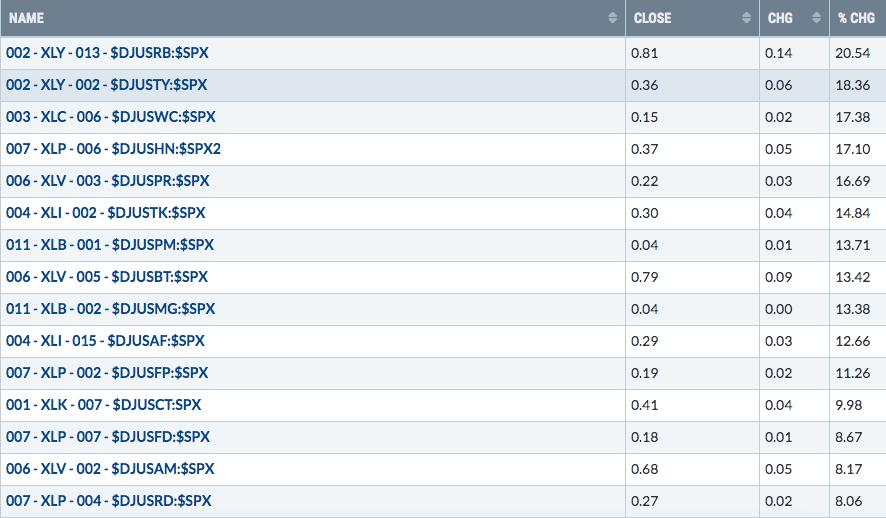 Broadline retailers ($DJUSRB) and toys ($DJUSTY) claim the top two spots. Did you know that? It takes me just a couple clicks to quickly analyze market rotation. Powerful stuff! Now let me be clear about one thing - the above industry groups have not risen over the past month. They have simply outperformed the benchmark S&P 500. If your goal is to outperform that benchmark, and that is my goal, then trading stocks within strong industry groups only makes common sense. You can find some quality trades in the above 15 industry groups, even stocks breaking out to new recent highs.
In the drug retail space ($DJUSRD), for instance, I love PetMed Express (PETS) because it's a relative winner in a strong industry group and it also has an accumulation/distribution line that is setting new highs. Check this out: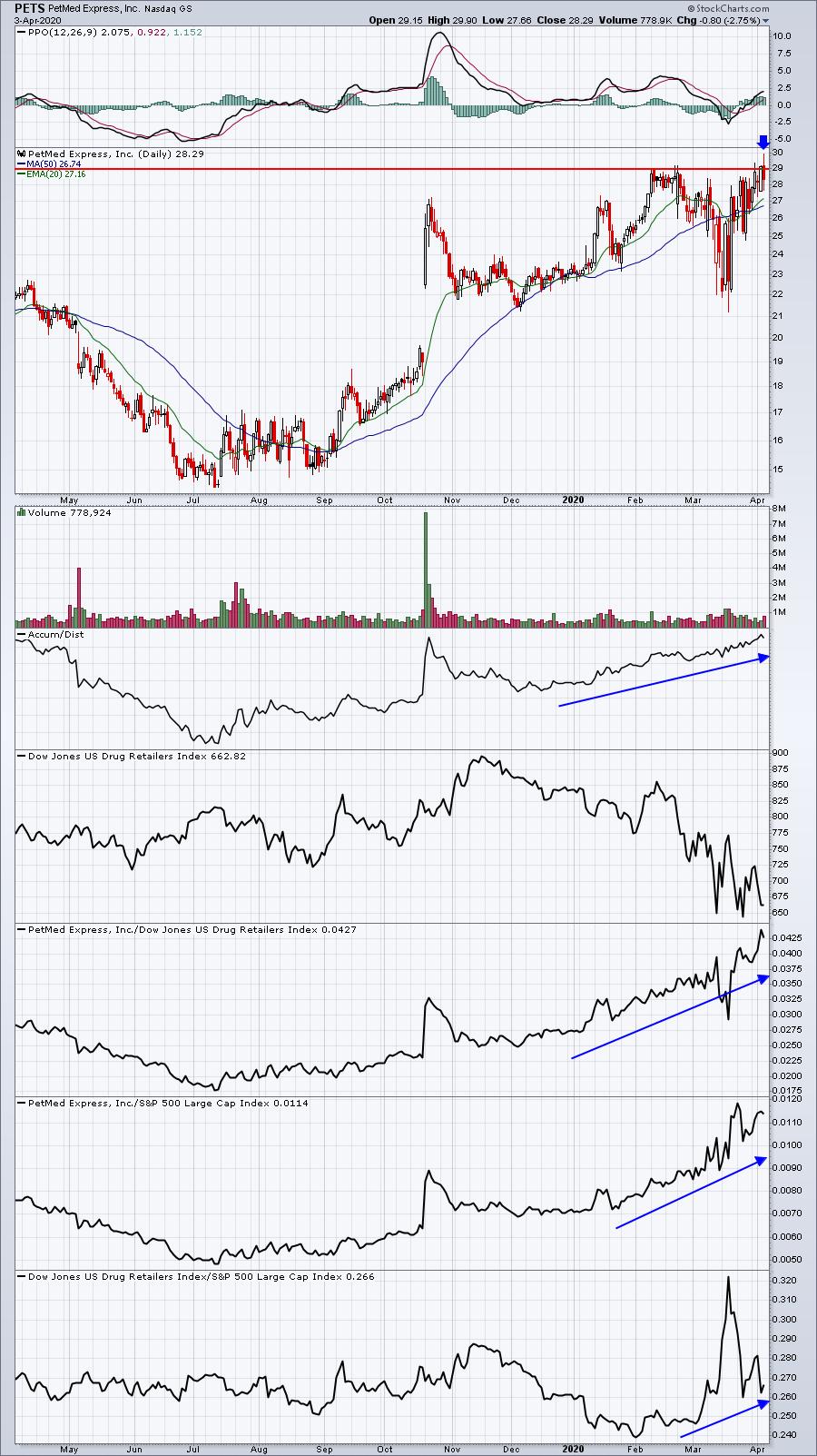 Now I'm not saying that we should rush in and buy PETS first thing Monday morning, but having the knowledge that it's a leader is important, because all stocks can be hit by panicked selling. A stock like PETS can become an excellent short-term trading opportunity during brief periods of selling. The blue arrow highlights the fact that PETS was at a 52-week high on Friday, while many stocks are at or near multi-year lows. PETS is benefiting from a massive paradigm shift from shopping in stores to shopping online. They are already branded as 1-800-PetMeds, so this sudden change to social distancing plays perfectly into their business model. That's why I included it as one of my 5 top picks to benefit from the "work from home" paradigm shift. I plan to feature 3 of my other 4 picks this week in our free EB Digest newsletter. Again, it's free, and it's published 3x per week on Mondays, Wednesdays, and Fridays.
Furthermore, EarningsBeats.com will be providing our entire community, including free EB Digest newsletter subscribers, a recording from our Friday WebinAR (WAR) Room, where I discussed the following:
Understanding long-term stock market perspective
Realizing the fear-driven nature of this current market environment
Comparing this massive selloff to 2008 and 1987 for both similarities and differences
Discussing the benefits and strengths of accumulation distribution line vs. on balance volume (OBV)
Marrying strong fundamentals with strong accumulation and relative strength
Providing specific trading strategies that work in this crazy volatility
If you'd like to begin receiving our free EB Digest newsletter and also receive Friday's WAR Room recording, simply CLICK HERE to subscribe.
Happy trading!
Tom