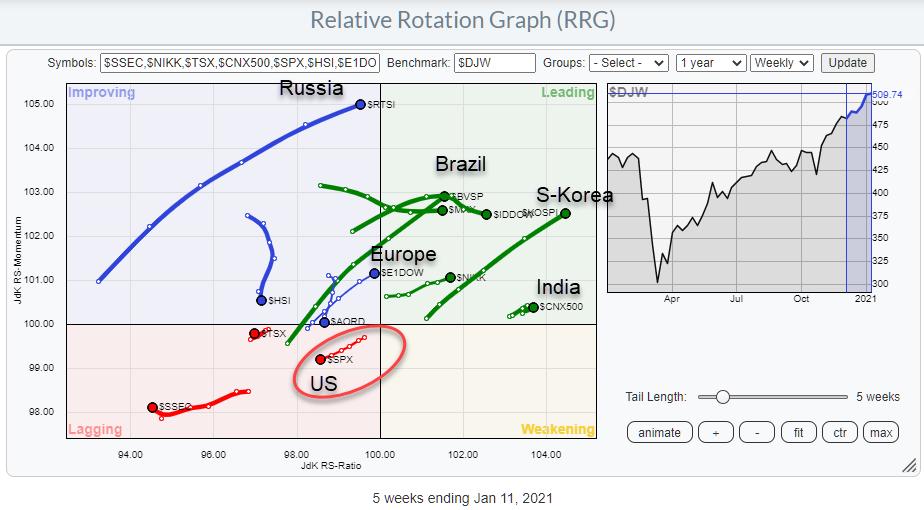 One of the Relative Rotation Graphs that I like to keep an eye, in order to monitor the bigger picture, is the RRG that shows the rotations for international stock market indexes against the DJ Global index, as shown above.
What we see here is a cluster of markets inside the leading quadrant, with the majority pushing deeper into it at a strong RRG-Heading. $SPX is inside the lagging quadrant and moving further into negative territory at an RRG-Heading between 180-270 degrees - which means it is losing strength on both scales.
On the opposite side, Brazil's Bovespa Index ($BVSP) is stealing the show inside the leading quadrant.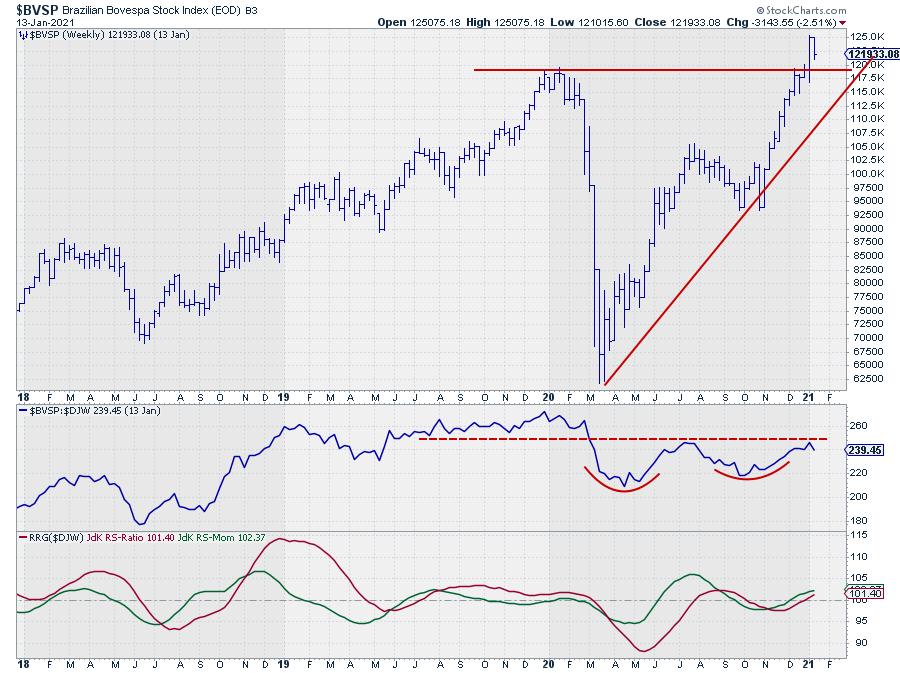 Last week, the Bovespa index broke to a new all-time-high, and so far the pullback is holding up well this week, with only one more day to go.
The relative strength vs. the DJ Global index has put in a higher low in September and is now pushing against a horizontal resistance level.
I am watching for the break in price to hold up and eventually pull the relative strength line above its resistance, which will push Brazil deeper into the leading quadrant.
#StaySafe, --Julius
My regular blog is the RRG Charts blog. If you would like to receive a notification when a new article is published there, simply "Subscribe" with your email address.
---
Julius de Kempenaer
Senior Technical Analyst, StockCharts.com
Creator, Relative Rotation Graphs
Founder, RRG Research
Host of: Sector Spotlight
Please find my handles for social media channels under the Bio below.
Feedback, comments or questions are welcome at Juliusdk@stockcharts.com. I cannot promise to respond to each and every message, but I will certainly read them and, where reasonably possible, use the feedback and comments or answer questions.
To discuss RRG with me on S.C.A.N., tag me using the handle Julius_RRG.
RRG, Relative Rotation Graphs, JdK RS-Ratio, and JdK RS-Momentum are registered trademarks of RRG Research.