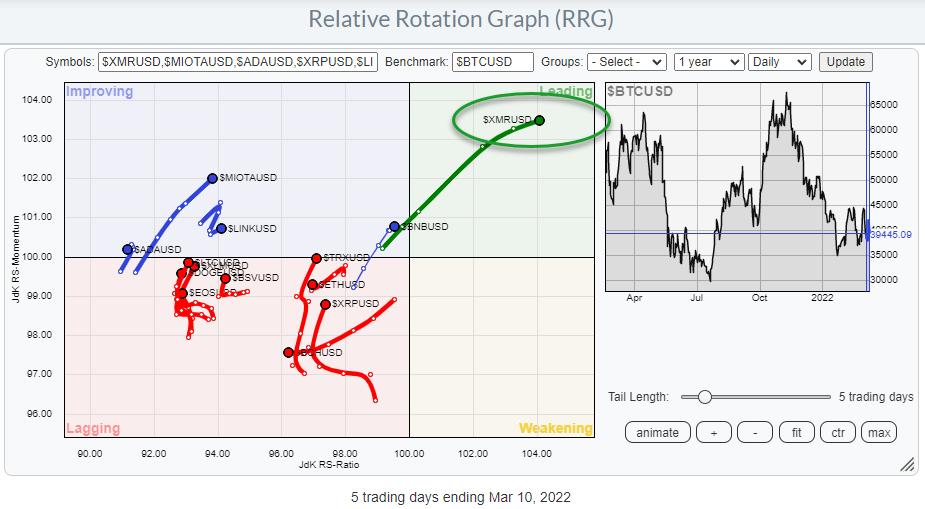 The Relative Rotation Graph above shows the rotation for a group of cryptocurrencies against BTC on a daily time frame. Looking at this chart, the tail for $XMRUSD stands out. Almost all the tails are traveling in an NW direction, which means that they are improving against BTC. However, the majority is still inside the lagging quadrant, which means that their relative trends are still down.
Monero (XMR) is the exception with a tail that is powering further into the leading quadrant. A quick check on the weekly RRG shows that the rotation here is less favorable, as the tail is rolling over inside the improving quadrant.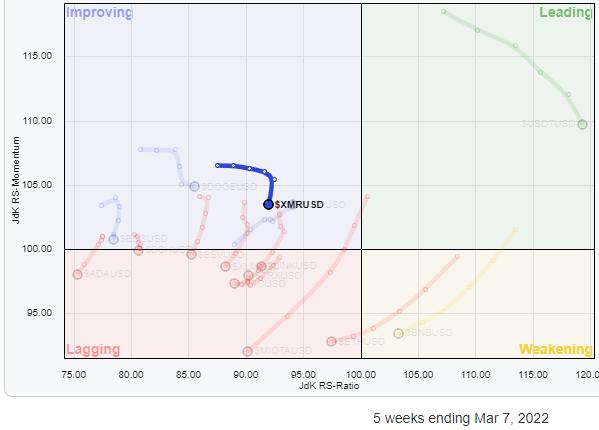 The combination of these two RRGs is sending a big warning signal that the long-term trend is still down, which makes this a very early call.
But.... this blog is called "Don't Ignore This Chart" and I think that is exactly what we should do. Not Ignore this chart.
Every turnaround from a LT trend starts at the lower time frame. And the disconnect for XMR on the daily time frame makes it, for me, an interesting coin to watch.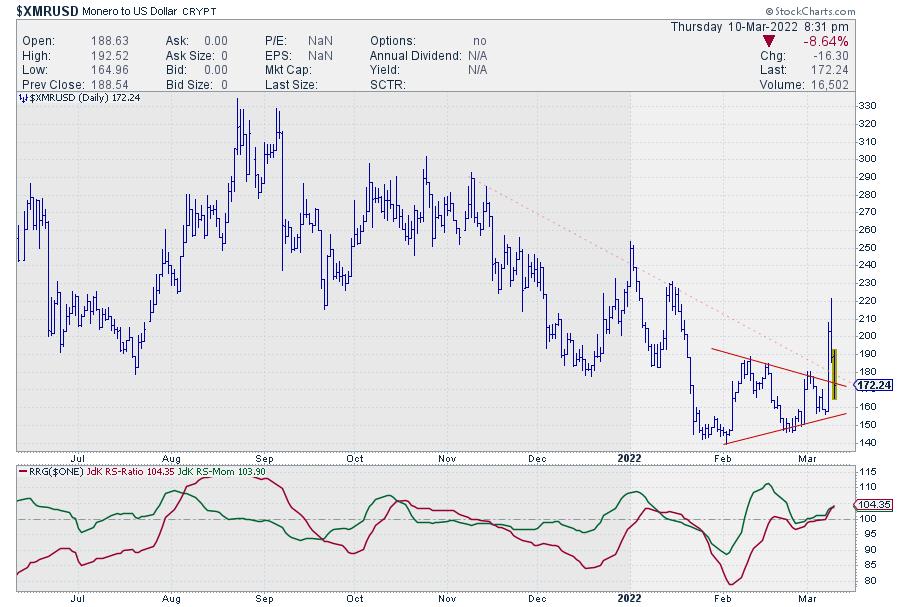 After an initial jump from a consolidation formation two days ago, XMR is now dropping back into the former breakout area. As long as we can hold here and start putting in a new low around current levels, I am watching for this to go higher in the next few weeks.
My regular blog is the RRG Charts blog. If you would like to receive a notification when a new article is published there, "Subscribe" with your email address.
---
Julius de Kempenaer
Senior Technical Analyst, StockCharts.com
Creator, Relative Rotation Graphs
Founder, RRG Research
Host of: Sector Spotlight
Please find my handles for social media channels under the Bio below.
Feedback, comments or questions are welcome at Juliusdk@stockcharts.com. I cannot promise to respond to each and every message, but I will certainly read them and, where reasonably possible, use the feedback and comments or answer questions.
To discuss RRG with me on S.C.A.N., tag me using the handle Julius_RRG.
RRG, Relative Rotation Graphs, JdK RS-Ratio, and JdK RS-Momentum are registered trademarks of RRG Research.