Nifty Pharmaceutical Index - NIFTYPHARMA ($CNXPHARMA) marked its high at 14,020 on 6th of April 2015 and since then it has remained in a falling channel under a corrective downtrend which has lasted over 3 years.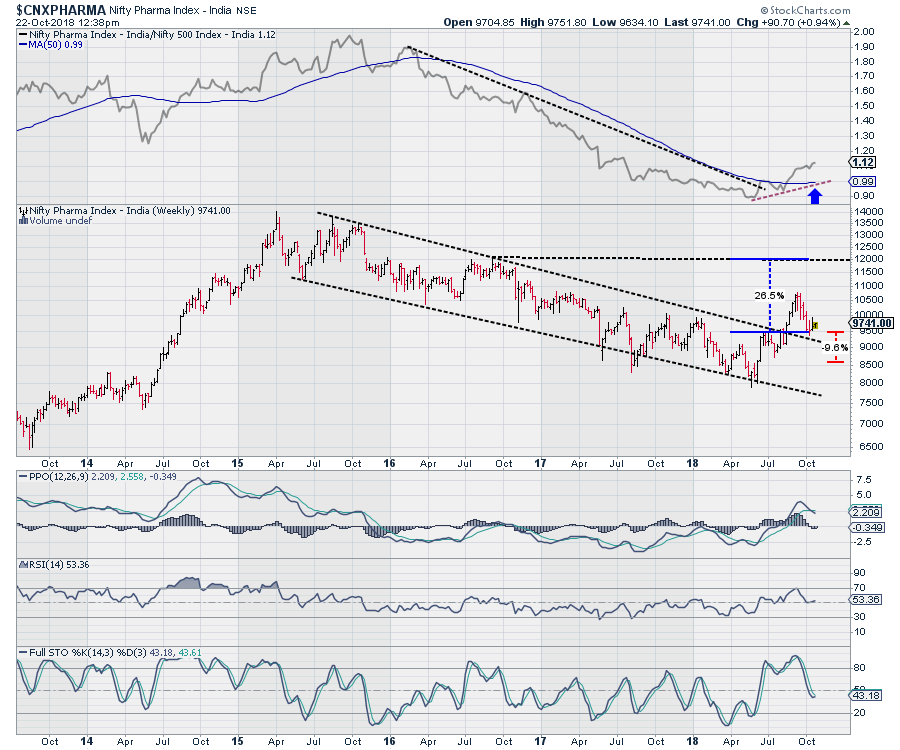 After remaining in a corrective downtrend for over 3 years, it has shown signs of a trend reversal. The Relative Strength (RS) when compared against the broader Market Index $CNX500 (NIFTY500) shows distinct improvement as it rules above its 50-Week MA and it is seen rising. A rise in the RS-Line means the Pharma Index in performing better when compared against Broader Markets, i.e.$CNX500 (NIFTY500)
The Pharma Index has shown breakout from the falling channel and has attempted a breakout. It suffered a classical throwback after that and it is seen consolidating near the levels from where it broke out. The breakout coupled with a breakout / reversal of trend in RS is a positive sign and it acts as a confirmation of the present attempt to reverse the long-term downtrend.
In coming weeks, Pharma Index is likely to show immense resilience if the volatility that is presently seen the Markets continues to dominate. In event of improvement in broader Markets, Pharma pack is likely to show distinct relative out-performance. The Index has potential to test 12,000 mark over medium term. This translates into upside potential of ~26% from present levels.
This reversal would fail if the Index drops below 8500.
Milan Vaishnav, CMT, MSTA
Consulting Technical Analyst,
www.EquityResearch.asia
Announcement from the Author
{{ announcement.content }}