On October 29, 2018, we issued a note on NIFTY Metal Index likely to start relatively out-performing the general markets. Within this sector, there are couple of Stocks that deserves our attention. They have resilient technical set-up and are poised for respectable upsides. While likely to out-perform the Metal Index, they will also offer good relative out-performance potential and will provide cushion if the Markets see any weakness. Let us go ahead and have a look on them.
---
Coal India Limited (COALINDIA.IN)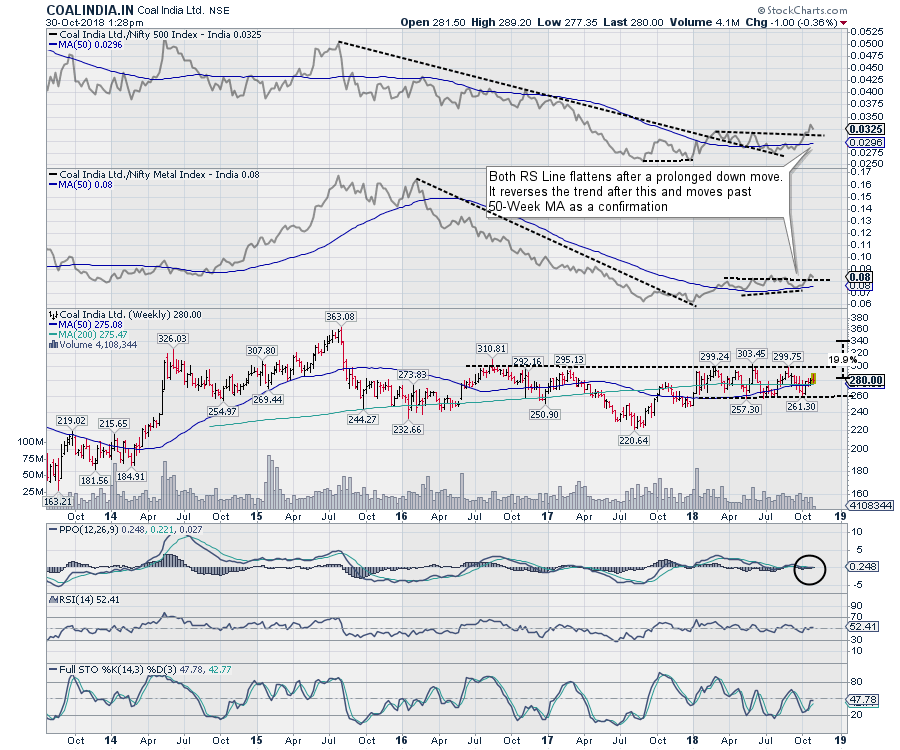 This stock has moved sideways for the entire 2018 while trading in a defined trajectory and heading nowhere. In fact, if we see the upper resistance line of the rectangle, it stretches itself as back as 2016. The zones of 299-305 has posed resistance to this stock for 6-8 times in past 24 months. In other words, if this resistance is broken, then it could result into some significant upside for the stock.
If we examine this entire period, the stock had been grossly under-performing the broader markets. The RS Line, when the stock is bench-marked against broader markets (CNX500), was under a multi-month decline. The situation is same when RS Line against the CNX Metal Index is examined. It is NOW that both the RS Lines are seen reversing their trend and giving us early indications of a potential breakout from this current formation.
A confirmation has come from the RS Lines after reversing their trend as it crossed its 50-Week MA. PPO too has turned positive and being above zero is a sign of momentum returning to this stock. Weekly MACD too has reported a positive crossover and it is now in continuing buy mode.
The 50-Week MA is now almost equal to 200-Week MA and is set to cross 200-Week MA from below.
Upward revision in price of around ~19% for this stock cannot be ruled out over coming weeks. Any move below 258 will be negative for the stock.
---
Hindustan Zinc Limited (HINDZINC.IN)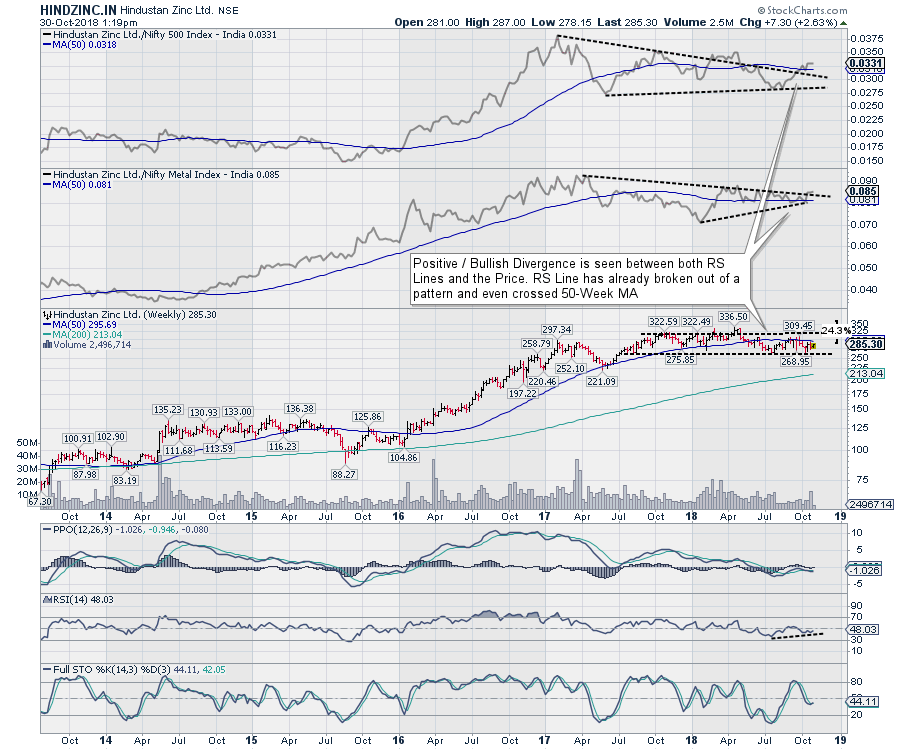 After marking a high of 322, the stock has been trapped under a very prolonged consolidation and a sideways move. The stock has been in a defined trading range and has formed a rectangle pattern ( a trading zone) while moving sideways for over 12 months. Couple of signals have emerged which point towards resumption of an up move over coming days.
The Relative Strength (RS) Line, when compared against both CNXMetal Index and the broader CNX500 is showing a bullish divergence against the price. The both RS Lines have broken out of a pattern. A confirmation on them is seen as the RS Lines have crossed their 50-Week MA. All this has happened while the price has still continued to remain within the rectangle pattern formation not showing any breakout.
Though PPO is still mildly negative, it is likely to turn positive going ahead. Weekly RSI, which neutral against the price showing no divergence is seen inching higher after marking higher bottoms. The stock may potentially see upside price revision of ~22% - 24% over coming weeks. Any move below 250 will be negative for the stock.
---
Tata Steel Limited (TATASTEEL.IN)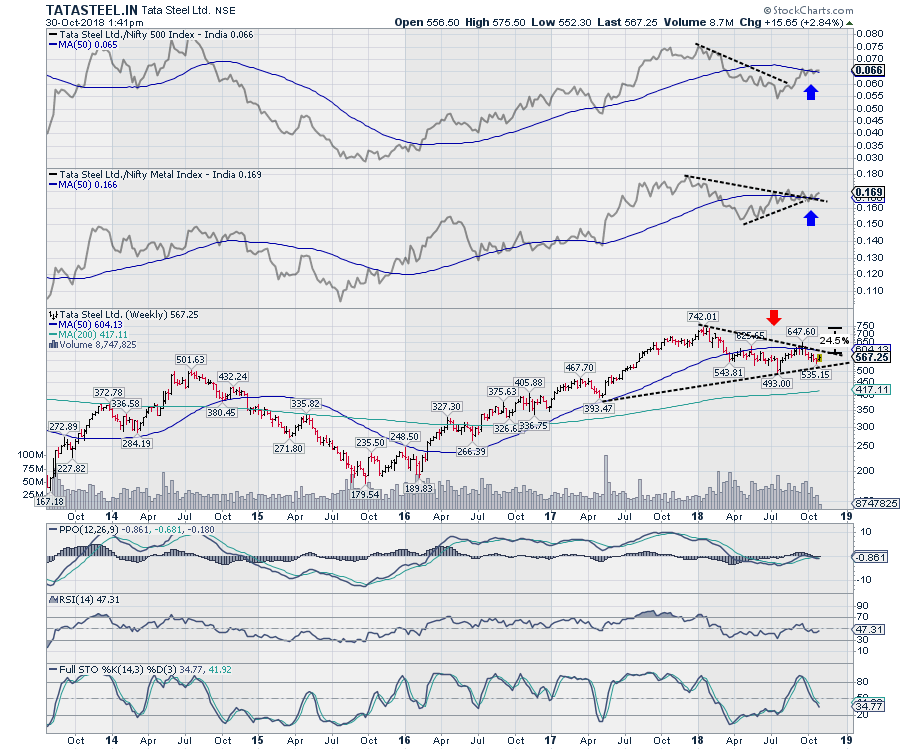 Tata Steel has shown resilient performance both against the Metal Index and Broader Markets as well over past couple of weeks. While forming a large and not-so-classical symmetrical triangle on the Charts, the stock has remained in a narrowing range. However, during this period, the RS Lines (both RS Lines -- when compared against broader Markets CNX500 and Metal Index) not only reversed their downtrends but also inched higher breaking out from a formation. in the process, they also moved above their 50-Week MA. This action of RS acted as an confirmation.
Having said this, Weekly RSI is neutral against the price and shows no divergence. However, it is seen inching higher while marking higher bottoms. PPO which is mildly negative has flattened itself and so has Weekly MACD.
The bullish divergence against the broader Markets and Sectoral RS Line gives good potential technical set up for the future price move. This increases the possibility of the present pattern getting resolved with an up move in price. If this happens then the stock is set for a around ~22 to 24% upward revision in prices over coming weeks. Any move below 520 will be negative for the stock.
---
Milan Vaishnav, CMT, MSTA
Consulting Technical Analyst
www.EquityResearch.asia
Announcement from the Author
{{ announcement.content }}