NIFTY Metal Index ($CNXMETAL) has under-performed the broader Markets since many months. The Index marked its high at 4256 in January of 2018 and since then it has continued marking lower tops while remaining under a formation. Presently, it has shown some important technical developments which warrants our attention.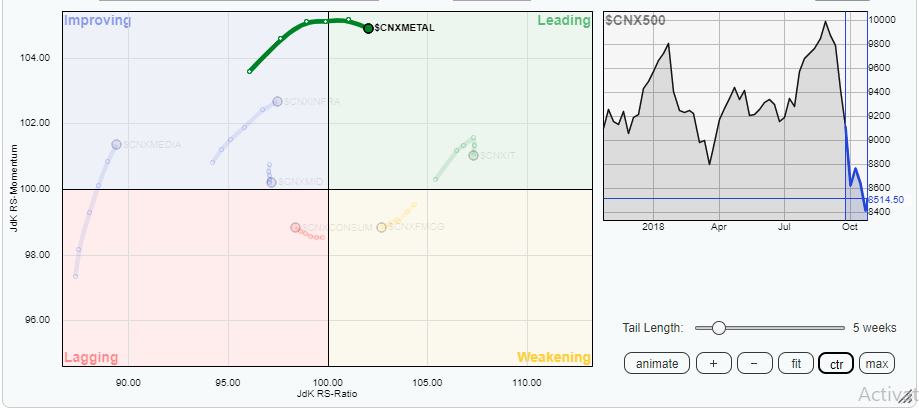 As evident from the above Relative Rotation Graph (RRG), the $CNXMetal Index has crawled into leading quadrant after Week ending Friday, October 26, 2018. This development, when bench-marked against the broader markets ($CNX500 - i.e. NIFTY500), we can safely interpret that the Metal Index will now start and continue to relatively out-perform the broader markets. Let us now examine this in little more detail.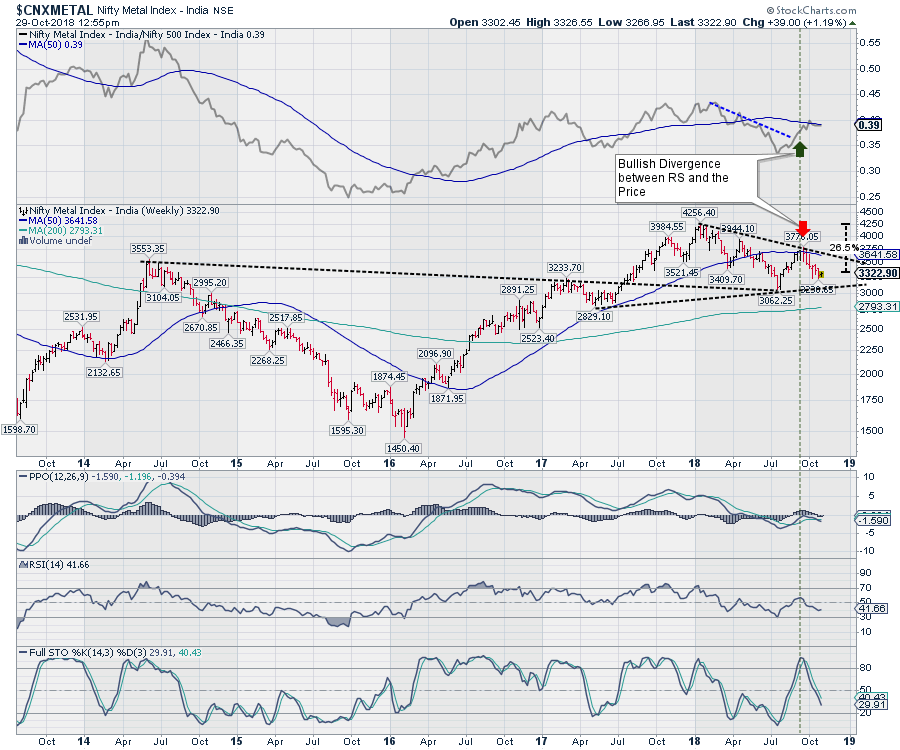 If we take a broader look and examine the above $CNXMetal Chart in detail, it corroborates the above view. After suffering a sharp corrective decline from 3553 in 2014 and testing lows of 1450 in early 2016, the Index resumed its up-move. It halted its pullback at 3233, deliberated a bit, and continued again until it marked its high of 4256 in January 2018. From early 2018 until today, the Index has marked several lower tops and remained under a pattern formation.
Presently, a large symmetrical triangle formation is observed and the Index is seen having moved nearly 75% towards its apex. Couple of signs show that this formation has higher probabilities of getting resolved on the upside while corroborating the view derived from Relative Rotation Graph (RRG) above.
Over past several weeks, a distinct Bullish Divergence is seen between the Relative Strength (RS) and the price action. While the Index levels drifted lower, the RS (compared against broader $CNX500 Index) has not only continued to move up but also moved past its 50-Week MA. It now rests on its 50-Week MA. This has happened as RS has evidently reversed its multi-month downside and has moved up, thus ending multi-month long under-performance of the Metal Sector against the broader Markets. Weekly RSI, after bouncing off from the oversold threshold, is now seen attempting to mark a higher bottom and inch higher.
The Index may find some resistance moving ahead near 3641. This level is the confluence point of the falling trend line and the 50-Week MA both of which may pose some resistance. However given the strength that is seen developing, taking out these levels may not be a problem after some minor consolidation. On the down-side, the level of 3000 offers great support. This also is a confluence area of the support line of the present pattern as well as a long support line drawn from 2014.
The Metal sector Index is showing high probabilities of resolving this present pattern with an up move. It stares around ~25% up move over immediate medium term. However, any move below 2950 would be negative and will warrant a review of the above analysis.

Milan Vaishnav, CMT, MSTA
Consulting Technical Analyst
www.EquityResearch.asia
Announcement from the Author
{{ announcement.content }}