As the Indian equity markets remain under under an area formation, a clear breakout will continue to elude the NIFTY unless it can move past the 10950 level. With the markets still trapped in a range, the NIFTY Energy Index ($CNXNIFTY) provides some interesting observations.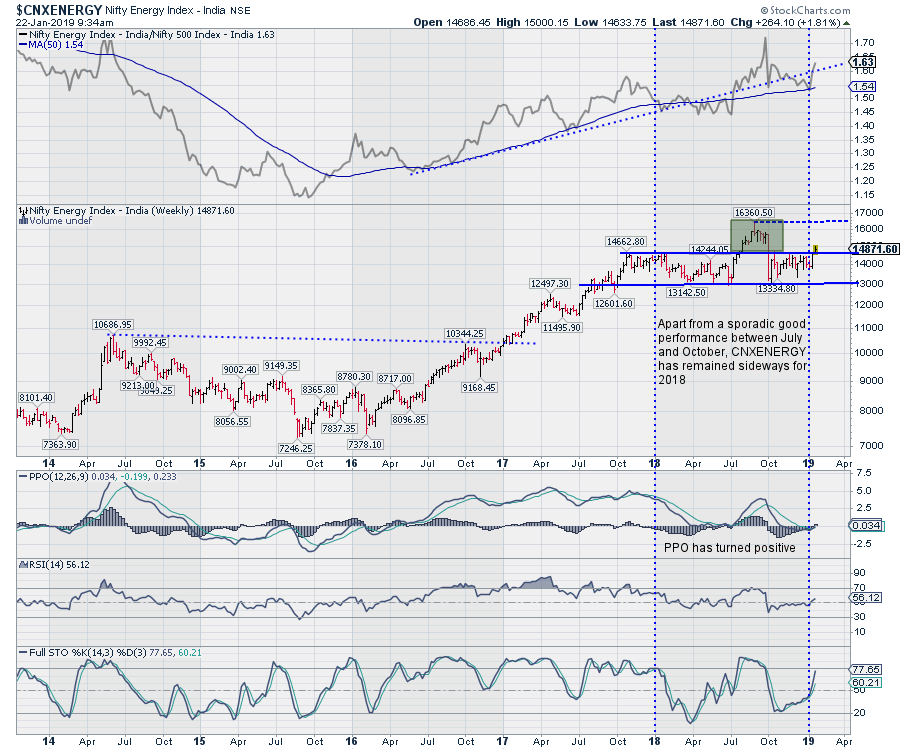 The NIFTY Energy Index formed a large double top formation between 2014-2017, breaking out on the upside as it moved past the 10350 level. If we examine the performance of the past several quarters, it can be seen that the index has remained in a sideways trajectory for nearly one and half years. After testing the 14662 level in the last quarter of 2017, the index formed a rectangle formation and has since remained in a very defined 1800-point trading zone. Only once, between July and October of 2018, did the index made an attempt to break out of the rectangle formation; it eventually returned back inside the trading range.
A couple of signals have emerged that suggest that the NIFTY Energy sector may attempt to move up once again. After going through a prolonged sector rotation, CNXENERGY presently remains in the lagging quadrant of Relative Rotation Graph when bench-marked against the broader CNX500. As of the week that ended Friday, January 18, 2019, it can be seen taking a breather and making attempts to improve its relative performance against the broader markets.
The chart shown above is a weekly chart; the current bar won't complete until the end of this week. However, the index is seen breaking out from the rectangle formation. PPO is seen turning positive; weekly MACD has shown a positive crossover. When compared against the broader CNX500, the RS Line shows an established uptrend and remains above its 50-Week MA.
If the NIFTY Pharma Index ($CNXPHARMA) is able to stay above the 14500 level, it may once again start to relatively out-perform the broader markets. Any slip below the 14200-14500 mark will push the index into consolidation again.
Milan Vaishnav, CMT, MSTA
Consulting Technical Analyst
www.EquityResearch.asia
Announcement from the Author
{{ announcement.content }}