Rural Electrification Corporation Limited (RECLTD.IN)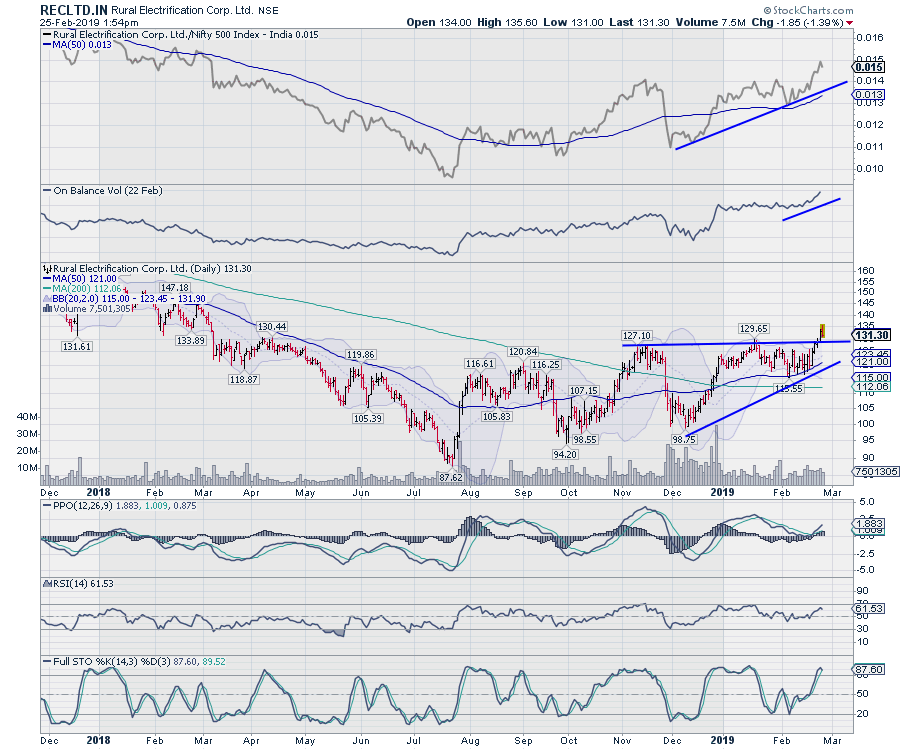 This stock has now witnessed a breakout from a bullish Ascending Triangle formation.
The breakout occurred above 127.50, but the stock might still witness some pullback, with the zone of 127-130 potentially acting as support. Once the consolidation is out of way, there is a high probability that the momentum will return to the stock.
The RSI has marked a fresh 14-period high, which is bullish. It also shows a bullish divergence against the price.
The daily MACD remains in continuing buy mode; PPO is still positive.
The On-Balance Volume (OBV ) has marked a fresh high, which is bullish and acts as a volume confirmation.
The RS Line against the broader NIFTY500 index has reversed its downtrend; it is now moving higher and it has crossed its 50-DMA.
The 50-DMA, which is presently at 121 has crossed the 200-DMA from below which is at 112 couple weeks back.
If the present pattern resolves on the expected lines, the stock may test the 148-150 levels. Any move below 122 will be negative for the stock.
Milan Vaishnav, CMT, MSTA
Consulting Technical Analyst
www.EquityResearch.asia
---
Disclosure pursuant to Clause 19 of SEBI (Research Analysts) Regulations 2014: the Analyst, his Family Members or his Associates hold no financial interest below 1% or higher than 1% and have not received any compensation from the Companies discussed.
Announcement from the Author
{{ announcement.content }}