SBI Life Insurance Company Ltd (SBILIFE.IN)
This stock has a relatively short listing history. It originally listed in October 2017 and marked its high near 772 in middle of 2018, with a subsequent low near 483 in the corrective move that followed in late 2018. Presently, the stock is set to offer some upside potential.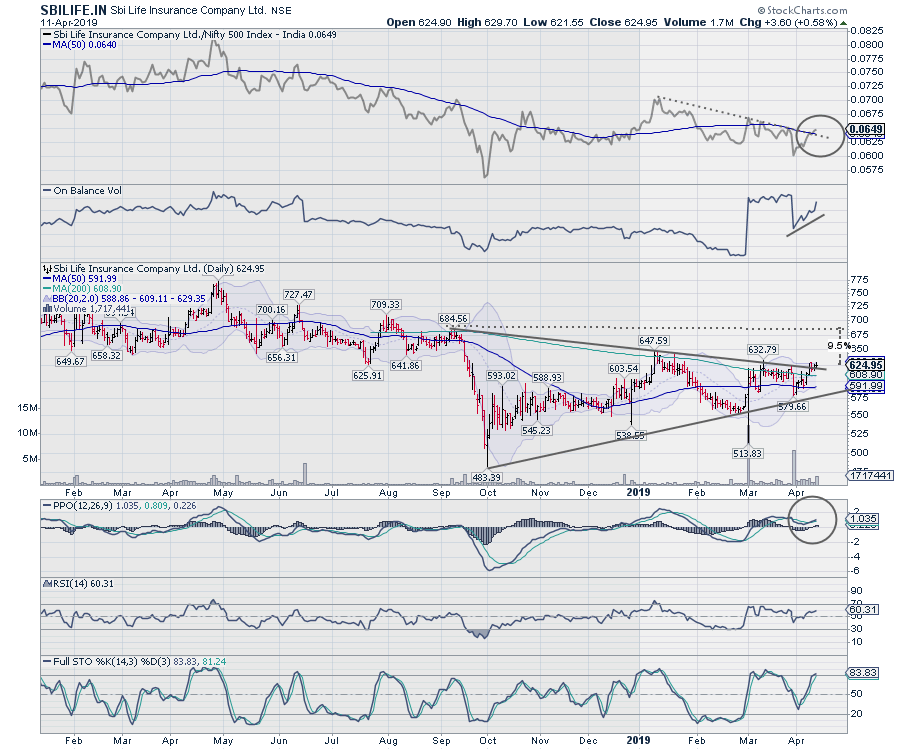 A large Symmetrical Triangle is seen on the daily charts. As the price attempts to move out, we can see a sharp rise in On-Balance Volume (OBV), which acts as a strength on the volume front. The PPO has turned positive and MACD has shown a positive crossover.
The RS Line, when compared against the broader CNX500 index, is moving higher and has penetrated its 50-DMA.
If the present pattern is resolved on expected lines, the stock could potentially return ~9% from its current level of 624.95. Any move below 600 will be negative for the stock.
Milan Vaishnav, CMT, MSTA
Consulting Technical Analyst
www.EquityResearch.asia
---
Disclosure pursuant to Clause 19 of SEBI (Research Analysts) Regulations 2014: Analyst, Family Members or his Associates hold no financial interest below 1% or higher than 1% and have not received any compensation from the Companies discussed.