The Indian equity markets witnessed one of their most volatile weeks in the recent past, oscillating back and forth in a relatively wider range before ending the week with a modest gain. After facing downward pressure in the initial days of the week, the NIFTY saw itself turning positive on the final trading day, ending with gains of 128.25 points (+1.14%).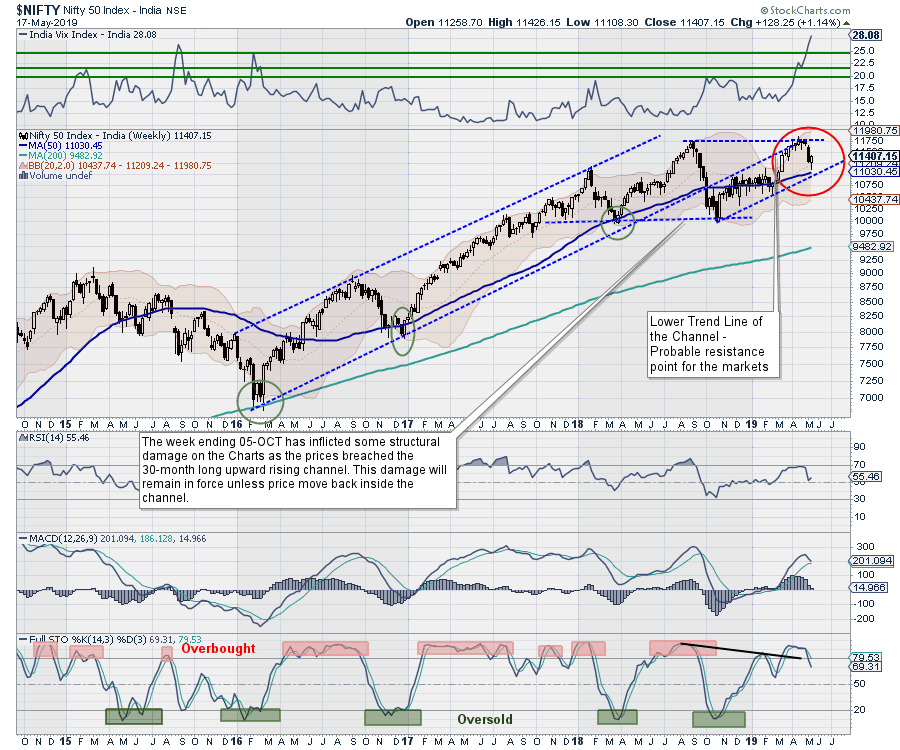 The 7-phase polling comes to an end this Sunday. Exit polls are scheduled to come out beginning Sunday evening and the results of the General Election are on May 23, 2019. Given this, the market is set to see one of its most volatile days during in the coming week. As a result, it would be of little value to analyze the markets in a mechanical manner for the next week. Broadly speaking, the zone of 11000-11100 is an important support zone for the markets.
The outcome of the exit polls is almost certain to cause the week to start with a gap on either side. It is extremely important to note that, technically speaking, we are very differently placed at the time of election results than we were compared to 2014.
In 2014, at the time of election results, the markets were about to complete a massive ascending triangle formation on the long-term weekly charts. With the favorable general election outcome, the NIFTY broke out from that formation, leading to a multi-year uptrend. This year, we are placed at a juncture where NIFTY has achieved its price targets, which resulted out of the measuring implications of the breakout.
In the given situation, while taking note of the above facts, we feel that any euphoria that will follow a favorable outcome of the general elections will have a limited impact. We may see NIFTY seeing a steep rise and potentially even forming a fresh high, but this positive move will remain limited to an extent. On the other side, any pain caused by an unfavorable outcome of the general elections will be comparatively much deeper.
In this special weekly note, we are not analyzing Relative Rotation Graphs to check which sectors will relatively out-perform the broader markets. Given the impact that this once-in-a-five-year event has on the markets, analyzing sectors would make little sense.
Needless to say, market participants must approach this week with a great amount of caution. We would strongly suggest to either refrain from taking aggressive bets on either side at all or take them with an adequate amount of hedge.