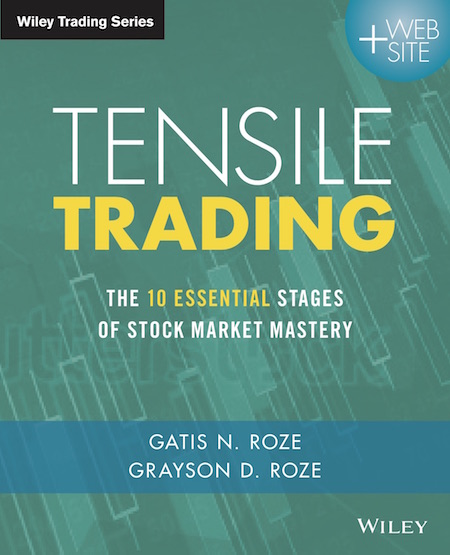 The legendary Warren Buffet once said, "You only have to do a few things right in your life so long as you don't do too many things wrong." Co-authoring an investment book alongside my son, Grayson Roze, stands out as one of the most profoundly "right" things I've done in my professional life. After two years in the making, it is with tremendous pride and boundless excitement that I write this blog today to announce the official release of Tensile Trading: The 10 Essential Stages of Stock Market Mastery, published by Wiley under its Wiley Trading Series.
From the very beginning, this work has been a unique father-son team production, sharing the secrets of the insider-structured investment methodology that both Grayson and myself use to trade the financial markets. This book's candid details were forged from a father's desire to pass on to his son the skills and knowledge gleaned from over 25 years of experience as a full-time trader-investor, one who has proven that an individual investor can outperform the industry professionals and still enjoy the ride. Unburdened by the distraction of clients, our unfiltered, brutally honest guidance is structured as a comprehensive 10-stage roadmap that we ourselves put to use each and every day. Over the course of more than 16 years of teaching, the material in this book has been presented to thousands of investors. Refined and enhanced continuously, the result is a book that provides the building blocks for a profitable, high-probability, long-term investment system.
---
What I believe makes this book so powerfully unique is that its words stem from an unusual place in my heart. Approaching normal retirement age, my most significant objective has become to pass down to my son, Grayson, the hard-earned expertise I have accumulated throughout many years of experience trading the markets. This knowledge has become his intellectual inheritance, if you will. It makes me happy to think that my readers can benefit from the same intellectual capital that I am proud to pass on to him. This program inculcated Grayson with an understanding and passion for the market, as well as the discipline necessary to implement this investing methodology. Where other investors and traders with my track record would not divulge 100 percent of their secrets, I have no such reluctance. Where my own best interests once stood, I now have my son's and my students' in their place. I have an unbending faith in the material that you will find in Tensile Trading, not only because of my own validation of its principles and my decades of experience from which it is derived, but also because of the amazing metamorphosis that I have witnessed firsthand as my son has enthusiastically and profitably embraced the lessons I have taught him.
The book is now available for sale online, in stores and as an eBook. As a special offer, however, all copies purchased through the StockCharts Bookstore will be autographed by both authors, myself and Grayson. To pick up your autographed copy of Tensile Trading today, click here!
---
Praise for Tensile Trading:
"No base is left uncovered by the 10-stage Tensile Trading approach. It effectively lays out a comprehensive, easy-to-follow methodology that promotes stable, balanced, high-probability investing. A refreshingly-honest and engaging book brimming with practical investing wisdom that will leave you inspired to take action and confident in your ability to succeed in the stock market."
• John Murphy, author of Technical Analysis of the Financial Markets and Trading with Intermarket Analysis; Chief Technical Analyst, StockCharts.com; former technical analyst, CNBC
"It is rare to find a book that presents such a thorough and authentic look into the strategies, routines and processes of a successful individual investor. It is clear that the Tensile Trading methodology has been shaped by many years of real-world investing experience, the lessons of which shine brightly through the pages of this powerful book."
• Dr. Henry Pruden, Professor of Business Administration and Executive Director, Institute of Technical Market Analysis, Golden Gate University; former editor, Market Technicians Association Journal
"Gatis and Grayson have penned a very thoughtful and personal approach to investing in the stock market. As you read this, you will hear a voice of experience. The book is broken into stages for you to go through to accelerate your own development of investing skills and to avoid learning things the hard way. A nice touch is a bullet point style summary of the important points of each chapter called Key Takeaways. This is the kind of book you will read more than once."
• Thom Hartle, Director of Product Trading, CQG, Inc.; former editor, Stocks & Commodities Magazine
---
Click Here to pick up your exclusive autographed copy of Tensile Trading: The 10 Essential Stages of Stock Market Mastery!
Trade well; trade with discipline!
-Gatis Roze, MBA, CMT