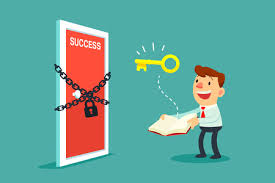 A personal secret: investing with metaphors has always enlightened and disciplined me, helping me grow as an individual investor. One of the most fertile areas for applying this axiom has been car collecting since, much like investing, it's never black and white. The reality is that both are extremely personal.
Both are also cursed by other similarities. In both camps, everyone wants to take the elevator to market literacy and profits. What I preach is that you have to take the stairs, folks (sigh)! Ever notice that on a cruise ship those people taking the stairs look more fit. Those taking the elevator, less so. It's precisely the same principle with investing and car collecting — simply substitute the word "profitable" for "fit".
Okay, so here are the metaphors with three absolute rules that apply to them.
Trade what you know and know what you trade. In other words, don't stray beyond the boundaries of your competence. The temptations to do so will confront and tempt you constantly, but don't do it.
Know your investing timeframe and trade your timeframe. If you're comfortable being a long-term investor, then don't stray into day trading. Sure, when you're at cocktail parties, it's sexy to talk about such trades. But sharks that lure you into the water with big fish stories are the same sharks that'll eat you alive.
Know thy self. The markets are an expensive place to discover who you really are.
Here's a personal example pertaining to cars. Yes, Tesla delivered over 95,000 electric cars last quarter alone. My personal take on electric cars is that they have removed so many key elements of an all-encompassing car experience. Call it the law of unintended consequences. A single electric car battery weighs about 1,000 pounds and has an average life of seven years. Fabricating one requires processing more than 500,000 pounds of raw materials somewhere on the planet. For now, I'll stay with gasoline-powered cars.
My reasoning goes like this. I love the way my Audi sports car greets me upon startup with its own deep throaty hello. I love the way my Shelby GT 500 accelerates from first to second to third, and at each stage physically nudges me into the next with an acoustic sauce that's slightly different for each gear as it blends the sound of wind, tires and exhaust into a tasty concert. One can't help but feel engaged by the physical aspect of shifting gears with your hands and feet. My point is that that I know myself. Electric cars are not for me.
So here's the car collector metaphor and how to apply the same time-tested directives to optimize your investment portfolio. Car collecting is divided into three categories, predominately based on mileage parameters.
The first category I'll label the "Race to Zero Collectors". This category is for cars with less than 1,000 miles on the odometer. These individuals see car collecting simply as an asset class. They see their specialty cars as art on wheels and love to brag about their garage beauties — but they are most definitely NOT drivers. At the Barrett-Jackson auctions in Scottsdale, I once heard two collectors arguing about the value of their respective cars. Both owned 2017 LaFerraris. One had 97 miles on the odometer; the other had 212 miles. And yes, you'd be shocked at how the auction block would over-value the lower mileage car. Hence my label for this category as the "Race to Zero Collector". If you are in this category and temporarily lose your discipline, just momentarily, and run the odometer into four digits, it will cost you mightily. Know any short-term investors who held onto a position through a corrective pullback and then suddenly became long-term investors? Yeah — it happens.
I'll label the second car collector category as the "Dainty Driver Collectors". This group has cars with more than 1,000 miles on the odometer but always under five digits. I can talk to these folks, but I don't want to join their club. For me, having to worry about surpassing 10,000 miles simply kills the joy of ownership. I see this group as similar to fossilized individual investors who won't buy individual stocks. Just ETFs and index funds. I'm sorry — where's the joy? Where's the passion? That is "no heart" investing.
The third and final category is the "Driver Aficionado Collectors". This is my club! These folks are less collectors and more "gear heads". We love to drive fast stylish cars. We like to invest across a wide open spectrum. I'm pulled forward by my passion and my heart for both disciplines. I love stocks. I love ETFS and mutual funds. I love different asset classes. My portfolio — and my garage — reflect that love. This isn't just talk. My Shelby has over 10,000 miles and my 2017 Audi coupe already has nearly 7,000 miles. I drive them to work. I drive them on dates with my wife. I drive them whenever the mood (and the weather) are agreeable. I'm not focused myopically on the odometer to stay below 10,000 miles. I know my category. I know my priorities. I know myself.
The bottom line? Understand which club you are joining when you buy a collector car or any equity. Have a plan. Know your timeframe. Stick to the plan. You can't bounce around from one club to another. It will only hurt your profitability.
---
Upcoming Class:
"The 10 Stages of Stock Market Mastery"
Next month – Saturday, September 28th at 9:00am – come join me here in Seattle for a special one-day seminar. In my "10 Stages of Stock Market Mastery" course, I'll cover the most important aspects of my personal investing system and share with you the routines and strategies I've used to trade the stock market for a living for more than 25 years.
If you're anywhere near the Seattle area (or if you're up for a quick trip out to the PNW!), this is a great chance to spend some quality time learning more about the markets, focusing on your portfolio practices and strengthening your investing approach.
For complete details and registration info, CLICK HERE.
See you on the 28th!
Trade well; trade with discipline!
- Gatis Roze, MBA, CMT