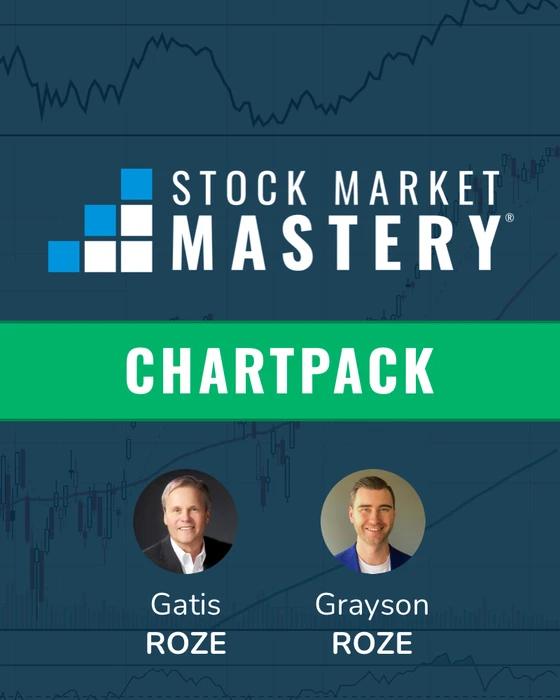 It's not often you get to say something is the biggest moment in a decade – the biggest change, the biggest update, the biggest overhaul. But here we are, introducing the most monumental evolution of our "Tensile Trading" ChartPack since the launch of the original version. In fact, this update is so huge that we've even changed the name...
My friends, it's a thrill to finally introduce the new-and-improved, totally redesigned "Stock Market Mastery" ChartPack!
To be honest, I'm not even sure it's fair to call this an update. This is a complete overhaul. It's a massive redesign from the ground up. We've gone through every chart, every list, every little corner of the ChartPack to restructure, re-organize, and rebuild a dramatically enhanced version of this supremely popular tool. As a result, we've created the latest and greatest StockCharts account enhancer out there.
How We Got Here
Now, it's no secret that Gatis and I are active traders and investors. We're true market geeks who have devoted our lives to technical analysis and the financial markets. As all good traders and investors do, both of us have continued to learn, grow and evolve as technicians over the past 10 years since the first iteration of the ChartPack came out. Throughout the years, the ChartPack has followed along, growing and evolving over time as our processes and routines have shifted. And thanks to the thousands of ChartPack users out there in our StockCharts community, some good ol' fashioned feedback from the people has also helped the ChartPack move forward each quarter.
That said, it's been a long time since Gatis and I have stepped back and really asked ourselves, "Is the ChartPack everything that it could truly be? Does is fully reflect our approach to the current markets? Are there elements from our process, our routines, our strategies and our unique ChartList organization that haven't been incorporated into the ChartPack?"
So a few months back, Gatis and I sat down to answer those exact questions. We decided to launch into a wholesale redesign. We've spent countless hours pouring over every little detail in the ChartPack, carefully reviewing, updating, changing, modifying and expanding along the way. We've taken that decade worth of process evolution and blended our StockCharts accounts together to create a new-and-improved ChartPack design that more completely and accurately reflects our shared approach to trading and investing. After all, the ChartPack is our way of sharing our very own charts, lists, styles and routines with all of you!
Two Valuable Ways To Utilize The ChartPack
The way I see it, there are two very real ways to use the "Stock Market Mastery" ChartPack. The first is to take it for exactly what it is, as delivered and as installed. If you've read our book, "Tensile Trading", you've bought into the 10-stage investing roadmap, and you want to use the very same charts and ChartLists that Gatis and I follow exactly as they come, well that is a totally real and totally valid use of the ChartPack. And the good news is, since it's a complete copy of our actual accounts - one that you can plop right over into your own StockCharts account with one click - you'll find it delightfully easy to install the ChartPack and start using these tools to follow the markets in exactly the same way that we do.
But there's a second totally valid way to use this ChartPack. You can embrace it as a source of data and inspiration. Use it as a source of symbols. Use it as a source of lists. Use it as a source of organized market analysis groups and pre-populated ChartLists that you can build from. If you're looking for a simple way to fill out your StockCharts account with a complete collection of every list you could ever want to have, well, our "Stock Market Mastery" ChartPack is the easiest, most exhaustive starting place you're going to find.
When you install the ChartPack, you'll instantly gain a vast collection of organized ChartLists pre-filled with charts, symbols and up-to-date market groups. For example, instead of manually building out lists for all of the major index components, install the "Stock Market Mastery" ChartPack and you'll get lists with all of the individual stocks in the S&P 100, S&P 500, S&P 400, S&P 600, NASDAQ 100, Dow Industrials, Dow Transports and Dow Utilities. From these lists, you can start to customize, modify and re-organize as you please.
In this way, the "Stock Market Mastery" ChartPack can be used as a starting place to build out a full-featured StockCharts account of your own. Bring in your own indicators, your own chart settings, your own names and symbols and ultimately create a collection of ChartLists that reflects your specific routines. All of that is possible, and all of that is made far easier without having to start from scratch and build everything yourself.
Take A Tour Of All That's New
So enough talk. Time to see the ChartPack in action! On today's edition of "StockCharts In Focus", we took a tour through all of the lists that are included in the totally new, totally revamped "Stock Market Mastery" ChartPack. You'll see exactly what comes with this extensive collection of carefully crafted, expertly designed ChartLists, and you'll hear more about how the ChartPack can help enhance and streamline your StockCharts experience.
More Special Content Coming Soon!
One last note! Gatis and I will be sitting down with David Keller in early December to talk more about the latest version of the ChartPack and share our thoughts on why it's such a valuable resource for all StockCharts users. We'll be sure to keep you posted here in The Traders Journal, so stay tuned for that special presentation coming in just a few weeks!
---
BONUS – The ChartPack Is ACP Ready
As you've surely heard, StockCharts has recently launched a new interactive, full-screen Advanced Charting Platform - StockChartsACP. This powerful all-in-one charting and analysis package brings you true dynamic charting with the ability to scroll back and forth through time, drag indicators and overlays up, down and around your charts, manipulate the y-axis with your cursor and much more. In short, the future of Technical Analysis and the next generation of StockCharts technology.
Now, one important feature of the new platform is the ability to view ACP versions of your existing saved SharpCharts. You can open the ChartLists sidebar (on the right) and click the "SharpCharts" tab to see your current ChartLists. You can then click on each symbol in the list to see an ACP chart that will very closely match the saved SharpChart. The ChartLists drawer at the bottom of the screen also allows you to access your existing SharpCharts ChartLists, including all those in the ChartPack. These features provide a great way to explore the new world of ACP, or quickly get set up with some of your favorite indicators and other chart settings.
What this means for all you ChartPack users is that you can easily explore the ChartPack in ACP, right out of the box. When you install the latest version of our ChartPack, all of the ChartLists and associated SharpCharts will be installed into your StockCharts account. You'll then be able to head over to ACP and browse through dynamic versions of all the charts included in the ChartPack.
---
Already have the ChartPack? Here's how to upgrade:
Log in to your account, then visit the "Manage ChartPacks

" page

(accessible from the bottom of the Members Dashboard or from the "Your Account" page)

.

In the table that appears, find the entry for the "Stock Market Mastery ChartPack" (if you don't see the Stock Market Mastery ChartPack listed, that means that you haven't purchased it. Click Here to do so now)

.

Click the "Re-Install" button next to the Stock Market Mastery ChartPack to start the update process
The download should take about 10 seconds, after which you can explore the new ChartLists and other updates!
New to the ChartPack? Here's how to install it:
If you'd like to add the Stock Market Mastery ChartPack to your StockCharts account, Click Here.
---
Chart on, my friends.
Grayson Roze
VP of Operations, StockCharts.com
Author, Trading For Dummies (Wiley, 2017)
Author, Tensile Trading: The 10 Essential Stages of Stock Market Mastery (Wiley, 2016)
Co-Founder, StockMarketMastery.com
Twitter: @GraysonRoze