The broader markets have taken quite a hit over the last several days. While some indicators are close to being in oversold positions, the upside momentum may well have shifted.
One signal that identifies this is the Death Cross, as it is called. A death cross is generated when a shorter-term moving average crosses below a longer-term moving average, which can often indicate a negative shift in momentum. While most people pay attention to the 50-day crossing below the 200-day moving average, using shorter-term time frames can not only be just as effective, it can be an earlier signal.
DAILY CHART OF S&P 500 INDEX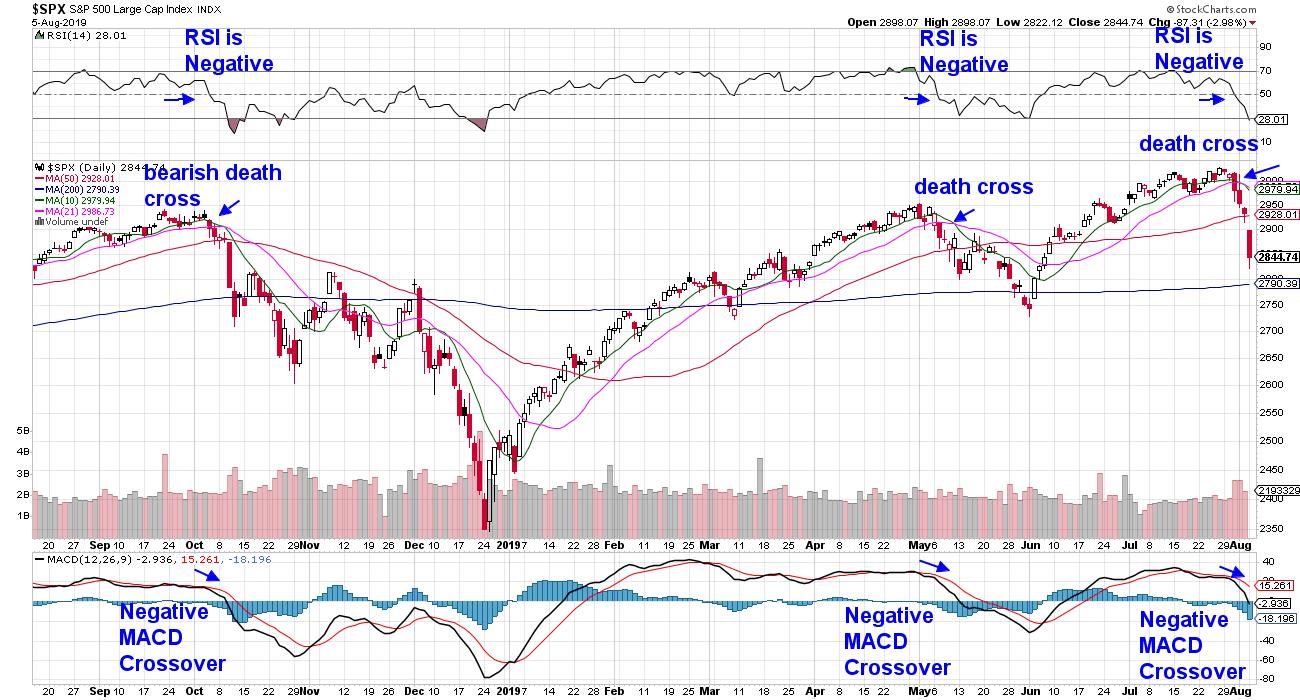 In the daily chart of the S&P 500 above, I've highlighted when the shorter term 10-day simple moving average has crossed below the 21-day moving average. This occurred today; it is only the third time over the last 10 months that we've seen this. The other two times were in October, which was the start of a bear market, and in May, which preceded a 10% correction.
The RSI and MACD are also shown as having simultaneous negative signals. The other key component that provides confirmation is volume, and we certainly saw well-above-average activity today in line with October and May.
While the death cross is considered more of a secondary indicator, I would argue that it's worth paying attention to, given its early signal warning for the last two recent periods of painful weakness.
From here, we'll need to keep an eye on whether the shorter-term moving averages continue to drop, as the next negative death cross would occur if the 10-day moving average crosses below the 50-day moving average. This would occur if the markets continue to decline, and would signal even more near-term weakness.
Given the swift decline we've seen over the past several days, we undoubtedly are due for a bounce. Should we see a rally that puts the S&P 500 Index back above these key moving averages, this would signal the beginning of a positive shift in momentum.
For those who would like to be alerted to this positive shift or are interested in ways to counterbalance the negative bias that's currently in the markets, I urge you to subscribe to my MEM Edge Report. In addition to receiving regular bi-weekly updates, subscribers receive more frequent updates during difficult periods, such as now. If you use this link here, you'll be able to trial this timely report for a nominal fee.
Warmly,
Mary Ellen McGonagle