Software stocks peaked in late July after posting phenomenal year-to-date returns. The August dip in the markets hit this group particularly hard and, unlike other areas, it has been slow to recover.
The good news, as you can see below, is that these stocks are beginning to reverse their 10-week downtrends. Even better, analysts are raising estimates for these already-strong earnings growers.
DAILY CHART OF TECH-SOFTWARE ETF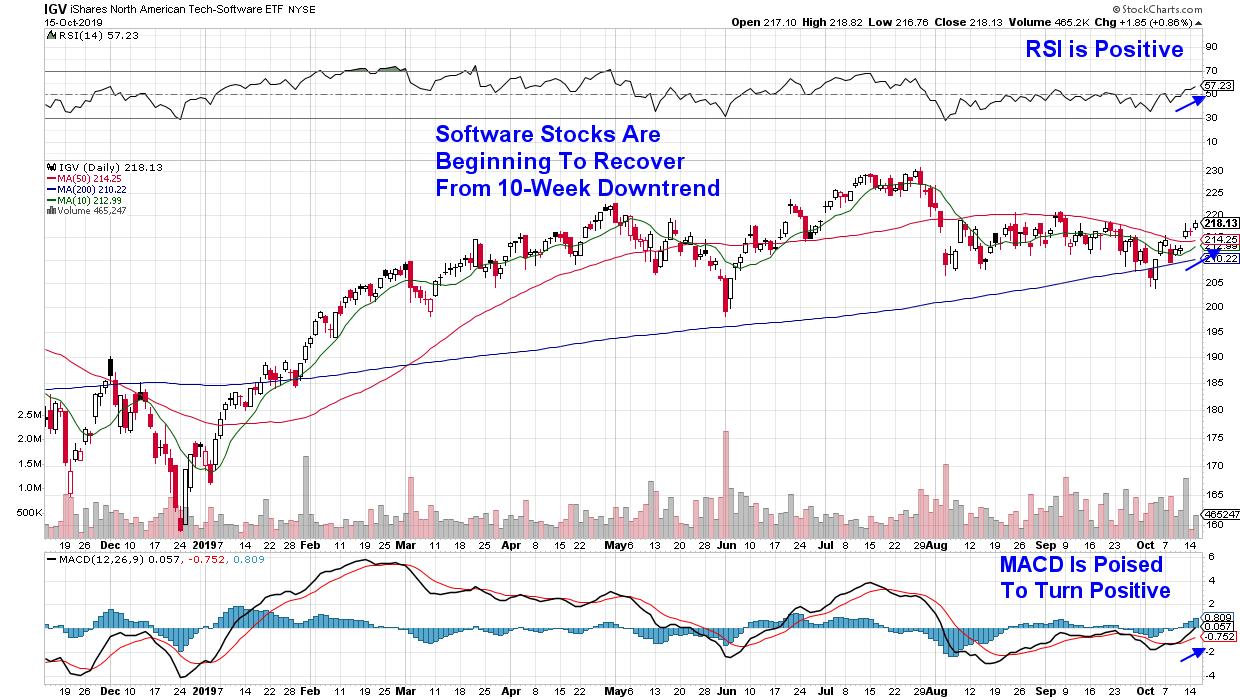 Even more positive for these Software stocks is their lower multiples, as many sold off 10%-15% despite growth prospects that are better than ever. Not all names are reversing their downtrends at the same rate, however; in fact, we may see a shift in leadership as the rotation back into Software continues.
Over the weekend, subscribers to my MEM Edge Report were alerted to the fact that, while Software stocks may be reversing, only 10% of the 233 names in this group had positive technical signals that would support a continued uptrend. That is to say, these stocks are now back above key moving averages that were once areas of resistance.
Below is an example of a Software stock that has positive technical signals and was also a part of the MEM Edge List Suggested Holdings for quite some time (until its peak in late July). More recently, ServiceNow (NOW) has reversed its downtrend and appears poised for further upside.
DAILY CHART OF SERVICENOW (NOW)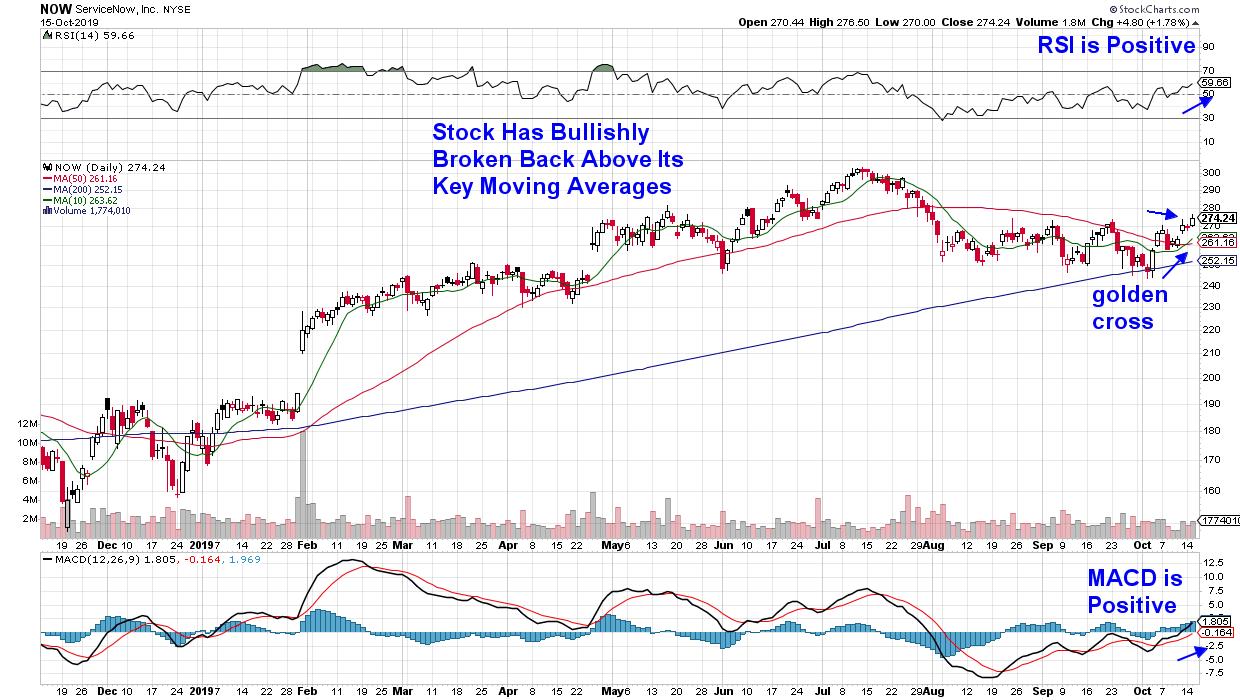 Here's what to be on the lookout for as other former leaders in Software are beginning to repair their "broken" charts. As you can see below, Adobe (ADBE) is still below its key 50-day moving average; a break above this area on any volume would be bullish. The stock had an orderly pullback to its 200-day moving average (in blue) and an uptrend breakout on volume would be very constructive.
DAILY CHART OF ADOBE SYSTEMS (ADBE)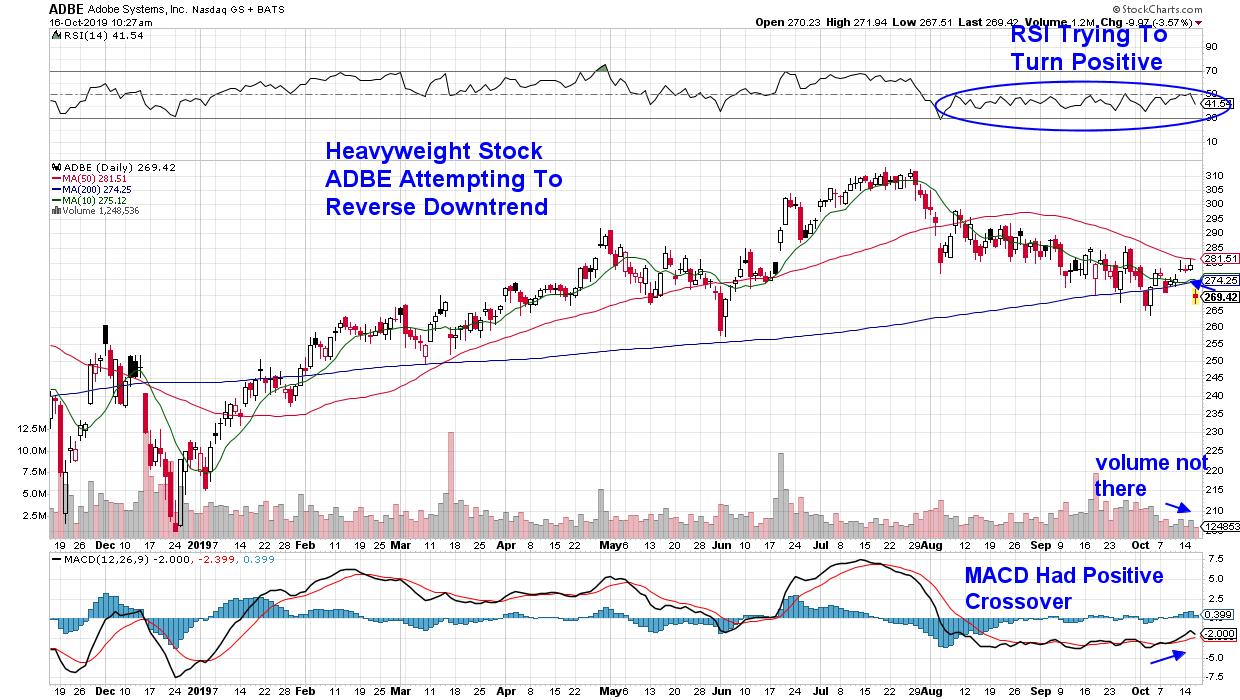 In addition, you'll want to make sure that the recently bullish dynamics in the group remain in place (using the ETF IGV, for example). If so, the opportunities within these Software stocks are unparalleled as their growth prospects will easily support moves to their prior highs and above.
For those who'd like to receive alerts to these bullish dynamics as they occur, as well as individual stock selection of stocks poised to outpace the markets, sign up for a 4-week trial of the MEM Edge Report for a nominal fee here.
In addition, I'll be participating in an exciting webinar this Friday with Tom Bowley – the renowned author and show host on StockCharts.com as well as Chief Strategist at EarningsBeats.
Just click this link here to register. If you can't make it, we'll send you a recording. You won't want to miss this action-packed event where we'll share dynamic earnings-related ideas that look attractive now. The event takes place Friday, October 18th at 9:00am Eastern Time.
Warmly,
Mary Ellen McGonagle,