News on Friday that Apple (AAPL) will be increasing iPhone 11 production by 8 million units (or about 10%) helped push the stock out of a 3-week base on volume. And while this bullish breakout sets AAPL up to trade higher should the market continue to rally, there are plenty of suppliers of iPhone components that stand to benefit from this uptick in production.
After careful review of the many major companies that are part of the Apple supply chain, I'm sharing several that had bullish reversals on the news and appear poised to trade higher.
DAILY CHART OF CIRRUS LOGIC (CRUS)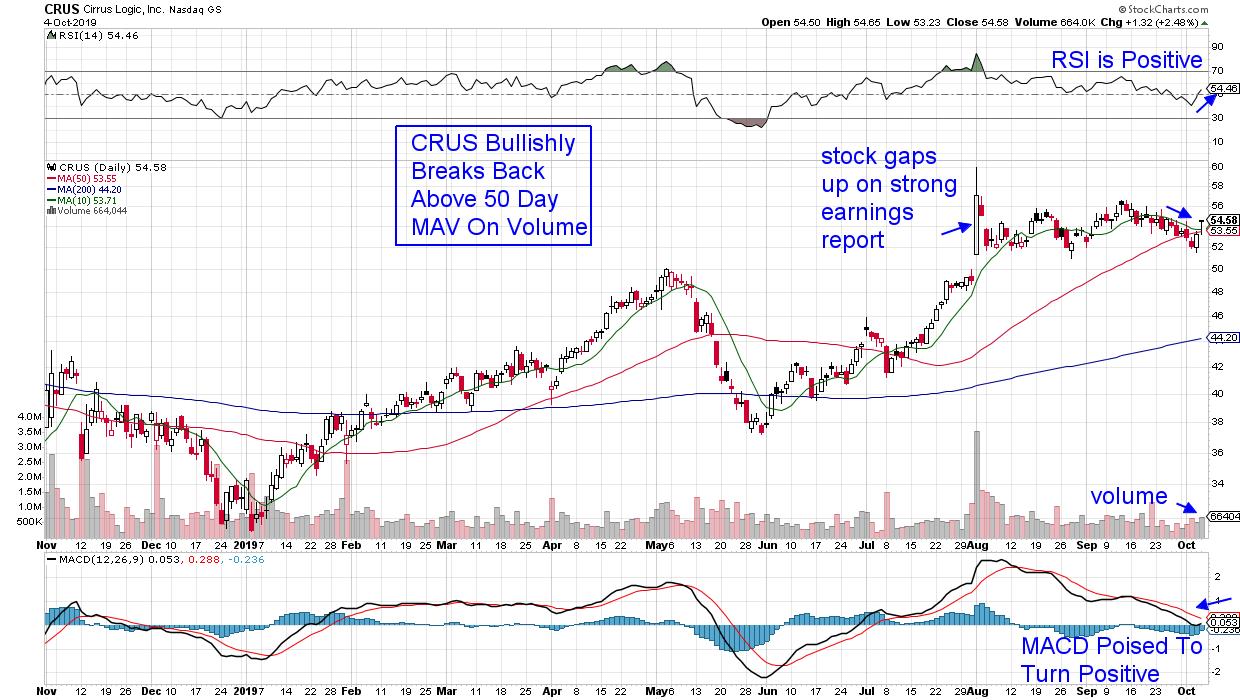 First up is Cirrus Logic (CRUS), a company that supplies an audio codec chip as well as audio amplifiers for the iPhone 11. The stock has been pulling back lately in line with the broader markets however, Friday's 2.5% rally pushed the stock back above its key 10 and 50 day moving averages. This bullish move above resistance puts the stock in a position to trade higher. And while the RSI is positive, a bullish MACD crossover would only strengthen the odds.
Over the years, CRUS has been penalized for its deep reliance on Apple as the company derived up to 74% of its revenues from them into late last year. More recently, the company has made a point to develop innovative products that would lower their dependence on iPhone sales and the efforts have paid off. In late August, they reported earnings that were 133% ahead of estimates and while management is unable to provide specifics regarding revenue sources, it was implied that they've broadened out their reach.
DAILY CHART OF ANALOG DEVICES (ADI)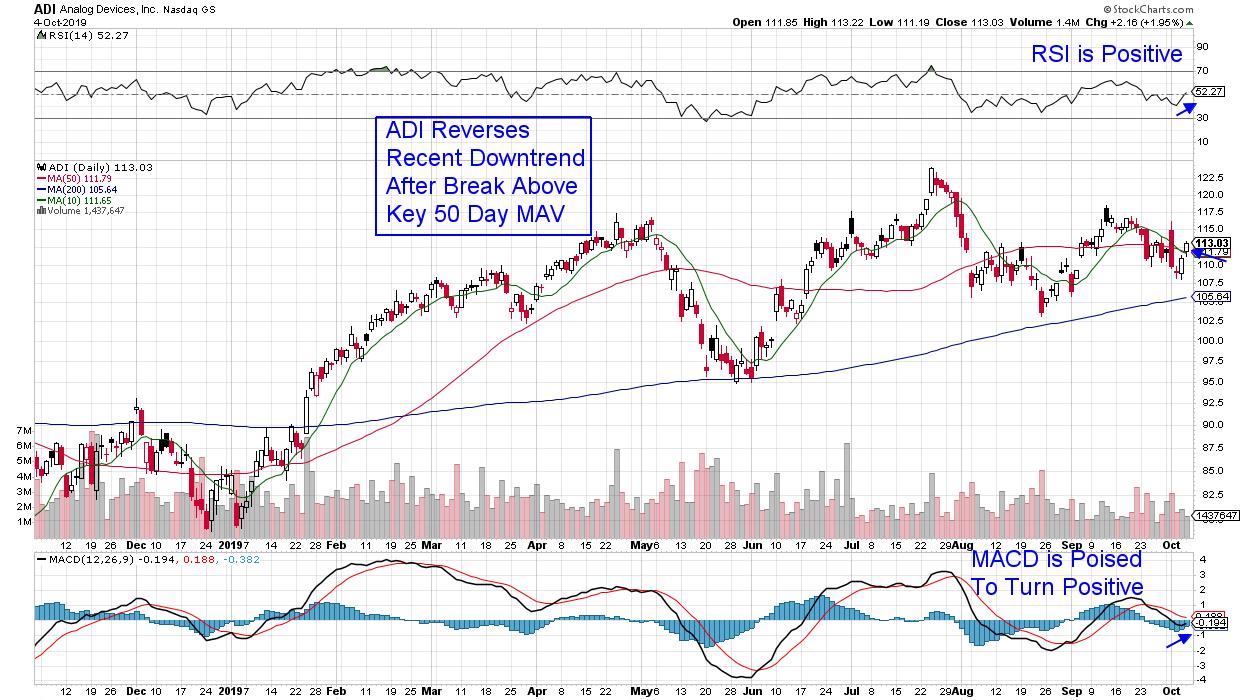 Next up is Analog Devices (ADI) which provides touchscreen controllers for Apple's iPhones. In addition to benefiting from increased product sales to Apple, the company is well positioned to benefit from the continued rollout of 5G networks around the world.
As you can see in the chart above, the stock is now back above its 50 day moving average after a late week rally. In addition to the Apple news on Friday, a major Wall Street firm raised their guidance for the company earlier in the week stating that ADI was the best positioned to benefit from 5G adaptations.
DAILY CHART OF GLU MOBILE (GLUU)
The last stock I'm highlighting is a Small Cap company that provides iOS apps and mobile games to Apple. The company is Glu Mobil (GLUU) and recent reports show that they generate 64% of their revenue from Apple which points to a major dependency on them.
The stock is recovering from a huge drop in price early in August after management guided earnings estimates lower for this year. The company cited record year over year growth in new game bookings however, costs related to the development of new games will hurt them. Their outlook is much brighter for 2020 and analysts seem to agree with 2 upgrades over the past 3 weeks that include price targets that are 27% price higher than current levels.
As you can see in the chart above, the stock has broken back above its 50 day moving average however any uptrend may well run into resistance at the $7.5 - $8.00 range. In addition, it's important to note that Smaller Cap stocks are prone to higher volatility.
While these 3 stocks are some of the highlights from the 0ver 200 companies that supply to Apple, those that subscribe to my MEM Edge List were alerted to other top candidates a while ago. If you'd like to uncover those stocks as well as outperformers from other leading sectors, take a moment to gain access to this bi-weekly report for 4 weeks at a nominal fee. We're in a tricky period of the markets and you'll find sector insights and stock selections you won't find elsewhere. You can use this link here.
Warmly,
Mary Ellen McGonagle, President - MEM Investment Research