On Wednesday, I wrote about Mega-Cap Retail stock McDonalds (MCD) and its downtrend reversal. (You can read about that here.) Since then, more heavyweight retailers have begun to exhibit signs of renewed performance as they reverse downtrends or break out of lengthy flat bases.
Hampered by reduced foot traffic and quickly-changing consumer tastes, many retailers have suffered of late. Those who have stood out by outperforming the broader markets in 2019 were ones who mastered digital sales while providing a positive consumer experience. These include winners such as Target (TGT), who had a stellar year after reporting increased online sales due to initiatives such as curbside product pickup and same-day delivery. TGT has been flat lately, but is poised to outperform again.
Also important has been the ability to embrace new technologies to better define and target their clients. Winning stock Lululemon (LULU) is one good example, as they've expanded their product offerings for men so that 30% of total sales is now generated from this area. LULU hit another new high this week.
Each of the heavyweight Retailers we'll be covering today peaked in price last November, only to take a tumble following lackluster earnings amid trade war fears that were expected to continue dampening profit margins. They are now mostly turning positive, though the last name reviewed below still has work to do before it can do likewise.
DAILY CHART OF HOME DEPOT (HD)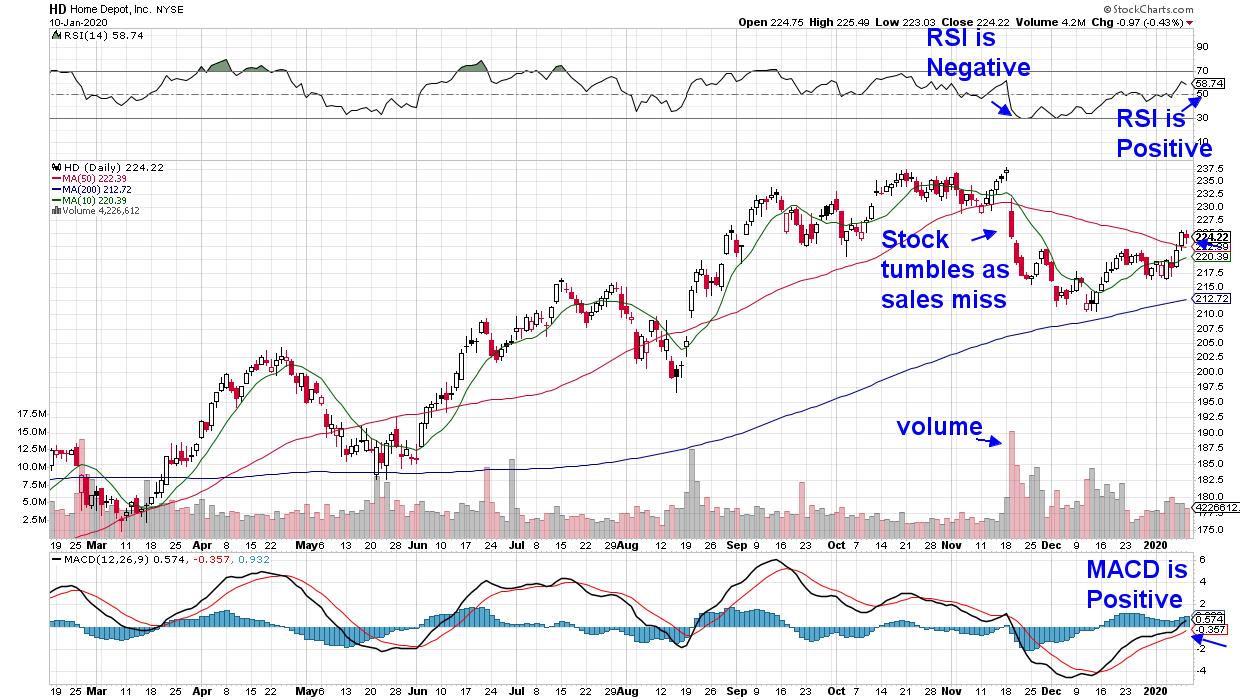 Home Depot (HD) was a big winner going into the end of 2019. The stock was hit in late November, however, following the release of sales that were below estimates as well as management's guiding estimates lower for their 4th quarter as well as 2020.
The stock broke back above its key 50-day moving average this week to confirm a downtrend reversal, which began in December following bullish outlooks from several Wall Street firms. Citing an improved housing market and reduced trade tensions, analysts felt the stock was a good buy following its substantial drop.
While I'd prefer to see an improved fundamental outlook before jumping in, HD looks technically attractive.
DAILY CHART OF COSTCO (COST)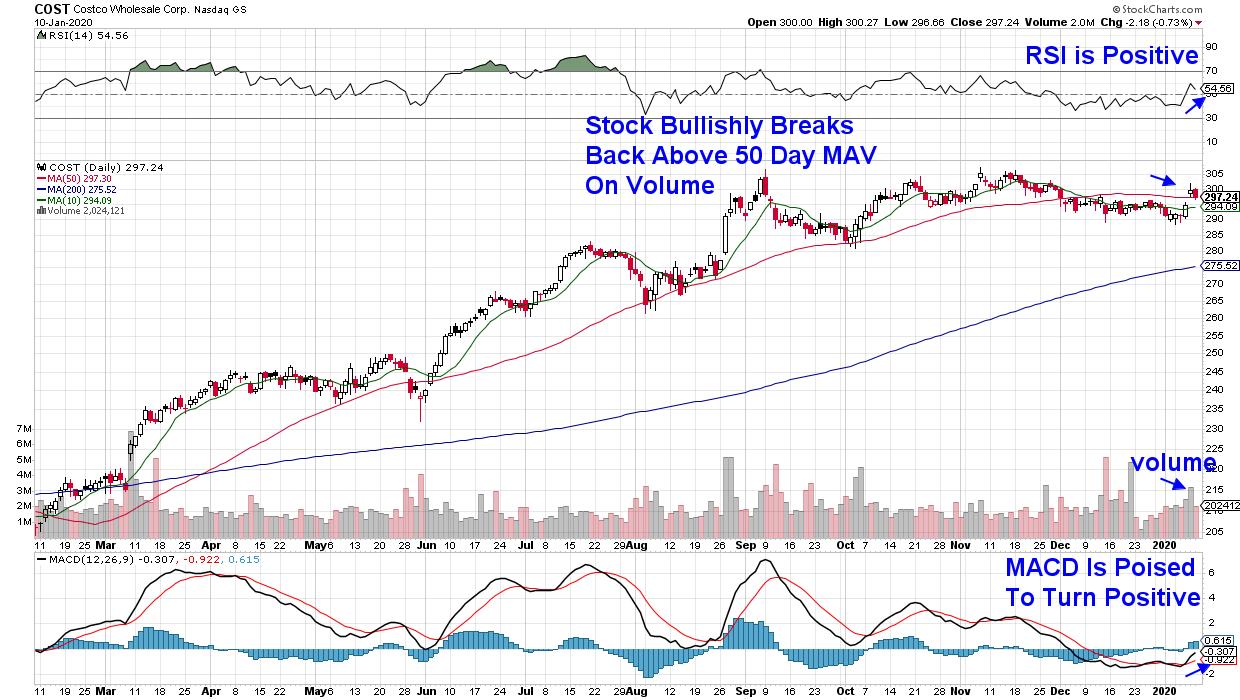 Costco (COST) is another Large Retailer was a big winner last year before suffering a decline after reporting numbers. COST reported 3rd-quarter earnings that were well ahead of estimates; however, sales were light, which kept the stock in a continued sideways pattern that that had begun in November.
This week, Costco reported very strong December sales, with a 42% increase in online sales from its prior month. The news helped push the stock back above its key 50-day moving average on volume. While the RSI is positive, the MACD has a bit more work to do. Continued accumulation on volume will only make this stock more attractive.
DAILY CHART OF WALMART INC. (WMT)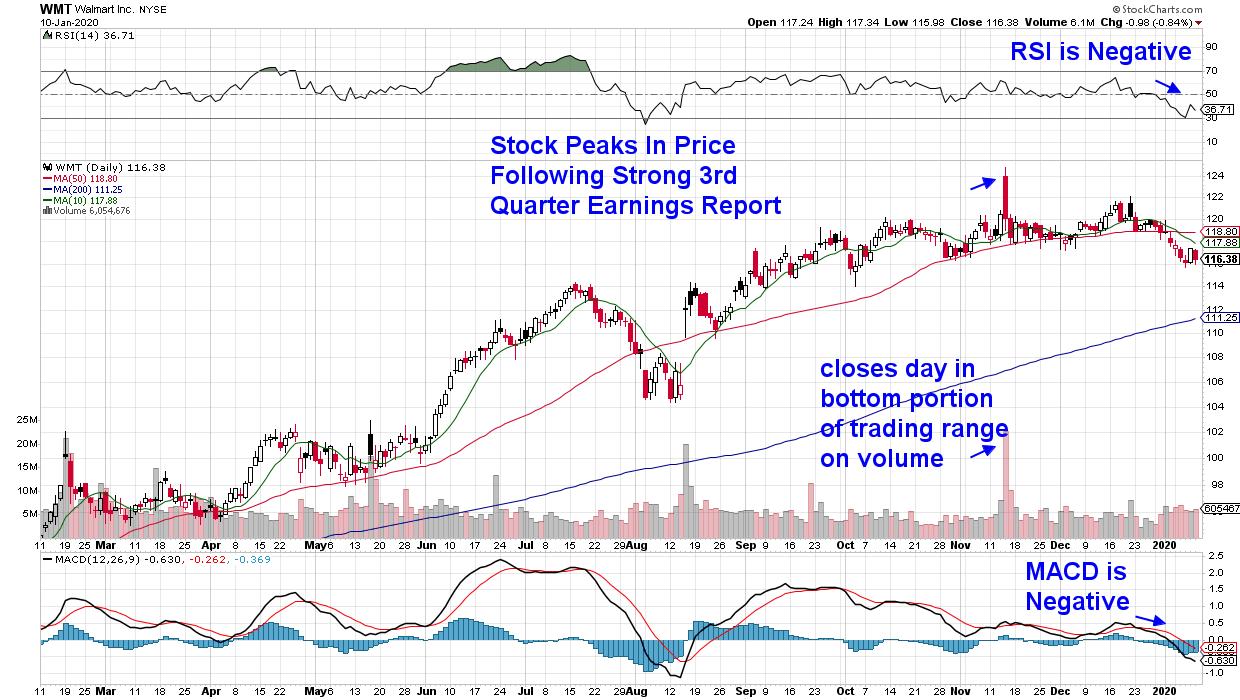 Last up is the largest retailer in the U.S. – Walmart (WMT) - which also peaked in price last November despite 3rd quarter earnings that came in ahead of estimates, helped by 41% growth in e-commerce sales. Softer than expected sales numbers and ongoing fears of a U.S.-China trade war at the time pushed shares into a general downtrend which has become even more pronounced today.
The stock would need to break back above its shorter term 10 and 50-day moving averages on volume to turn positive again; however, the recent distribution in WMT implies that this will not occur anytime soon. We would keep WMT on your watchlist, as analysts are raising estimates. The company continues to use technology to spur growth while also expanding internationally.
Overall, retailers have their work cut out for them as shifting consumer tastes, as well as technological advances, has changed the face of this industry.
If you'd like to be alerted to winning stocks such as Lululemon (LULU) and Target (TGT) as well as stocks in other strong areas of the market that are currently poised to trade higher, I urge you to trial my MEM Edge Report for a nominal fee. Sign up today and you'll receive this Sunday's expanded weekly report, featuring insights into the current market and hot new stock ideas.
"Your reports not only pay for themselves, they provide an education in how to pick stocks. I made enough from those 4 stocks to pay for 18 months subscription to your reports. Thank you!" F. Bailey [Testimonial]
Warmly,
Mary Ellen McGonagle,