The slow rate of housing development in many cities is causing a crisis of affordability. Solving the problem can be profitable. • With the release of regulations by the US Treasury only days ago, organizations are now pooling small investors' funds for development within so-called Opportunity Zones. Knowing how these pools work can help you diversify your portfolio with physical real estate.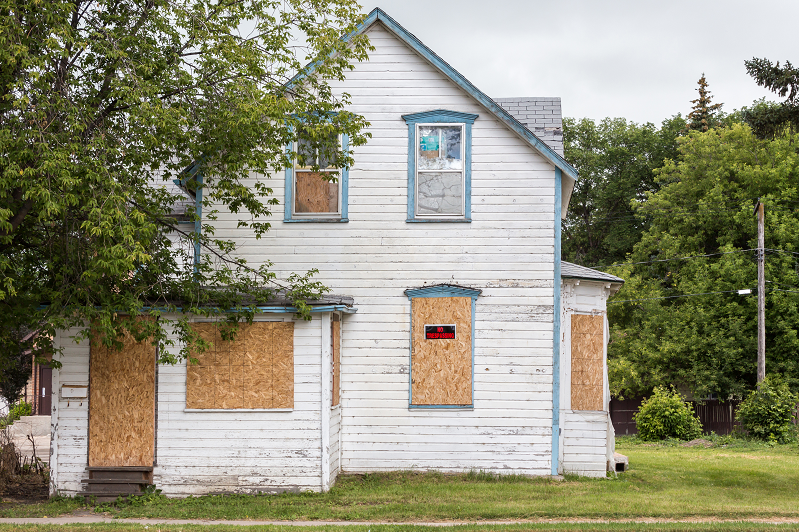 ---
Figure 1. Many cities have a shortage of affordable housing, making uninhabited (and currently uninhabitable) units ripe for moderate-income residential redevelopment. Photo by Helen's Photos/Shutterstock.
• Part 3 of a series. Parts 1 and 2 appeared on Apr. 23 and 25, 2019. •
In the last few years, new ways to invest in housing have taken root. These investment vehicles don't require you to purchase a property and take the enormous personal risk of fixing it up and selling it yourself. Instead, the new funding entities spread your investment across many different properties and even different cities.
If you're like many long-term investors, simple index funds will provide all the excitement you need, as described in my Muscular Portfolios summary.
But allocating a percentage of your liquid assets into crowdfunded real-estate projects can be a profitable way to diversify your investment portfolio.
New ways to invest in real estate without risking all
Walkable, "pocket neighborhood" developments are springing up — as we saw in Part 1 of this series — featuring small houses with room-sized front porches and shared community centers, pools, and parks.
Of particular interest to investors, US Treasury regulations issued as recently as Apr. 17, 2019 — as we saw in Part 2 — have kickstarted new, so-called Opportunity Zone funds, which can give you tax-free capital gains for 10 years or more.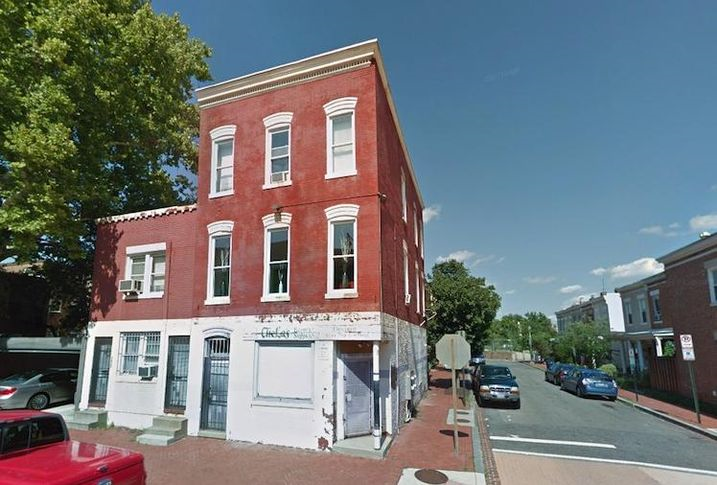 ---
Figure 2. Fundrise, a crowdfunded property capital pool, invested in this run-down structure in the LeDroit Park district of Washington, DC — a designated Opportunity Zone. Photo by Google Maps.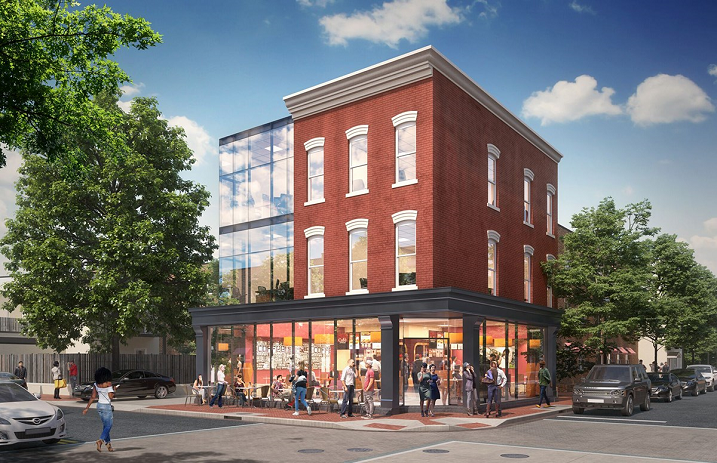 ---
Figure 3. After renovation, the building is designed to offer the neighborhood a more inviting retail space while providing residential units above. Illustration by Fundrise.
One of the new investing venues is Fundrise.com. When the firm opened for business in 2010, its focus was initially on giving small investors a way to put a few thousand dollars into individual properties. But the creation of Opportunity Zones by Congress in late 2017 changed Fundrise's emphasis. Because development in these zones — which cover about 12% of the US — can be completely free of capital-gains tax for 10 years or more, the organization is now concentrating on projects in designated OZ census tracts.
How profitable can investing in real estate through a collective fund be? Of the 150 properties Fundrise has been involved with in the past five years, one-third of which have already been sold, "returns have been in the range of 12 percent," the group's CEO, Ben Miller, recently told the Washington (DC) Business Journal. Since the S&P 500 historically returns only about 9% per year, including dividends, the profits in real estate can be attractive — especially when those profits are tax-free.
Young adults will increasingly seek to buy starter homes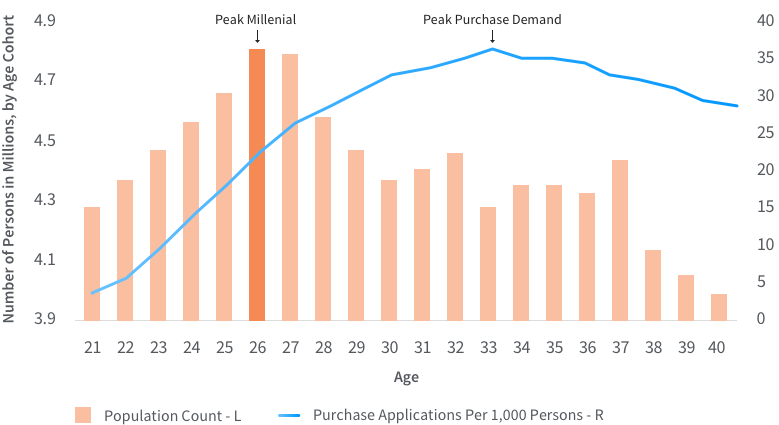 ---
Figure 4. Most millennials in the US are currently in their 20s (orange columns), but the greatest demand to buy a house occurs when people are in their 30s (blue line). Millennials are now just a few years away from that stage. Data as of 2017; illustration by Fundrise.
An additional factor is demographics in the US and other developed countries. According to a 2017 Fundrise survey, purchasing a first home within five years is planned by two-thirds of millennials — i.e., young adults who were born roughly between the early 1980s and the early 2000s. Since millennials are now America's largest population group, being the "echo" of the huge Baby Boomer generation, 50 million of the 80 million millennials in the US may seek to buy a house in the next few years. But housing development is not meeting demand in many cities, creating profitable possibilites for investors who become part of a fund now.
Some funds that specialize in Opportunity Zones and/or affordable housing, and are open to individual investors, are:
As mentioned earlier, low-cost index funds may be all you need to provide growth for your nest egg. Also, be aware that most 401(k)-type savings programs don't allow investments outside of a specified set of approved funds.
But if real estate is in your blood — and you do your due diligence on funds that can take advantage of today's new form of tax-free capital gains — you might just find an opportunity that both diversifies your growth portfolio and fits your risk tolerance.
• My next column appears on May 7, 2019.
---
With great knowledge comes great responsibility.
—Brian Livingston
Send story ideas to MaxGaines "at" BrianLivingston.com
Announcement from the Author
{{ announcement.content }}