Coordinated complacency conspiracies - are likely the most evident tell-tale characteristics the first few months of 2014 will be remembered for. A hangover of misplaced faith in perpetual 'central bank' planning on a nearly-global basis; with similar purposes of forestalling inevitable impacts of debt-ravaged tougher economic environments. (This topic was explored in some detail, as it ties-into the 'technical' divergence between the market and private sector. It also related to the 'break' in the Russell, which to many is as important if not a bit more so, than the behavior of the S&P or publicly-followed Dow Jones.)
---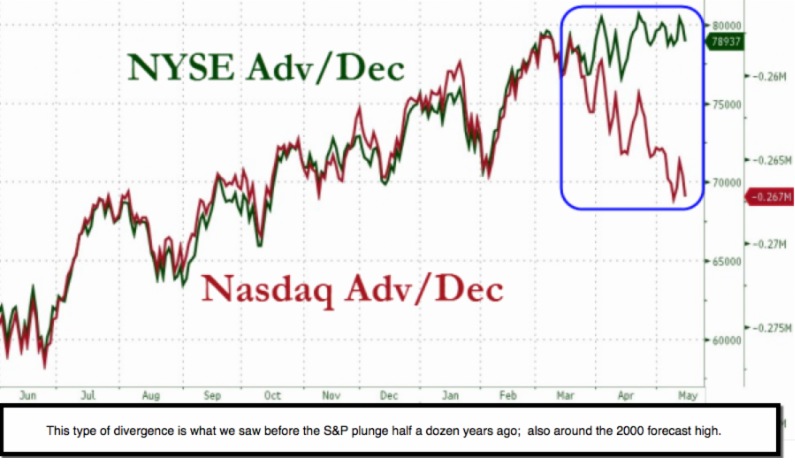 Amidst this backdrop a stealth forecast distribution into a 'resistance brick-wall' began early this year; with the technical internal top specifically noted early in March (expected first sell-off's to rebound as they were tax-based, not related to the 'real' sell-off projected for later in the April / May time-frame).
Even now, as 'Tepper tantrums' are presented as the sole reason for selling; it's amusing; especially if he continued holding leveraged SPY & QQQ Calls.
Currently holding an E-mini / June S&P short-sale guideline from 1897, our posture remained flexible through this period (especially Expiration week).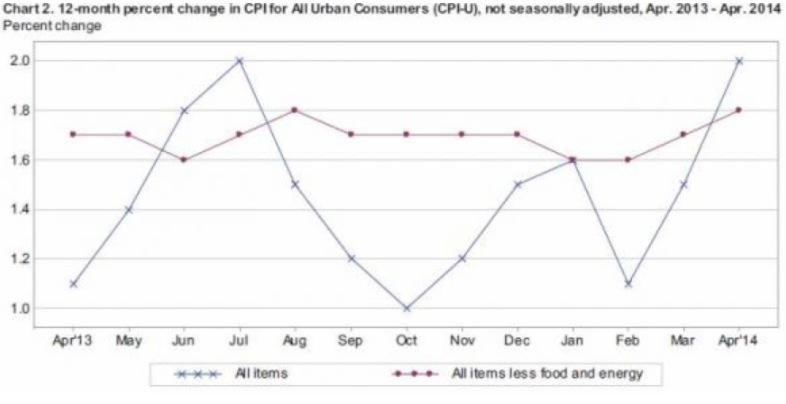 Bottom-line: the 50-day S&P MA was breached; as Russell approached the 1800 key level. A valiant effort (possibly Expiration-related) likely prevented those giving way yet; but given a little time (balance reserved for members).
Perhaps a least-noted most development Thursday: S&P stated prospects of lowering credit ratings on 'sovereigns' most likely impacted in the immediate future by 'global warming' (prospects shared in the full report).
Technically reviewed via video; a retained June E-mini / S&P 1897 short-sale.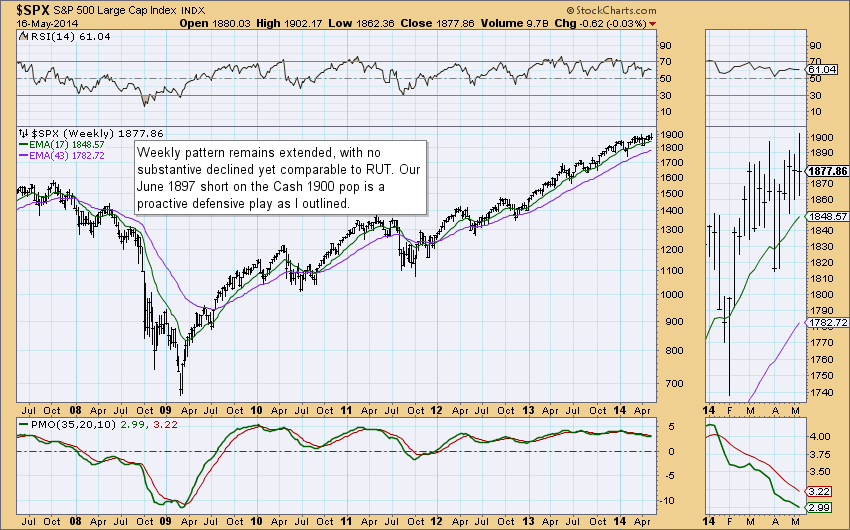 Another 'limited liability' are gold and silver 'fixings', established through UK companies (member bank traders are directors). Recently Deutsche Bank resigned in a string of events started when German financial regulator BaFin described 'possible' manipulation of currency and also metals markets as more serious than the Libor rigging scandal.
Our Silver stance: bullish on at 19; at 40 stated it will not see 50; called for a drop initially into the high 20's, then the high 'teens. This chart allows you to ponder whether it's a base or whether more risk remains.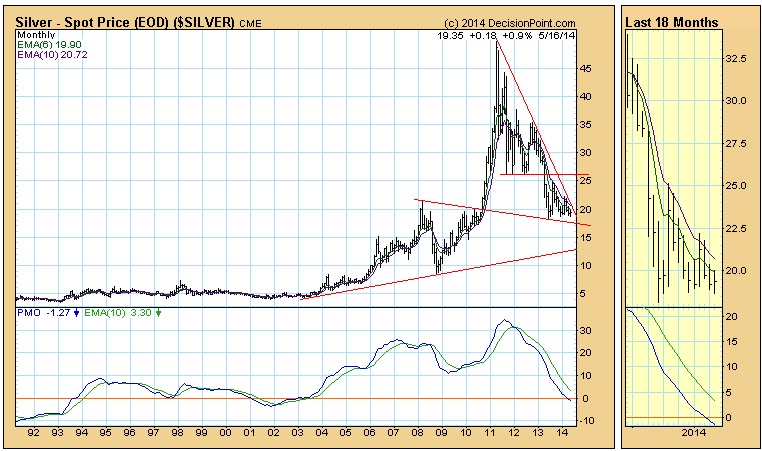 **Very long-term chart allows keeping this 'possible' basing pattern in perspective, rather than being too presumptive about London
'Fixing' closure meaning.
DB resigned the day after the German regulator's January 17 statement. That left Barclays, HSBC, SocGen and Scotiabank traders in Rothchild's old wood paneled London basement to 'fix' price. (As to) Gold's future 'fix'; we do know the big story was the 117 year old London Silver Fix ceasing operations this August. (Gold alternating from flight-safety-buying with pending issues.)
There are lots of hard challenges ahead; and this time, there must be sobriety in geopolitics & fiscal policies; beyond monetary shell games.

Enjoy the evening;

Gene

Gene Inger
www.ingerletter.com