Short-Term Sentiment: Neutral.
Overall Intermediate-Term Sentiment: Bearish for the market.
Individual Investor Sentiment: ST Mildly Bearish for the market. IT Bearish for the market.
Small Speculator Sentiment: ST Mixed for the market, and IT Bearish for the Market.
Small Hedge Fund/Manager Sentiment: ST Mildly Bearish for the market and IT Bearish for the Market.
Longer-term Trend:
Bull Market Condition.
Intermediate-term Trend:
Negative. Confirmed. Secret Hedge Fund Nearing Buy territory again.
Short-term (one-day) Signal:
None.
---
********************************************************
Hardly any options Bears. Not many in the polls and surveys either. We're Bearish.
********************************************************
Options and ETF Sentiment--
Daily CBOE P/C ratio: 0.97. Neutral.
10-day P/C ratio: 0.98. Neutral.
Equity P/C ratio: 0.58. Neutral.
OEX PC ratio (not a fade): 0.72. Weak Buy.
OEX 10-day PC ratio: 1.26. Neutral.
ISEE Sentiment Index: 66. Bullish.
10-Day ISEE Sentiment Index: 79. Bullish.
Options Oscillator: -4. Neutral.
Relative VIX: Neutral.
Daily VIX: Buy.
CBOE:SPX: Still Positive. Unconfirmed.
OBSG: Neutral.
SH Money Flow: There was over $16MM in new shorting. Not a Buy, but getting closer.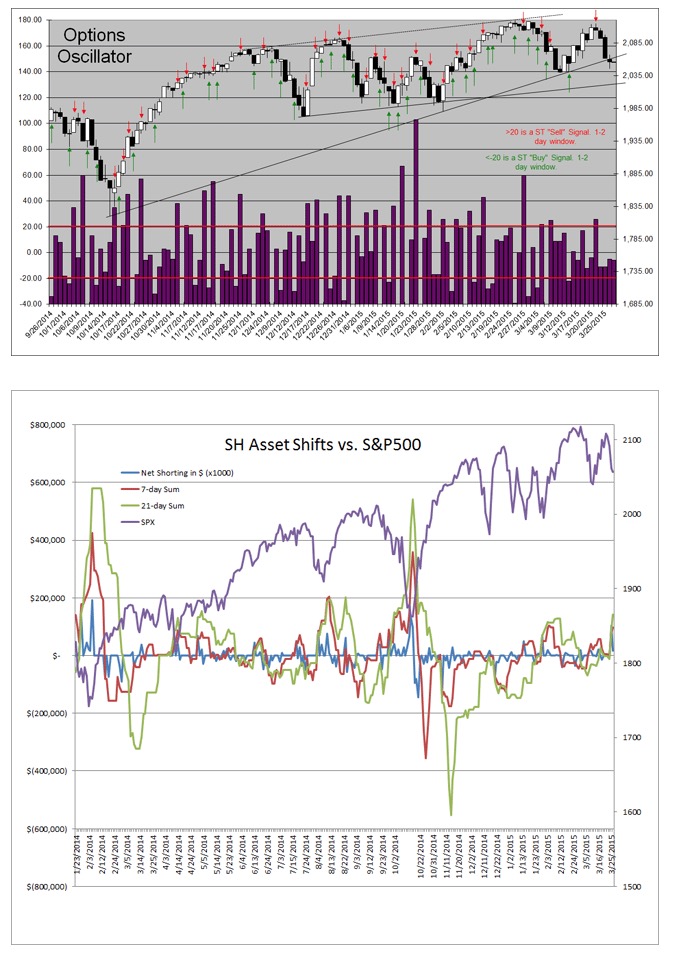 The options are again looking surprisingly neutral, except for the OEX P/C. That's Bearish for the market. I think we should bounce, but things aren't looking that good. The options boys could just take it down if they can't get a rally going. The SH showed over $16.2MM in new shorting. That's getting better, but it's not yet a signal. The Market Harmonics' Options Buyers Sentiment Gauge (thank you, Tony Carrion http://www.market-harmonics.com) is Neutral.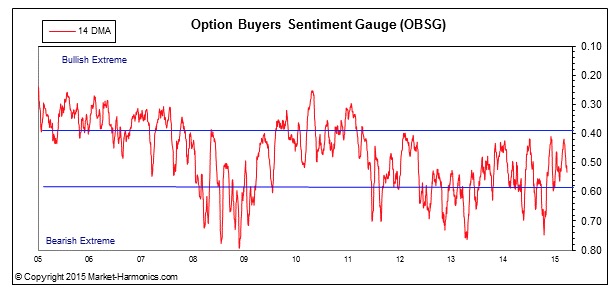 Most options indicators are contrary; if most folks are buying calls, we want to fade them and go short and vice versa. The OEX nominal P/C is an exception, because the OEX traders tend to be right, unless they are paying up for options (which will show up in the $-weighted data). The ISEE Sentiment Index indicator is contrarian; traditionally, over 200 is too optimistic, under 100 is too pessimistic. OBSG provided by Tony Carrion of Market Harmonics.
General Public Polls
Investors Intelligence reported 56.6% Bulls and 14.1% Bears. That's a more Bulls and just a few less Bears. That's Bearish for the market, but this is nothing new. Longer term, it is cause for concern. Last week, we had 52.0% Bulls and 14.3% Bears.
TSP Talk came in with 40% Bulls and 43% Bears. This is less Bullish and and more Bearish but not a whole lot, given how weak things were yesterday. They had 55% Bulls and 30% Bears last week. I think this is somewhat Bearish for the market but not strongly so.
National Association of Active Investment Managers (NAAIM) Sentiment Survey reported that the Median market exposure rose from 80.00% long to 90.00% long. The mean exposure moved from 67.77% to 84.32%. The minimum exposure remained went from -200% short to 0% short. Maximum exposure fell from 200% Long to 75% Long. Advisors got much more Bullish on the Bearish end. The positive shift in Median is modestly Bearish in context as is the Mean exposure.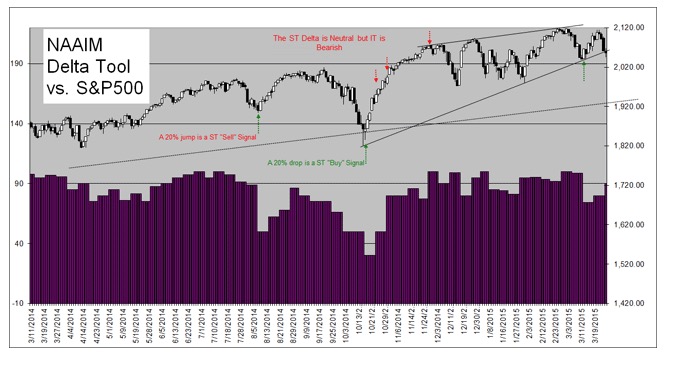 AAII is showing 38.43% Bulls and 24.38% Bears. More Bulls and less Bears in a sloppy market. This would normally be Neutral for the market, but in context, I view this as somewhat Bearish. Last week we had 27.16% Bulls and 31.49% Bears.
Lazlo Birinyi's site, Tickersense reported 52% Bulls and 28% Bears. I view that as Bearish, but only mildly so.
Citigroup Panic/Euphoria Model is Neutral.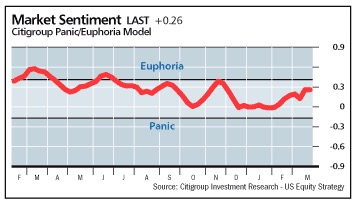 Conclusion
Last time, I said that I figured that we had more on the downside coming, and we awoke to a 17 point GLOBEX decline. Because there were a lot of Bears in the opinion poll, I figured we might get some buying, but I couldn't tell where it would come from (Basically, it came from the opening hour lows). I was disturbed to see almost no Bearishness in the options data, MORE Bullishness in the NAAIM and II data, and just lackadaisical sentiment from TSP and AAII despite the weakness. This worries me quite a bit. The SH is the Bulls one bright spot, but it's still well away from a Buy. Daily Momentum is negative and has gone into acceleration mode. We need to be very careful. Chances are, they'll be able to mount a little rally tomorrow, but if the options guys can't get anything going (and given the sentiment, they might not), they can simply buy puts and pound the market down. The set up is ripe for that too.
Intermediate-term, Cumulative Breadth is still on a confirmed Sell. Our "Best Trend" is still on a confirmed Sell. The ITBM had turned up but has turned back down. IT momentum turned down from Sell territory and has confirmed. ST Momentum is Bearish and confirmed. Our Breadth model is still on a confirmed Sell. Our "Secret Hedge Fund" Indicator turned down.
****************
Timer Digest Tracking Portfolio:
We may take action this week.
100% Money Market
*******************************************************
Mark Young
Editor
For more on using Wall Street Sentiment and the various sentiment data included, click here: