An interesting test inadvertently occurred - with implications that go well beyond the economic and market conditions in China. When their 'central planners' decided to withhold support (after their first injection round) and 'intimidate' investors and traders, it didn't work and markets resumed on the downside as soon as they could. Then came yet-another round.
That proved that markets were incapable of stabilizing on their own; so some blamed the 'intellect' of investors; saying over 2/3 of the Chinese speculators didn't have a high school education. That's a lame explanation for what really is a savvy nation as far as wheeling & dealing (always have been); and tries to avoid simply saying that government policies in property or finances, were unsophisticated; leaning too much on command decisions. That's not what markets should trade around, which is 'supply and demand' considerations.
---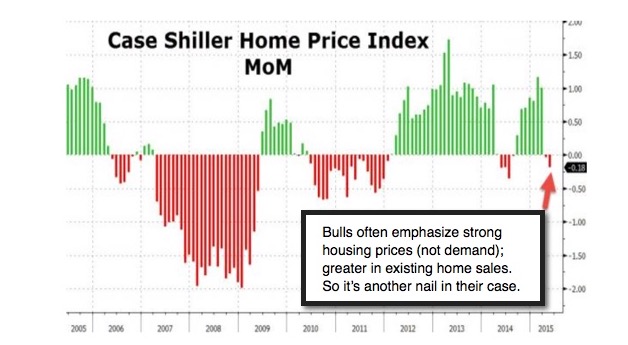 Historically markets do not thrive when the only 'prop' under shares is policy moves by monetary authorities. Almost by definition that acknowledges an absence of underlying growth, earnings, revenues, and reason to be bullish.
Bottom-line: we called in the weekend report for a bounce likely in the new trading week; ideally in the form of a Tuesday turnaround or similar. Got it.
Now we have a renewed battle shaping up shy of Sept. S&P 2100 (give or take as far as that area being resistance on this bounce), as prior support as far as the S&P (some Indexes like the New York Composite never moved so high, evidence of the narrow leadership during the preceding bounce) ..prior support now becomes resistance (not a precise number but an area).
(Discussion of 'Consumer Confidence', and several charts with analysis, are reserved for subscribing members only. We invite you to join during projected volatile market action, which by no means is going to conclude meekly yet.)
On top of this, we have an FOMC statement coming out today (Wednesday), but without a news conference after. So, traders and investors will be parsing the words of the accompanying statement. While nobody should expect the Fed to come-forth and say rates will be hiked in September; the implication is likely there, especially if the 'statement' spins growth as recovering. If they're again more candid (they may have little choice given the 'leak' of what they're really thinking the other day), they'll talk of continued softness and markets of course will initially react either way depending on (reserved).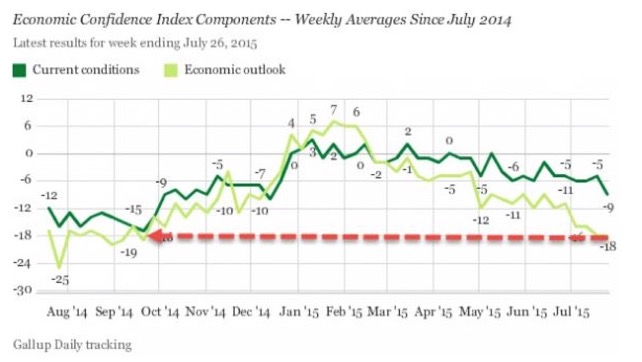 Regardless this market has unfinished business (as outlined). Thus what we have as far as an expected bounce (and of course bulls tried to stretch it a bit) helps take the edge off an oversold condition, and as it exhausts likely helps prepare markets for the next phase.
In sum for the FOMC: if the Fed drops the word 'near balanced' to saying the economic forces are 'balanced'; the market will take that as affirming a hike's coming. It's less relevant than soft housing, and other numbers; which impacts 'actual profitability'.
Daily action - anticipated a degree of Tuesday turnaround; although breadth was poor 'even with' an upward Dow and S&P in the morning; perking-up a bit in the afternoon (Transports especially firm). Observers say it is a 'weird' market. Hardly, it's become a more normal market; following an interesting period of 'narrow leadership', on the rebound which preceded the decline.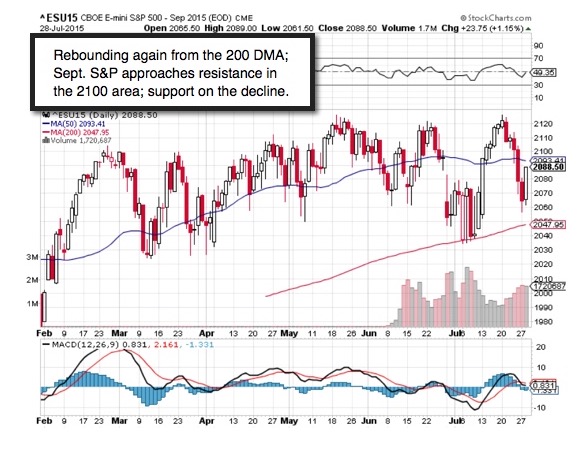 Sure, from an oversold condition, while traders hide-out in some biotech or a few tech (or related) stocks; you can and should get bounces.
This behavior was all part of the distribution that began half a year ago; and was masked by periodic recoveries while macro internals (and fundamentals) mostly deteriorated. This was one of the longer sustained distributions ever; a feat achieved primarily because of an absence of alternative yields; flight to (relative) safety from abroad; and a charade of higher growth projections that already were disputed by the facts (and even some forecasts of slowing, like from the IMF or the US CBO, worried about Treasury revenues presumably).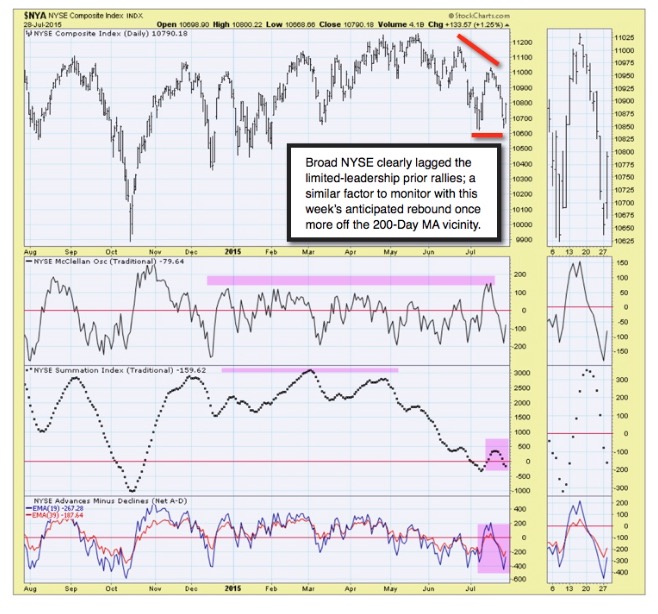 Bottom-line: this will probably not be a 'rinse & repeat' S&P move; (more).
In fact, there is some speculation that if Richmond Fed President Lacker is a dissenter in the FOMC statement, that 'increases the odds' of (discussed).
Prior highlights follow:
The orchestra warmed-up before this week - and it's been weeks since I suggested the 'Fat Lady' was at least clearing her throat offstage. In market terms, that means managers were liquidating 'around the edges'; resulting in poor breadth; a 'nifty 5' (take on 'nifty 50' that led a solo-walk move years ago; so a 'nifty 5' is more dangerous in terms of distorting market views).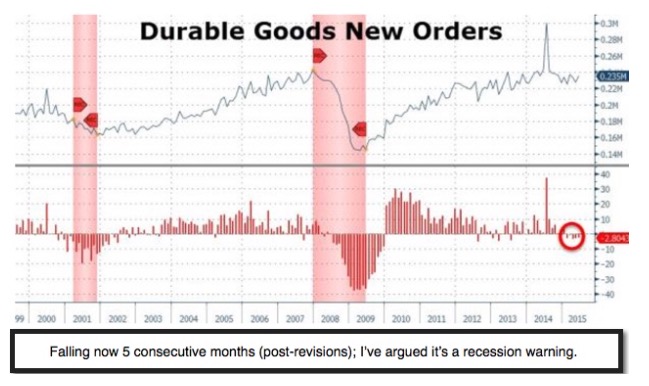 Lots of possibilities ahead; but with many 'only now' starting to grasp what I have long thought was obvious (collapsing commodities, currency competitive issues, lower growth than anyone from the Fed to Draghi was forecasting, as they clearly were overly optimistic).
Technically there never was a recent 'broad market' new high (look at the McClellan Oscillator NYA picture below) and it was a limited leadership sort of charade, as we outlined. This continues; you'll see S&P in (withheld).
A casual walk with family around Central Paris (Districts 1 & 3) related lots of history of kings and emperors. Their 'control' didn't prevail in the end. Neither will those of the present dynasty in Beijing, or would be 'controllers' in New York. It's not just the presence of Military Security when I visit, that reminds us of the threats in the world today (family member is a high Diplomat). I paid my respects to terrorist victims, by visiting Paris sites attacked since the 1980's.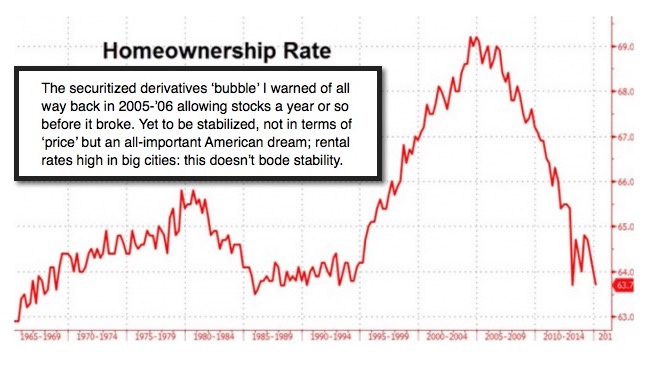 Bottom-line: the internal top's been behind for weeks; not a new technical development; even as Indexes superficially recovered yet-again on poor breadth; and put in sharp rebounds (often characteristic of bear trend rallies). Rallies were and are efforts to forestall technical breakdown; threatened often recently and resuming once again (with breakdown odds rising ahead).
Increasingly levels of skepticism fight 'invested' managers who can't really be defensive; but doesn't diminish the reality of overall price levels out-of-line with probable profits growth or monetary policy guidance.
Treacherous times. The process evolves.
Good day from Paris;
Gene

Gene Inger
www.ingerletter.com