A tough week for the bulls Monday through Thursday. Some really bearish candles printed, especially yesterday with a big reversal lower after a huge gap up. Today looked as if it would be the day the market finally gave up Sp 2040 with some force. Yesterday gave every indication the end of the bull run was at hand. Not to be. Greece, last night, agreed to some key concessions on austerity that the euro zone demanded on having if they were to give them any help. The markets abroad loved this news. The futures blasted up and of course we followed along right behind. We gapped up but instead of collapsing like previous day we held the move and worked our way mostly higher throughout the rest of the day. A close well above the open. Bullish action and thus this never ending base between 2040 and 2134 continues on. We seemed destined not too far back to break through 2134. Imminent. It seemed so anyway. Now 2040 seemed as if it had no chance to hold. It has held for now which is our 2.5 year rising Support Line seen below on the SP 500: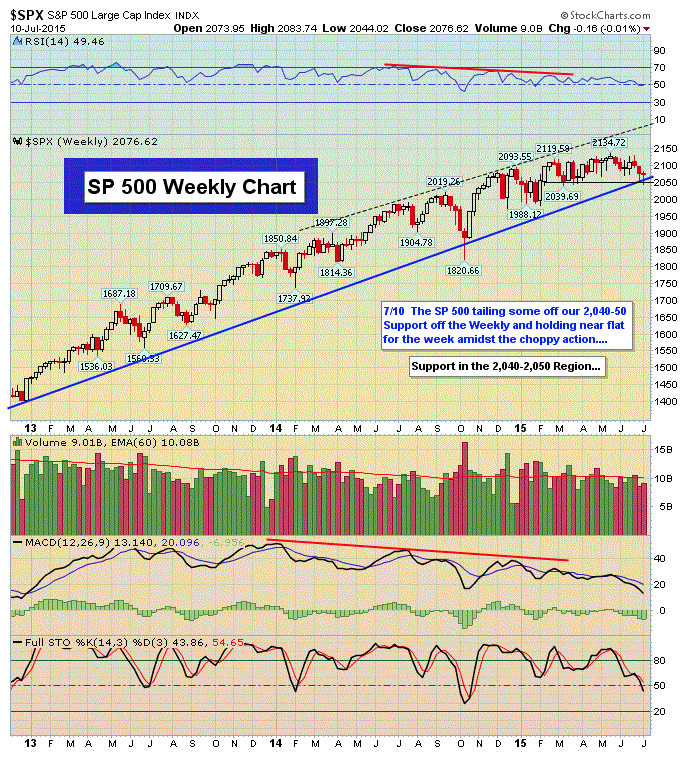 Each side seemed destined for victory. Each side has had to deal with short term defeat. No one can declare anything positive for themselves. The Greece news came on the day it needed to if that makes any sense. It's amazing how that seems to happen in both bull and bear markets when it has to. Magic! So the bulls saved themselves from a nasty correction that would have likely unfolded quite rapidly if 2040 went away. The bears are feeling that oh so close moment once again. Not a fun moment for them since it has been that way for far too long for them. No love for those bears in what has been years. They'll have their day for sure but they thought that day was here. It's not for the moment. The bears are tired of these moments but that's the game. We're now back to nowhere in the large base between 2040 and 2134. Enjoy it if you can.
---
Tonight you will see weekly index charts and they are showing you the latest save by the bulls. The Sp chart says it all. Notice how the 2,040-50 area which are the long term up trend line (2050) and the triple bottom of horizontal support (2040) got tested this week. Notice how today both got saved. You'll see this pattern repeating on many of the weekly index charts and that says it all. It says that the longer term bullish trend is in tact. That the bears gave it a real good try and may do so again shortly but that, in the end, the trend lines and the horizontal support levels couldn't get taken out when they needed to get taken out. Solid tails across the board. It's not great news if you're bear to see those types of hammers back above critical support levels. Usually, but never always, these types of hammers will lead to higher prices in the short term. Nothing is guaranteed on that front as bad news can hit from overseas again but the market seems to be smelling resolution. The monthly charts are still terrible looking but the weekly charts have played out the divergences to a large degree and have clearly unwound themselves from overbought oscillators. Maybe over time the monthly charts will find a way to do the same thing without too much price erosion. I can't imagine it to be honest but I guess anything is always possible. I never would have believed that the weekly charts could get so much unwinding with a simple 4.5% correction off the top but they did just that. Bottom line is the weekly charts are looking more bullish than they have in quite a few weeks. Today was a hugely successful defense day for the bulls. Both the Dow and Wilshire 5000 also put in tail off our key 2.5 Year Rising Support Lines late week seen below.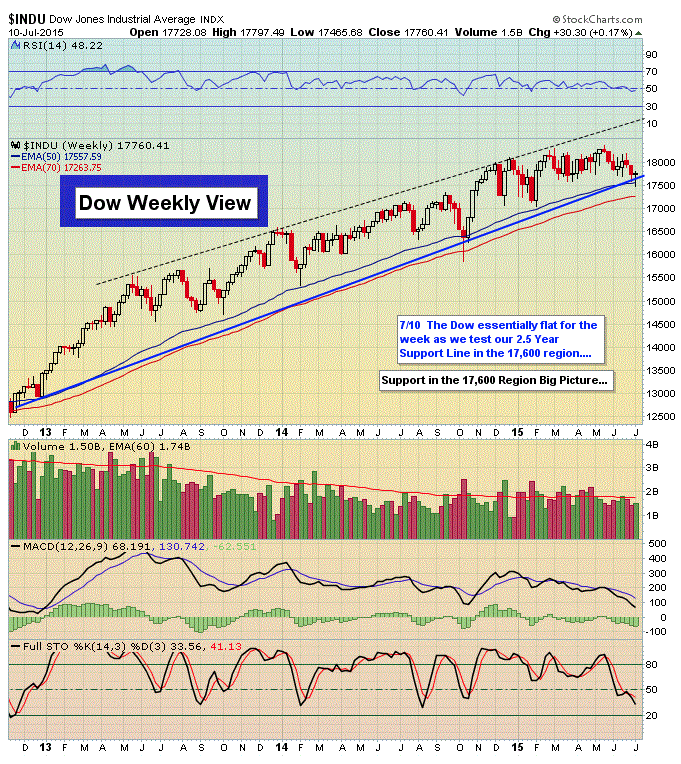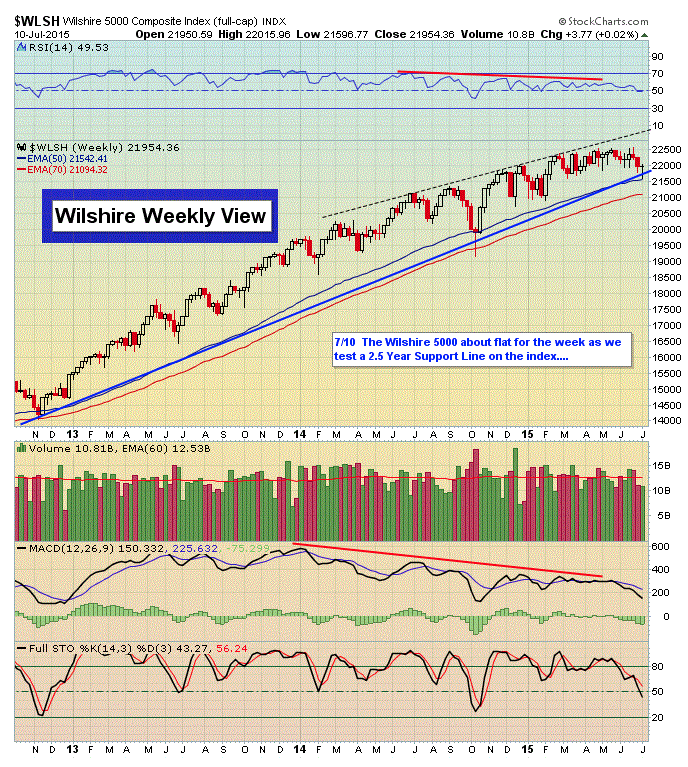 Many sectors still look pretty bad technically but they are also getting quite oversold. The transports and the semiconductor areas for starters have been poor at best but the market didn't break. It cracked but clearly didn't break. Amazing how the market has found areas to hide in while those areas and others took huge hits. The rails still unable to get going. Many areas are in total bear markets yet the overall stock market hangs in tougher than tough. Cases can be made over and over by the bears as to why things shouldn't be this good for the market and I wouldn't disagree one bit. That said, you never argue with price. Froth is still out there in a big way. Monthly charts stink and valuations are silly to be kind. None of that matters if price says it doesn't. For now price rules. We understand risk is very high if you're in equities but the price action is favorable thus buying pullbacks is best and if we lose 2040 with force you have to exit and accept the losses that came with buying in this environment.
Join us for a free 3 week trial at www.TheInformedTrader.com

Peace
Jack