Monitoring purposes SPX: Long SPX on 6/25/15 at 2102.31.
Monitoring purposes GOLD: Flat
Long Term Trend monitor purposes: Flat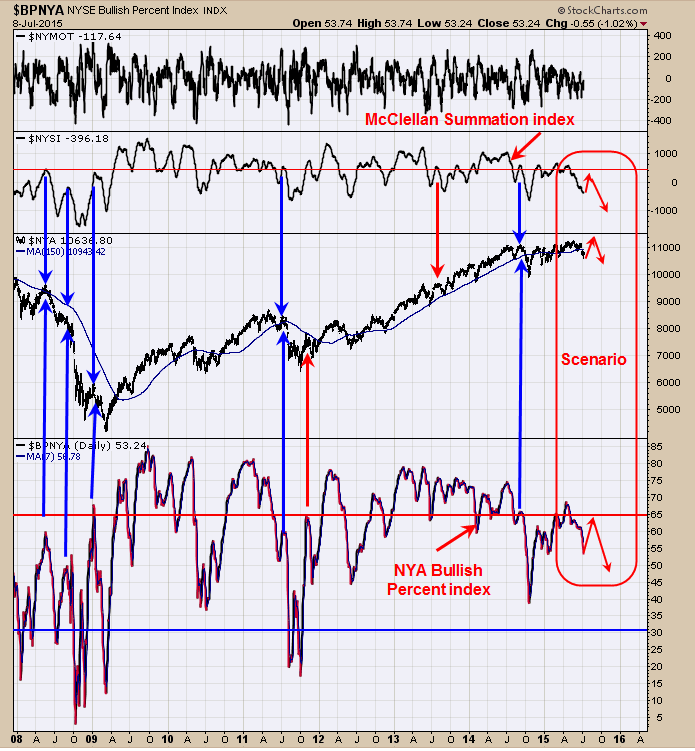 Above is a longer term view of the market. Big declines can begin when the NYSE Summation index turns down before its get to +500 and the NYA bullish percent index turns down before reaching 65%. The chart above goes back to 2008 and shows the times when the McClellan Summation index (second window down from top) turns down before reaching +500 and the Bullish percent index for the NYA (bottom window) turning down before reaching 65% near the same time. The best signals come when both of these indicators are matching which are identified with blue arrows. The red arrows show when one gave a signal but not confirmed by the other. The TRIN has reached panic levels and suggests a rally is coming and the strength of the next rally will be determined by the McClellan Summation index and Bullish percent index which may fail to get above +500 and 65% respectively. If these levels are not reached on the next rally could spell trouble for the market.
---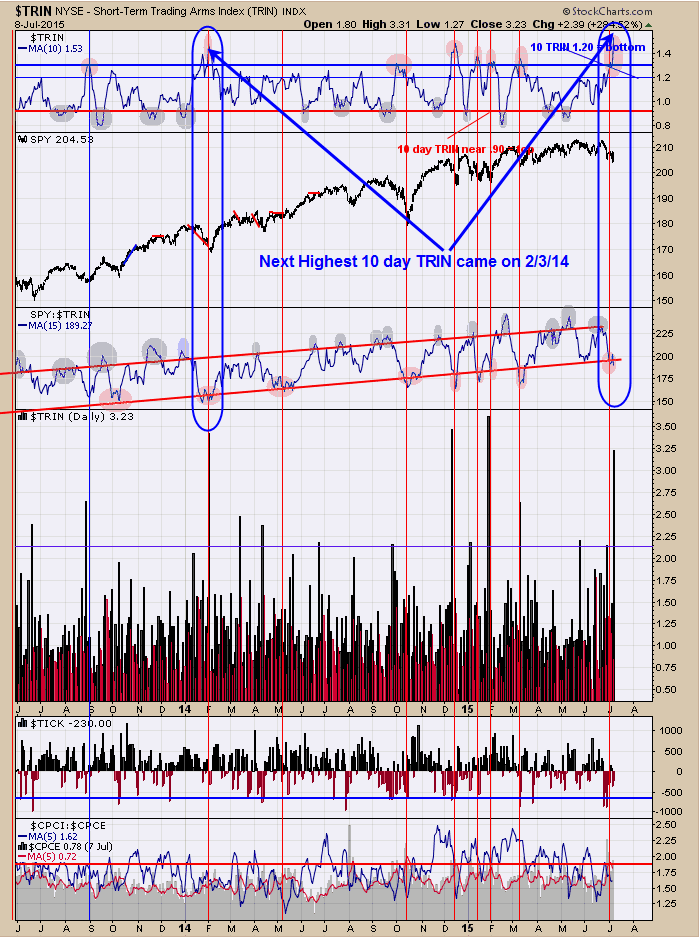 Today the 10 day average if the TRIN came in at 1.53. Going back two years the last time the 10 day average of the TRIN was near this high came in February 3, 2014 with a reading of 1.47 which was a bottom. The 10 day TRIN help to find panic in the market with readings above 1.20 and the higher the reading the more secure the bottom. A time to worry is when the TRIN doesn't expand on a decline, which usually means the decline will continue. Today's TRIN closed at 3.23 and the highest yet on this bottoming pattern. We are long the SPX on 6/25/15 close at 2102.31.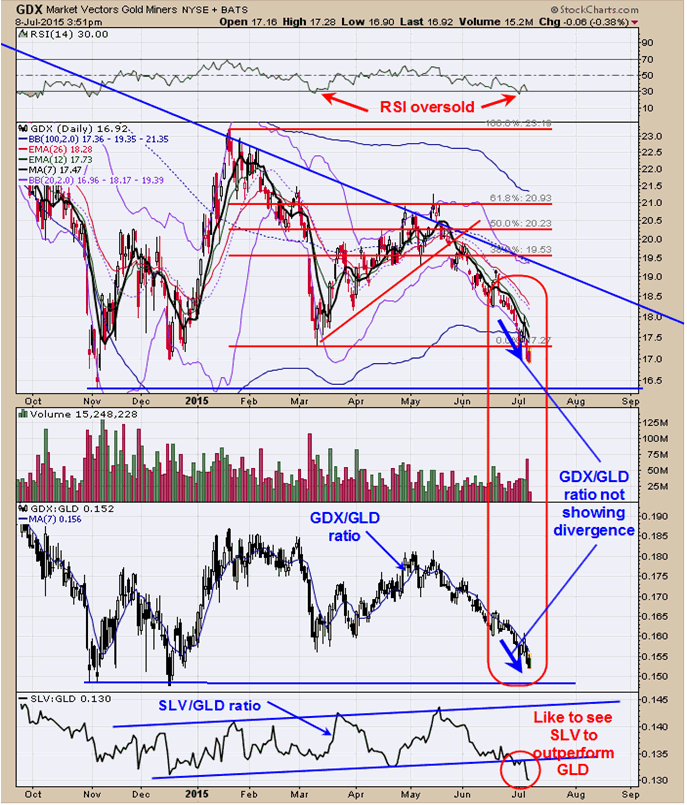 The top window is the daily RSI for GDX and it has reached oversold levels suggesting a short term low is not far off; and suggesting the November 2014 low may hold (near 16.50). Ideally one would like to see for a bullish case to see the GDX/GLD ratio produce a positive divergence and so far that has not happen. The bottom window is the SLV/GLD ratio. When this ratio has been rising than in general that has been bullish condition for the gold markets and when falling a bearish condition. Recently it has broken the lower support line and a short term bearish sign. Near major bottoms everything looks ugly and it appears the "Ugly" is starting to reach towards extreme levels but we are not there yet. At previous important lows the "Commitment of Traders report" showed the small Speculators in a short position and the 7/3/15 report showed they where net long over 7K. No bottom signal yet. Next couple of months could be important for the gold market; still neutral for now.
Tim Ord,
Editor