Monitoring purposes SPX: long SPX on 11/2/15 at 2104.05
Monitoring purposes GOLD: Flat
Long Term Trend monitor purposes: Flat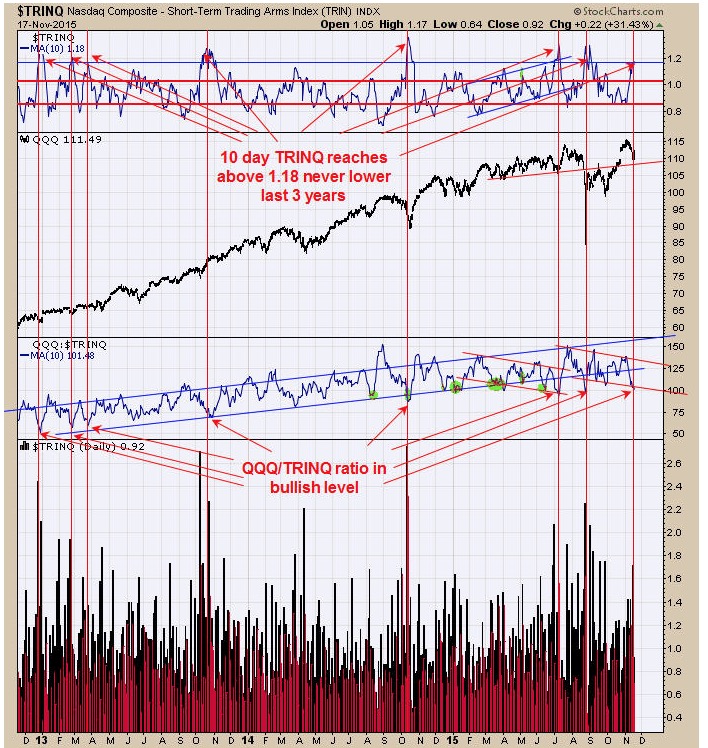 ---
This week is option expiration week which normally has a bullish bias. We keep an eye on QQQ and if its telling a bullish story than that bodes well for the SPY. The top window is the 10 day average of the TRINQ. Going back 3 years; when the 10 day TRINQ reached 1.18 or higher (current reading is 1.18) the QQQ was always higher going forward a month later and is some cases a lot higher. The bottom window is the 10 day QQQ/TRINQ ratio which also remains in deep bullish territory and adds to the bullish picture. Seasonality remains bullish for the next two month. Free 30 day Trial, Send email to tim@ord-oracle.com.
Follow us on twitter https://twitter.com/ordoracle.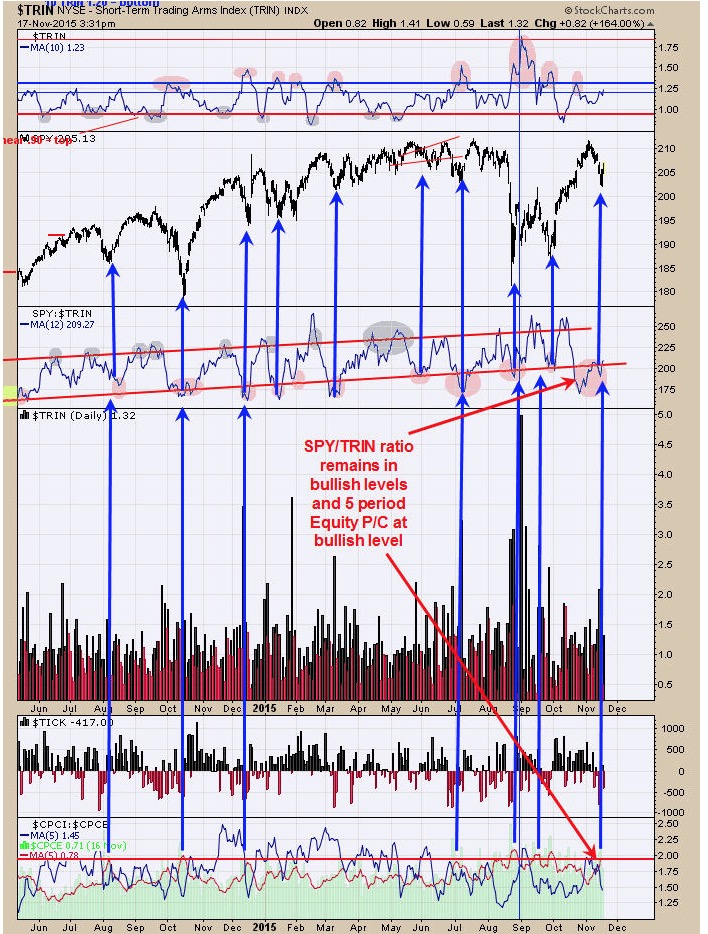 Last Thursday the TRIN closed at 2.09 and the Ticks at -797 and that combination have lead to short term lows the day of the readings to as late as two trading days later which would be Yesterday and yesterday appears to have been the bottom. The SPY/TRIN ratio remains near bullish levels and suggests the trend up should continue. Trouble could come to the market when the 15 period SPY/TRIN ratio reaches the upper boundary line which comes in near the +250 range. The bottom window is the index and equity put/call ratios. The red line is the 5 period moving average of the Equity put/call ratio and readings above the red line is a bullish sign for the market (identified with blue arrows) and yesterday reading reached the bullish level and suggest the rally has further to go.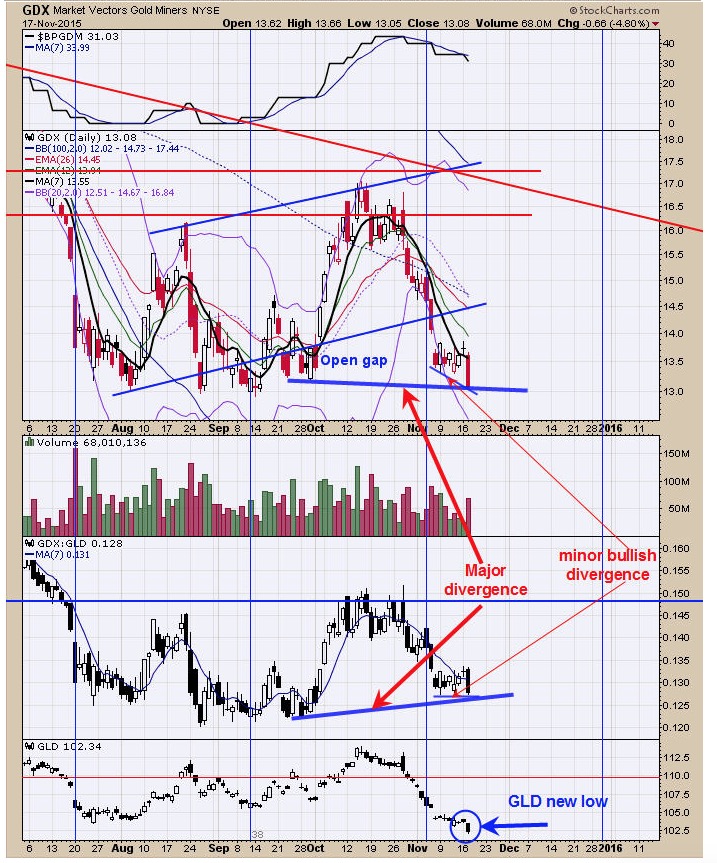 Yesterday we said, "The Commercial for Gold shorts came in at -124,988 again last Friday, the same reading as the previous week." The correct reading was 71,894 (thanks Gerry). When the Commercial short positions have been less than -50K it has been a bullish sign for gold and we are still short of that number. In bullish gold markets, Gold stocks outperform gold and that happens when the GDX/GLD ratio is rising. Today GLD broke to a new low and GDX made a much higher low and a positive divergence. Also GDX broke below the late September low and GDX/GLD ratio made a higher low and another bullish divergence. What may be happening is a false breakdown of GLD as GDX is outperforming GLD. The top window is the bullish percent index for the Gold miners which is showing a positive divergence also. Seasonality wise is that November is the second most bullish month of the year (September is the best performing month) and so far November has been down. If market reverses back up short term we may go with it.
Tim Ord,
Editor
For examples in how "Ord-Volume" works, visit www.ord-oracle.com. New Book release "The Secret Science of Price and Volume" by Timothy Ord, buy on www.Amazon.com.