Monitoring purposes SPX: Sold SPX on 7/1/16 at 2102.95=gain 5.12%; Long SPX on 6/27/16 at 2000.54.
Monitoring purposes GOLD: Sold GDX on 6/10/16 at 25.96 = gain 14.97%. Long GDX on 5/31/16 at 22.58.
Long Term Trend monitor purposes: Short SPX on 1/13/16 at 1890.28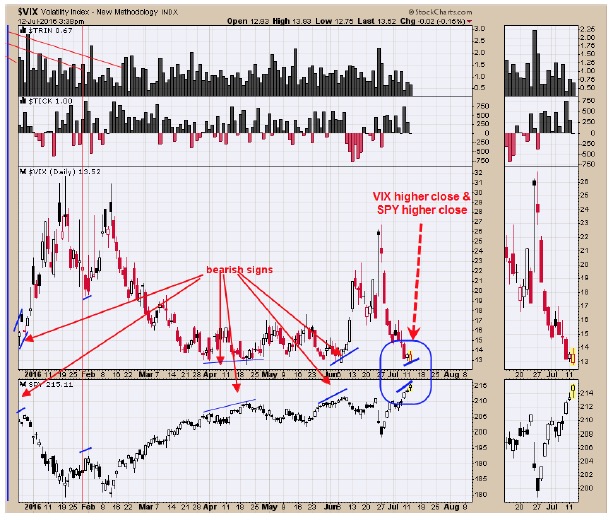 ---
Today marks the second day in a row where the VIX closes higher and the SPY closes higher. It has been a bearish sign for the SPY when the SPY makes higher close and the VIX also makes a higher close. When the SPY produce a higher close along with the VIX ; in previous cases (pointed out with red arrows) the market was nearing high. This condition can go on for several days so the top is not necessary today but if this condition continues we could end up with a sell signal soon. I might add that the Ticks closed at +745 and TRIN at .41 on Friday and those extreme readings that come after a rally show short term exhaustion. Sold long SPX on July 1 at 2102.95 for gain of 5.12%; Long SPX on 6/27/16 at 2000.54.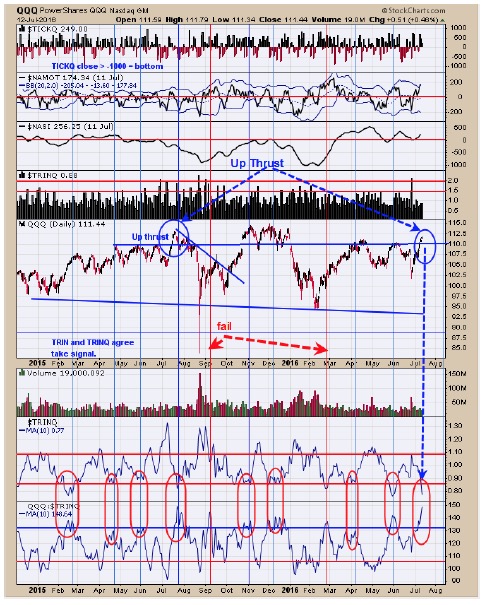 The bottom window is the QQQ/TRINQ ratio with a 10 period moving average. When this ratio reaches above 130 than market is considered extended (current reading is 148.65). Next window up is the 10 day average of the TRINQ and readings below .85 can appear near short term highs (current reading is .77). When both of these indicators are in bearish territory than market is usually near a high (Circled in Red). Over the last couple of days the QQQ broke above its previous high of April and June and could be forming another "Up Thrust" similar to what appeared at the July high of last year. If QQQ falls back below its previous high (near 110) than it most likely it will fall back down below its previous low near 101. This is option expiration week which normally has a bullish bias so market could remain buoyant but again upside should be limited. We will set on our hands for now.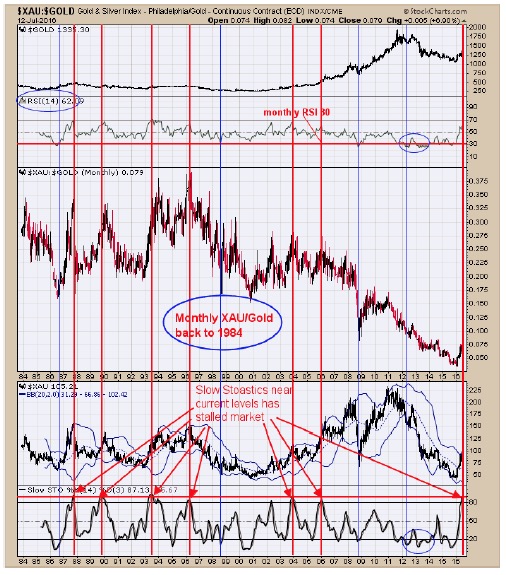 Above is the monthly XAU/Gold ratio going back to 1984. When the monthly Slow Stochastics of the XAU/Gold ratio reaches above +85 (current reading is 87.13) the XAU market has stalled and we would expect the market to start stalling in this region. Bull market is in progress but is due for a consolidation as XAU is running into the highs of 2013 and 2014 which is a resistance area. Still neutral for now. Sold GDX on 6/10/16 at 25.96 = Gain 14.97.
Tim Ord
Editor
For examples in how "Ord-Volume" works, visit www.ord-oracle.com. New Book release "The Secret Science of Price and Volume" by Timothy Ord, buy on www.Amazon.com.