SPX Monitoring purposes; Short SPX on 8/30/17 at 2457.59.
Monitoring purposes GOLD: Long GDX on 10/2/17 at 23.05
Long Term Trend monitor purposes: Neutral.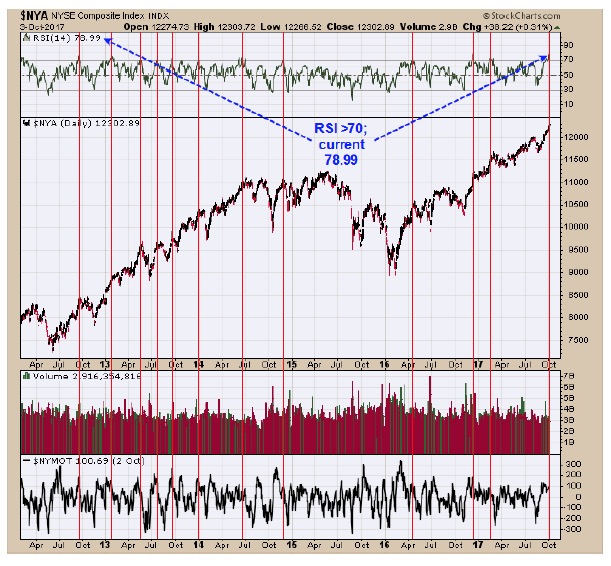 ---
There is a cycle high due October 3 which can arrive early or late. The above chart is the NYA with its 14 period RSI, which goes back five years. We marked with red vertical lines when the RSI reached above 70. The current reading is 78.99 and the highest reading on the chart. Previous times when the RSI reached above 70 the market was at least at a short term high and we would expect at least s short term high here. Short SPX on 8/30/17 at 2457.59.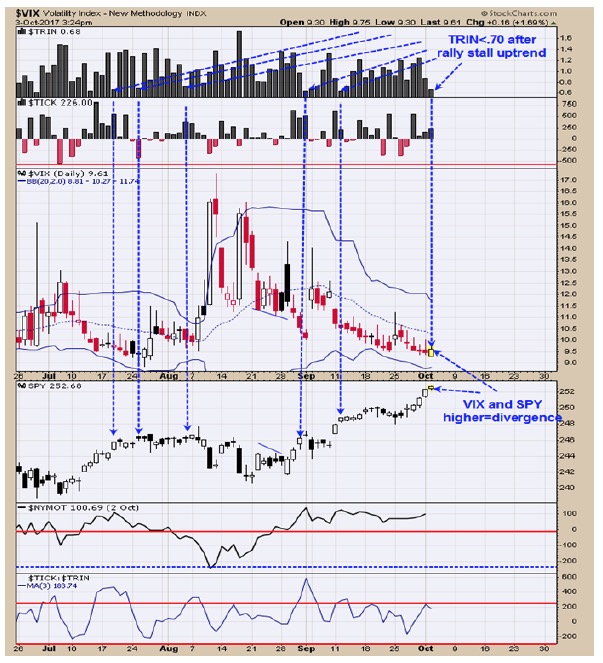 There are a couple things that may dampen the rally short term. Today the VIX was higher along with the SPY which is a short term negative divergence. After a market rally; a TRIN reading below .70 has stalled the market and today's close came in at .68. There is also a cycle high due today. Years ending in 7 (2017) show that October is usually a down month. Short SPX on 8/30/17 at 2457.59.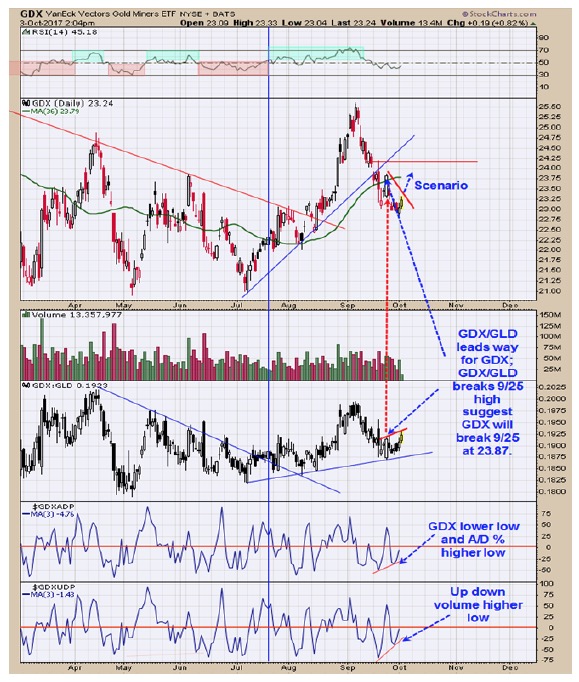 Over the past week GDX has made lower lows and GDX/GLD ratio has made higher lows and a positive divergence (third window up from bottom). Bottom window is the Up down Volume percent indicator which has also made higher lows along with Advance/Decline Percent indicator (next window higher). These short term divergences suggest a bounce up in GDX is possible. It is said that the GDX/GLD ratio leads the way for GDX. Today GDX/GLD ratio traded above the previous high of 9/25/17 and suggests GDX at some point will trade above its 9/25/17 high which comes in at 23.87. We have an ultimate higher target of 24.20 which is the September 20 high which was a high volume day and most high volume days high are tested. If the September 20 high volume day's high is tested on light volume would suggest resistance and market could turn back and travel down into a December low. Long GDX on 10/2/17 at 23.05.
Tim Ord,
Editor
Visit www.ord-oracle.com. New Book release "The Secret Science of Price and Volume" by Timothy Ord, buy on www.Amazon.com.