SPX Monitoring purposes; Long SPX on 6/29/18 at 2718.37.
Monitoring purposes GOLD: neutral
Long Term Trend SPX monitor purposes: Long SPX on 6/29/18 at 2718.37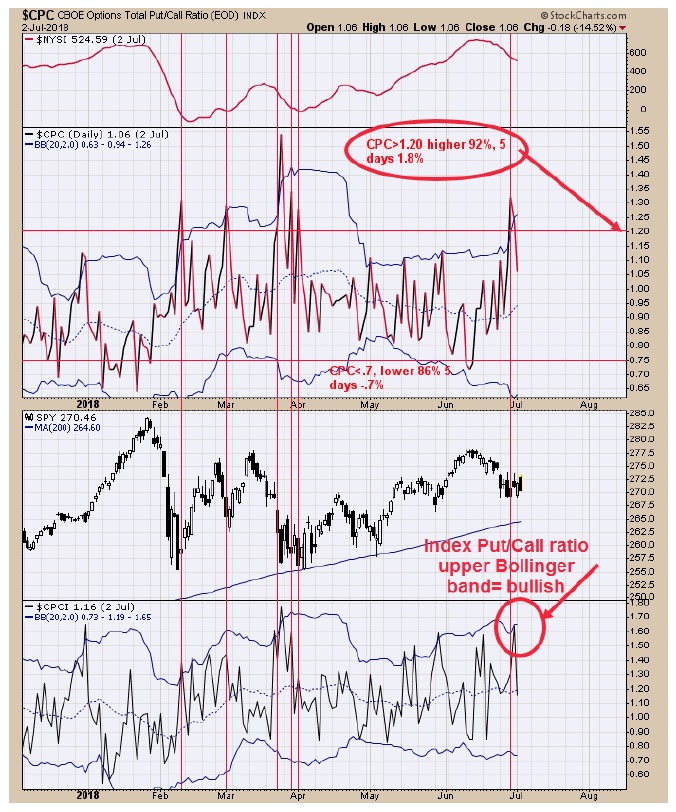 We updated this chart from yesterday. The upper window is the Total put/call ratio (CPC). When CPC reaches great than 1.20 (Friday's reading came in at 1.32) the market as higher 92% of the time within five days with an average gain of 1.8%. The bottom window is the Index put/call ratio. When this ratio reaches its upper Bollinger band, than market is near a low and this ratio reached its upper Bollinger band yesterday. These studies goes long with our bullish TRIN and TICK readings the last couple of days and the cycle turn date that come around the July 4 holiday. Market may test its June highs if not higher. The worst performing months of the year are August and September so most likely another top may form in the coming weeks.
---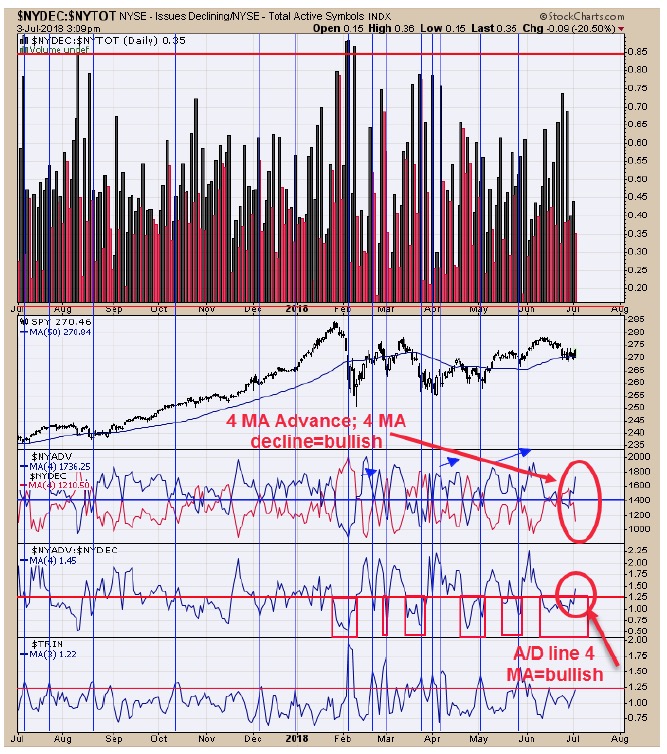 Two indictors triggered buy signals today. The second window up form the bottom is the NYSE Advance/NYSE Decline with a 4 period moving average. Readings above 1.25 have been a bullish sign for the SPX. Next window up is the NYSE advancing issues with 4 period moving average (blue line) and NYSE Declining issues with 4 period moving average (red line). When Blue line is on top (like now) than market is considered in an uptrend. Though the SPX was down today the internals where bullish. Long SPX on 6/29/18 at 2718.37.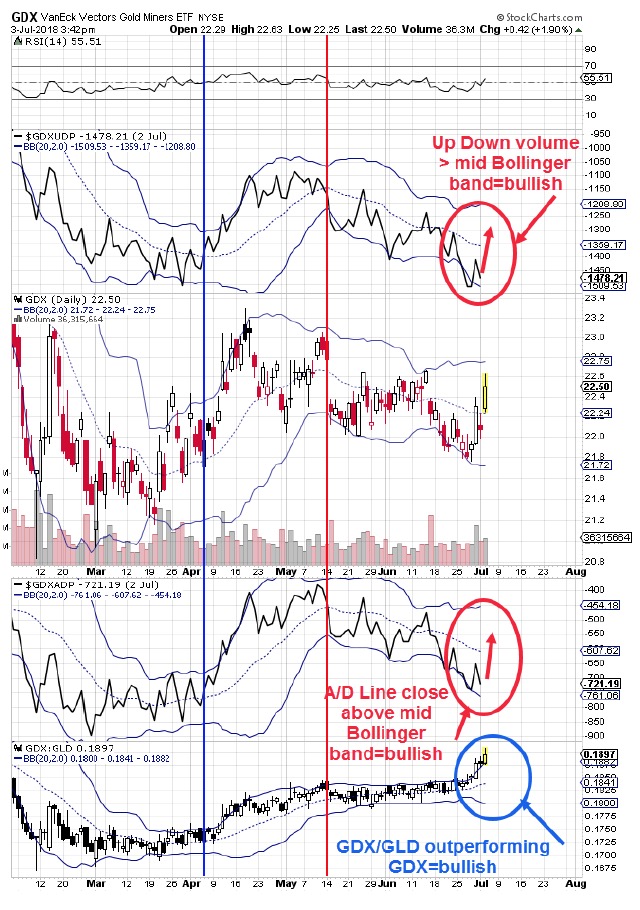 Today's closing for Up Down Volume and Advance/Decline indicators won't be updated until later tonight. To signal a bullish run is starting for GDX the Cumulative Advance/Decline and Cumulative Up Down Volume need to close above their mid Bollinger bands and that the Mid Bollinger band turn up. As you can see from the chart above both are below their mid Bollinger band. Once the Cumulative A/D and Up Down volume indicators trigger their buy signals, a longer term uptrend could start. The COT Gold Commercials are 95K short; previous commercials gold shorts less than 100K has come near gold bottoms. There are cycle lows due starting June 25 and run into July 4. Being patient for now.
Tim Ord,
Editor
Visit www.ord-oracle.com. New Book release "The Secret Science of Price and Volume" by Timothy Ord, buy on www.Amazon.com.