Market Recap for Wednesday, September 7, 2016
Consumer staples (XLP, -0.87%) had a rough Wednesday while most other sectors finished just above or below the breakeven level for the day. Of the 10 industry groups that make up consumer staples, only drug retailers ($DJUSRD) finished higher - fractionally so. Meanwhile, food retailers & wholesalers ($DJUSFD) tumbled 2.70% and personal products ($DJUSCM) and food products ($DJUSFP) fell 1.65% and 1.36%, respectively. The loss in soft drinks ($DJUSSD) was a much more palatable 0.53%, but Coca Cola (KO) has been struggling just above price support after a heavy volume gap lower accompanied quarterly earnings results in late July. Check out the KO chart:
---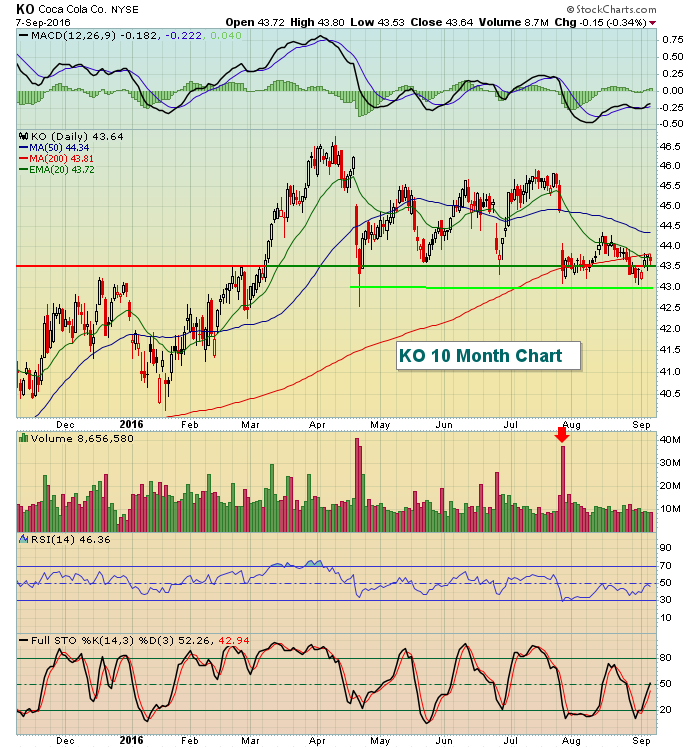 While the gap down occurred on very heavy volume, price support in the 43.00-43.50 area has been holding and the most recent closing price low on KO was accompanied by a higher MACD, so there is a positive divergence here. Consider keeping a tight closing stop beneath the 43.00, but otherwise KO is poised to rebound from its current doldrums. That will help not only KO, but also the Dow Jones U.S. Soft Drinks Index ($DJUSSD), which is featured below in the Sector/Industry Watch section below.
On the positive side of things Wednesday, energy (XLE, +0.57%) and technology (XLK, +0.25%) were leaders once again. Pipelines ($DJUSPL) surged another 2% to lead energy for a second day in a row. The DJUSPL was featured yesterday and has been a leader in energy most of 2016.
Pre-Market Action
The biggest development of the morning is that after the latest monetary policy meeting of the European Central Bank (ECB), rates were left unchanged and President Mario Draghi said that the ECB did not discuss extending its asset purchase program. The news disappointed traders and we've seen selling in Europe this morning with the German DAX down 180 points, or roughly 1.7%, at last check. The DAX stands near 10580 with its key support zone in the 10450-10500 range.
U.S. futures also turned lower on the news with the Dow Jones futures down 54 points and the S&P 500 futures down 5 points.
Current Outlook
The 60 minute charts haven't been very reliable of late because our major indices have been consolidating. Gains don't stick and neither do losses. Therefore, short-term trends reverse almost as soon as they get started, rendering the 60 minute MACD rather useless. Over the past few days, however, price action on the S&P 500 has been bullish when confronted with a 20 hour EMA test. Take a look: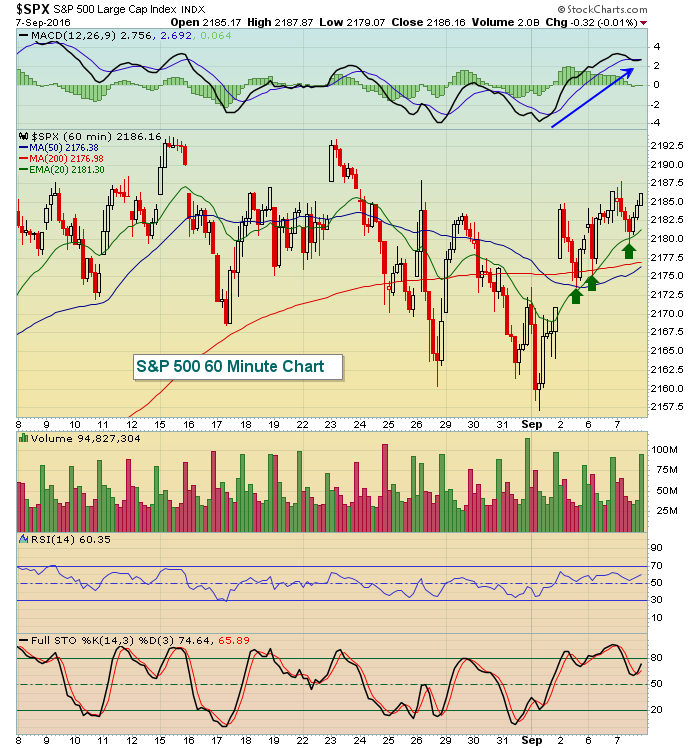 It's been a difficult market to predict short-term direction, but at least for now the S&P 500 is providing hope for the bulls. Watch that rising 20 hour EMA for short-term clues. Failure to hold this moving average will likely lead to further consolidation and frustration, while success holding it would lead to another breakout to an all-time high on our benchmark index.
Sector/Industry Watch
The Dow Jones U.S. Soft Drinks Index ($DJUSSD) has been broken with its daily MACD falling beneath centerline support, its 20 day EMA falling below its 50 day SMA (death cross) and its recent downtrend line holding on every bounce attempt. Here's a look at the current technical picture: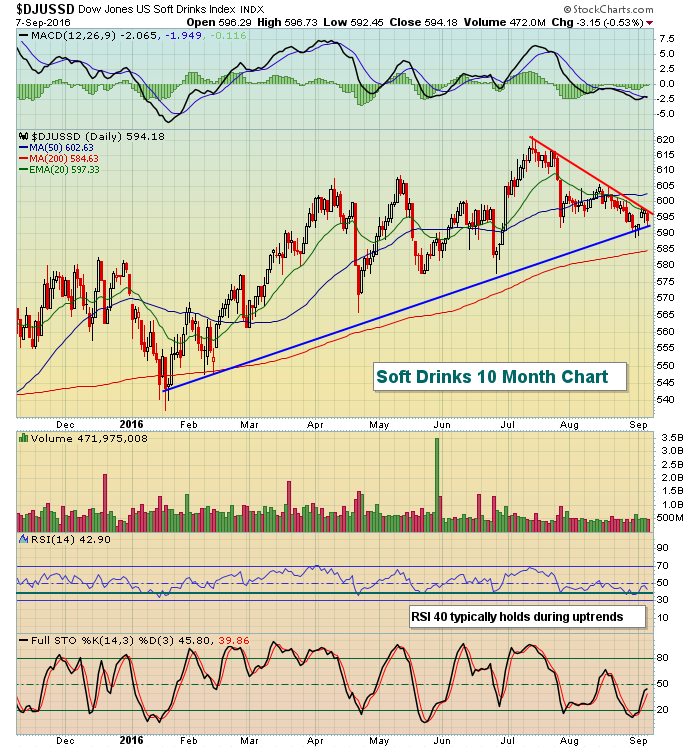 The recent kick saves near 590 are now important support as they've established a potential longer-term uptrend line. Failure to hold 590 on a closing basis with KO losing its 43.00-43.50 price support zone would be bad news for the group technically.
Historical Tendencies
Since 1971, Wednesdays, Thursdays and Fridays on the NASDAQ have each produced annualized gains of more than 20%, while Tuesdays have been neutral and Monday's have been outright bearish with negative annualized returns (-17%).
Key Earnings Reports
(reports after close, estimate provided):
FNSR: .21
KFY: .53
Key Economic Reports
Initial jobless claims released at 8:30am EST: 259,000 (actual) vs. 264,000 (estimate)
Happy trading!
Tom