Market Recap for Friday, December 22, 2017
The major indices all fell back slightly during Friday's pre-Christmas holiday, light volume trading session. Materials (XLB, +0.38%) was the best performing sector, while healthcare (XLV, -0.32% and financials (XLF, -0.28%) lagged.
---
The 10 year treasury yield ($TNX) continues to trade in sideways fashion after breaking above 7-8 month highs near 2.47%. I'll be watching to see if the current pattern confirms an island cluster reversal, which would increase the odds of at least a short-term decline in treasury yields. That would be short-term bearish for financials in particular. Here's a visual:
The question marks are shown currently because a bearish island cluster reversal doesn't confirm until we see a gap down to leave the recent action "on an island".
Pre-Market Action
There'll be little news out this week and there's not much at all this morning. Asian markets were mixed overnight and trading in Europe is off to a slightly lower start in most markets there. Reports that Apple's holiday sales were weaker than expected have AAPL shares down 2.5% in pre-market action and it's taking U.S. futures down with it.
With 30 minutes left to the opening bell, Dow Jones futures are down 45 points, or 0.18%. NASDAQ futures, home of AAPL, are much weaker, down 30 points, or 0.47%.
Historically, this week tends to be extremely bullish as noted in the Historical Tendencies section below.
Current Outlook
What a difference a month can make. Take the transports for example. Many were writing off this group, paying little attention to how rotation works within a raging bull market. Yes, transports were out of favor for awhile, but few are writing off this group now - after a blistering rally has taken this index from 9450 to 10700 in just over one month. Here's the current look at the group: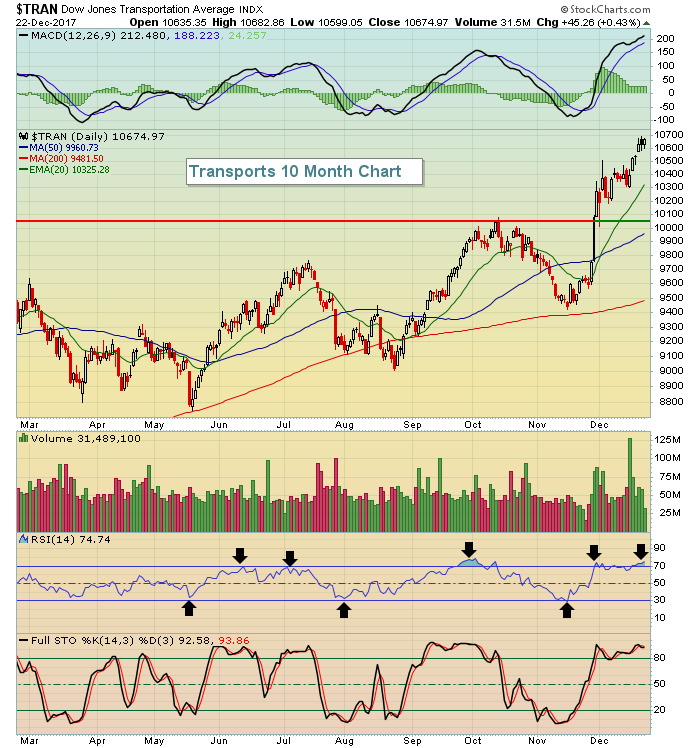 Bull market rules apply. Part of that is realizing that areas of the market will lag for periods, sometimes long periods, but when they're back in favor, they can explode. The black arrows above show that transports have routinely been moving from overbought (RSI > 70) to oversold (RSI <30) levels throughout 2017. Buying at overbought levels has been brutal, but buying at oversold levels have been extremely profitable. Keep that in mind that we enter 2018 with a bull market in full force.
Sector/Industry Watch
While healthcare was weak on Friday, the medical supplies group ($DJUSMS) actually finished in positive territory, holding onto key price support in the process:
Hitting price support with an RSI near 40 is generally a terrific opportunity to find solid reward to risk trading candidates in an industry group.
Monday Setups
Every Monday (or in this case Tuesday when the stock market is closed on Monday) I provide an interesting trade setup. All of my setups involve stocks that have beaten Wall Street consensus estimates in terms of both quarterly revenues and EPS.
This week's setup is Scientific Applications International (SAIC), a $3.3 billion technology company. After posting results that easily topped forecasts (EPS .97 vs .85), SAIC gapped higher and was up roughly 16-17% intraday the day after earnings, only to fall into the close and over much of the past couple weeks. It's now approaching price, gap and rising 20 day EMA support and its RSI has fallen from overbought territory. Here's the chart: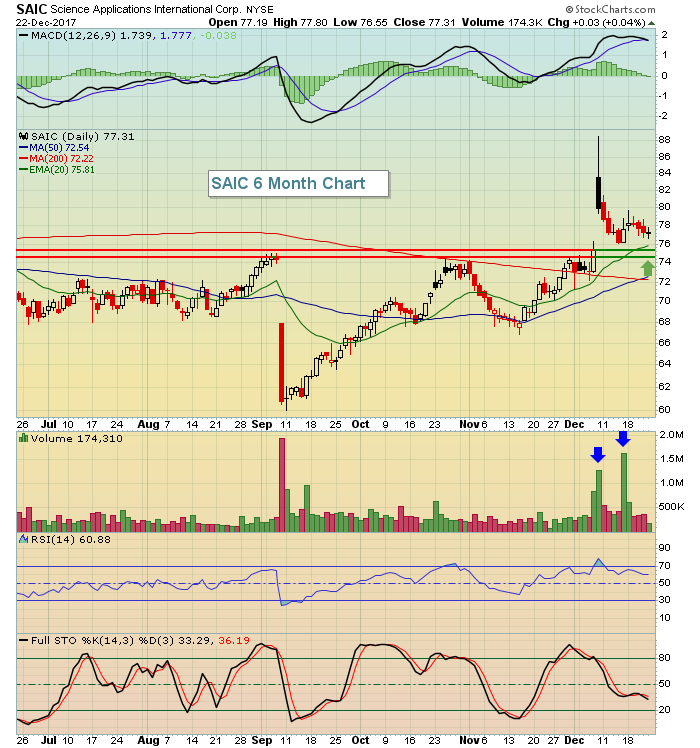 The volume trends also are very positive. Volume confirmed the recent earnings-related breakout and more recently volume has been light as SAIC has pulled back.
Historical Tendencies
I view the Santa Claus rally much longer than most in terms of the duration. History tells me that bullish tendencies really accelerate during the second half of December. But many view the rally between the Christmas and New Year's holidays, or this week. The following is the annualized return on each of the following major market indices for the upcoming week:
S&P 500 (since 1950): +37.82%
NASDAQ (since 1971): +52.68%
Russell 2000 (since 1987): +70.67%
Key Earnings Reports
None
Key Economic Reports
None
Happy trading!
Tom