Special Offer
If you would like a copy of my Strong Earnings ChartList, simply follow these steps and I'll send it to you:
1. You MUST be a paid Extra or Pro member of StockCharts.com as that's the only way you can download my ChartList. If you're unsure of your account service level, click on the "Your Account" tab in the upper right hand corner when you're on the SC.com home page. At the very top of the Your Account page under Membership Details, you'll find your service level. That must say either Extra or Pro. If it says Basic, you will need to upgrade your membership before being able to download a ChartList from another subscriber.
---
2. You must provide me the email address that is linked to your StockCharts.com account. Again, under "Your Account", make sure that you provide me the email address that matches your "User ID" next to "Account Info".
3. Send me an email (tomb@stockcharts.com) requesting my Strong Earnings ChartList. Simply type in "Strong Earnings" in the subject line of your email. I expect I'll have a lot of requests, but I'll try to respond to everyone within 24-48 hours.
4. In exchange for allowing me to send you my ChartList, EarningsBeats.com (my former company) will be provided your email address for a free daily newsletter. There'll be no charge for the newsletter and you can cancel at any time. EarningsBeats.com will not provide your email to any 3rd party, but may use it for their own promotional offers.
Today, at approximately 12:20pm EST, I'll be explaining the concept of my Strong Earnings ChartList and how I use it to trade on Market Watchers LIVE. The show begins at noon EST and you can join by CLICKING HERE at that time.
I believe firmly that this Strong Earnings ChartList will add much to your future trading success, so I hope you'll accept this one time offer. It's one way of thanking you for your loyalty and support these past few years. :-)
Now on to today's Trading Places article....
Market Recap for Monday, September 10, 2018
It was a day of bifurcated action. The Dow Jones, after an early move higher, stumbled throughout the session and finished with a loss of 59 points. Our other key indices - S&P 500, NASDAQ and Russell 2000 - managed to post modest gains in the 0.19%-0.27% range. Industrials (XLI, +0.52%) and utilities (XLU, +0.50%) were the relative leaders, while healthcare (XLV, -0.26%) brought up the rear.
Transportation services ($DJUSTS, +3.63%) and trucking ($DJUSTK, +3.15%) were quite strong industrial groups with the latter moving higher into breakout territory: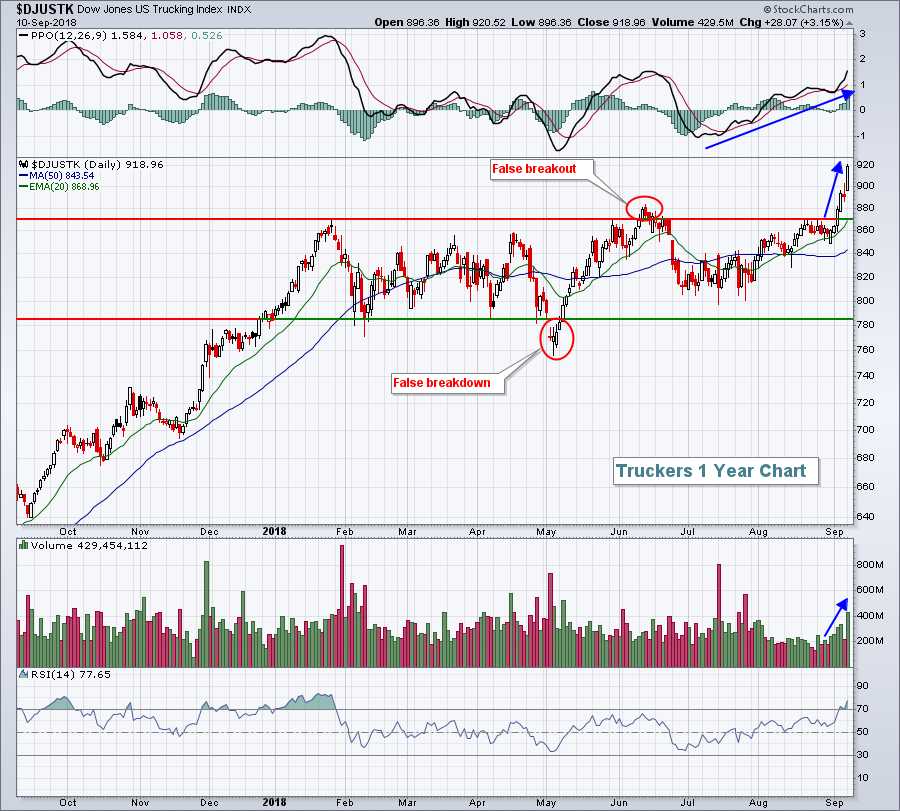 Truckers have provided a couple headfakes in 2018, while mostly consolidating in rectangular fashion between 780 and 870. This breakout certainly looks real with a strengthening PPO and increasing volume throughout the breakout rally. Also, a strong trucking group suggests a strengthening economy. What other reason would lead to an outperforming group? A breakout in truckers definitely adds to the argument that the nearly 10 year bull market isn't yet done.
Another group breaking out was home improvement ($DJUSHI, +2.31%), which finally cleared its January high: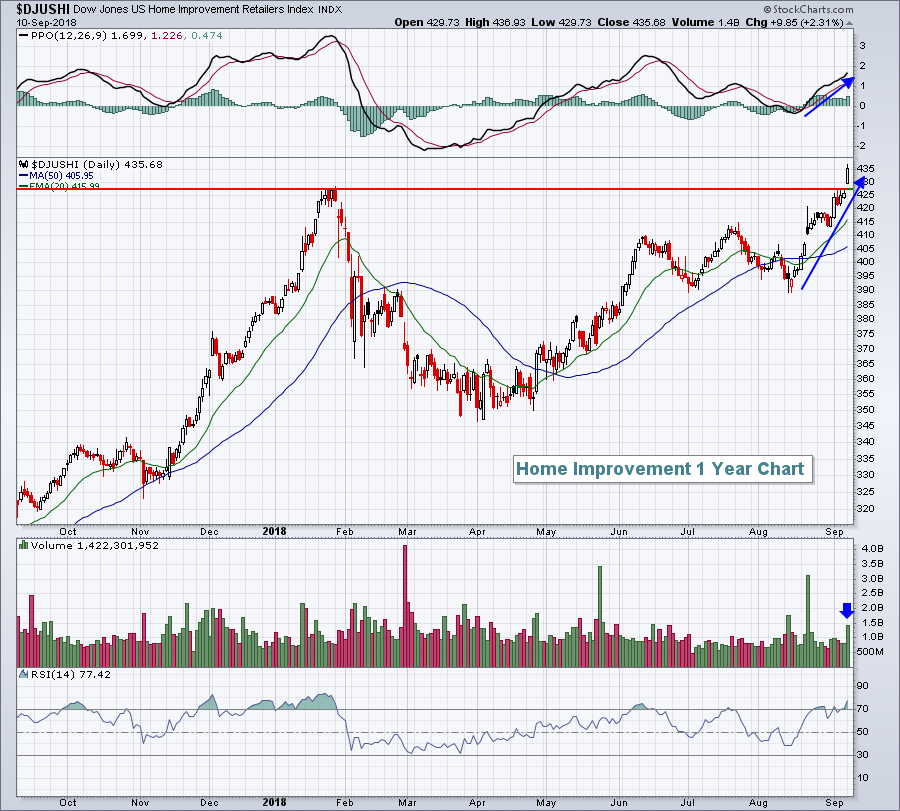 Yes the DJUSHI is short-term overbought, but breaking out after recently resetting its PPO at centerline support is a very bullish development. Also, note the volume accelerated on the breakout as well. Any short-term selling should be viewed as an opportunity for entry into this space.
Health care providers ($DJUSHP, -2.06%) was very weak and led the XLV lower. More on that in the Sector/Industry Watch section below.
Pre-Market Action
Asian markets were mixed overnight.....again. Tokyo's Nikkei ($NIKK) has clearly been a better performer than either China's Shanghai Composite ($SSEC) or Hong Kong's Hang Seng Index ($HSI) and it's evident if you look at the charts of each. India's Bombay Index ($BSE) has easily been the best performing index in the region, one of the few to outperform the S&P 500 here in the U.S.
Markets are down in Europe this morning and the German DAX ($DAX) is moving perilously close to its low close of 2018 (late March when it closed just beneath 11,800). At last check, the DAX was trading down 74 points to 11,912.
Dow Jones futures are under pressure, falling 120 points a little more than 30 minutes from the opening bell.
Current Outlook
Yesterday morning in Trading Places, I indicated how it appeared that healthcare stocks (XLV) could begin to see some selling pressure as the daily PPO appeared to be topping. Right on cue, Unitedhealth Group (UNH) was downgraded and healthcare providers took it on the chin as the XLV underperformed. With yesterday's selling, the short-term is definitely cautious at best. But the good news is that once short-term concerns are alleviated, the XLV looks really solid longer-term on its weekly chart: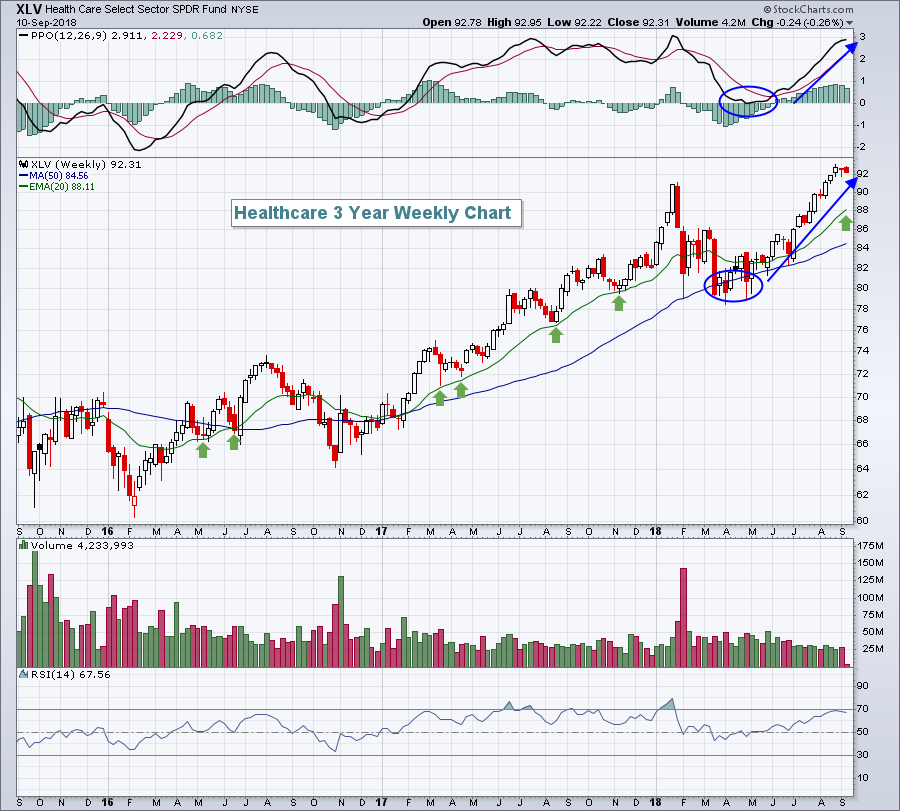 The weekly PPO continues to accelerate strongly after recently seeing a centerline test (and 50 week SMA test - blue circles). During periods of accelerating price momentum (rising PPOs), pullbacks to test rising 20 period EMAs (green arrows) generally present opportunities for entry. On a weekly chart, such tests would represent longer-term entry points. If the daily momentum issues result in selling, I'd be looking very closely at healthcare stocks if the XLV nears its rising 20 week EMA, currently just above 88.
Sector/Industry Watch
It was a very weak day for health care providers on Monday, but honestly it shouldn't have come as a major surprise to technicians. Check out the warning in terms of slowing momentum that's been present: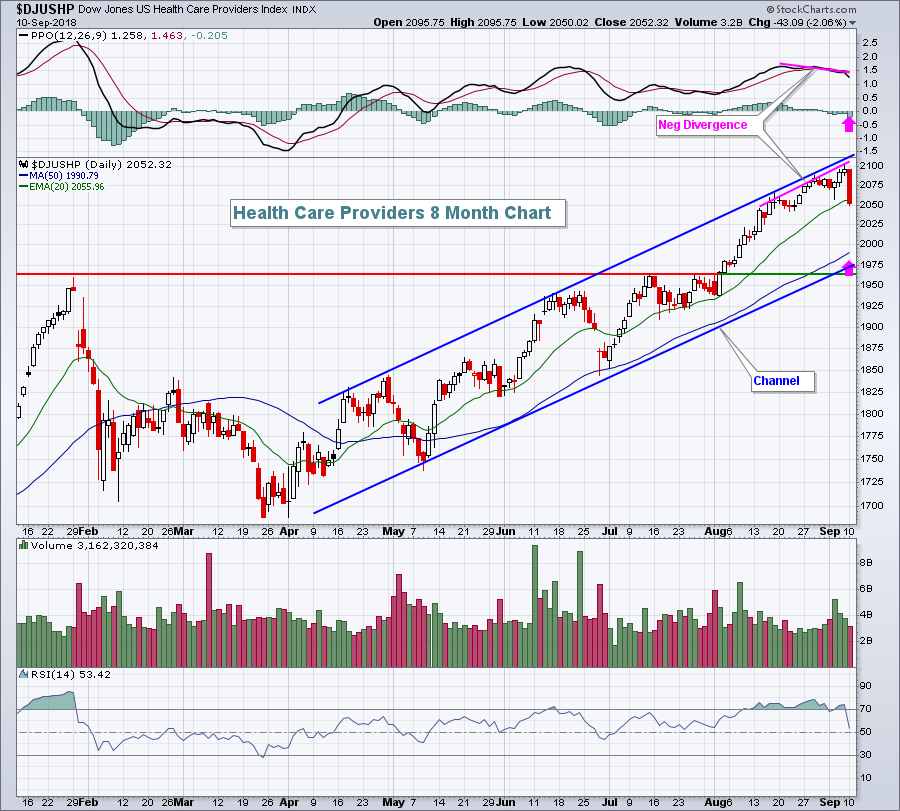 A reset of the PPO at or near its centerline could coincide with a trip down to test the rising 50 day SMA. That would also represent a test of channel support, a very normal occurrence during a period of rising prices.
Historical Tendencies
Recreational services ($DJUSRQ) is the 3rd best performing industry group in September, averaging gaining 2.7% during the month over the past 15 years. In fact, the group's September performance trails only December (+2.9% average monthly gain) as its best calendar month of the year. That's quite interesting when you consider that September overall is the worst month for stocks in general. It's worth noting that the DJUSRQ traded at a 5+ month high yesterday and looks quite solid technically.
Key Earnings Reports
None
Key Economic Reports
None
Happy trading!
Tom